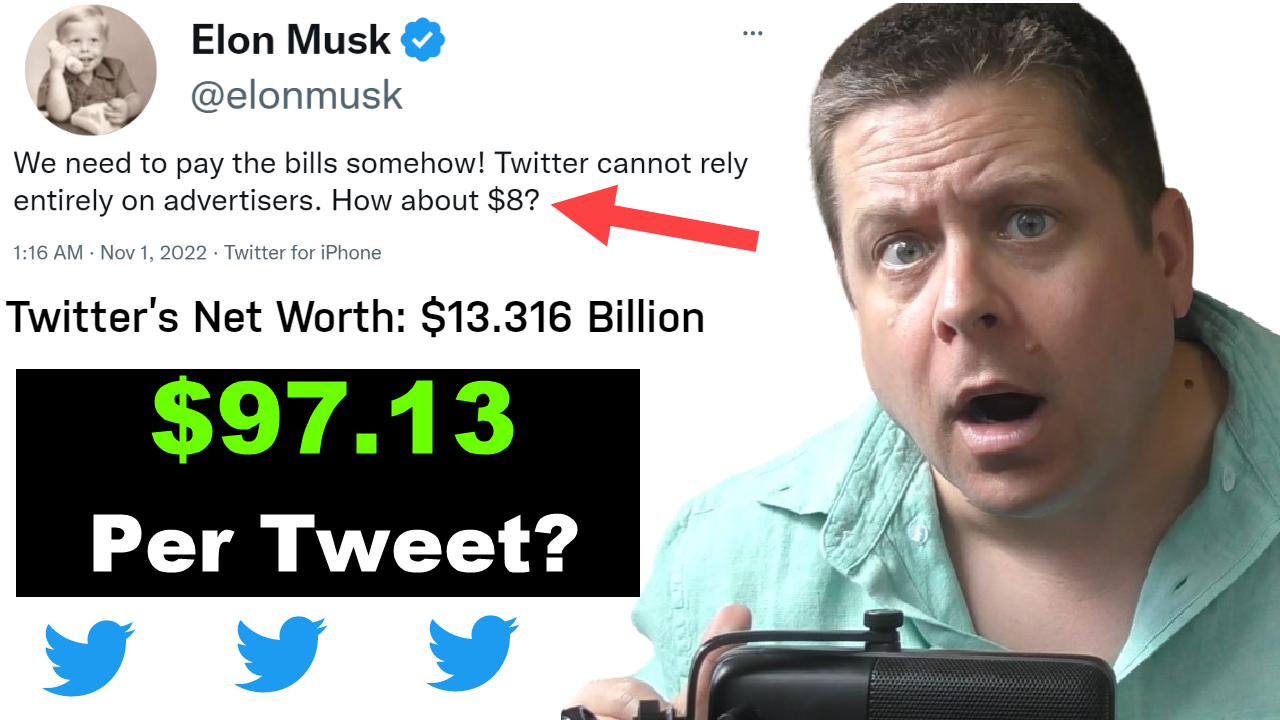 When: Wed @ 12PM Eastern Time
Symbolized by the famous white bird in blue space, the global platform for public self-expression and conversation needs no introduction. Twitter is indisputably one of the most popular social media platforms connecting users to news, information, and ideas.
With its posts, the platform is best known for breaking news on virtually anything in existence — It is a favorite medium for celebrities and politicians. But did you know that, like other social media platforms, Twitter sees billions of dollars go toward operating expenses, necessitating it to make money to sustain operations?
Incontestably, Twitter makes money and might be worth more than most people expect.
As of October 2022, Twitter is worth $41.09 billion and continues to make money. This post will cover more on Twitter and how the platform makes money to sustain operations and, of course, generate profits for shareholders.
About Twitter
At its core, Twitter is a social media platform. It was founded by Jack Dorsey, Evan Williams, Noah Glass, and Biz Stone in 2006 and is headquartered in San Francisco, California. Since its inception, Twitter has seen rapid adoption, and its user base has greatly expanded. Currently, Twitter has about 238 million active users every month.
The idea behind the creation of Twitter was to make a service in which posts appeared in real time, and Twitter achieved this perfectly. Today, Twitter is a real-time microblogging platform that allows users to express themselves and share ideas (opinions) remotely. Over the years, Twitter has grown to include features like live streaming, which enhances engagement.
Besides posting, Twitter users can send private messages to their followers as well as other users.
Regarding finances, Twitter first went public in November 2013 with an IPO price of $26, but the stock price currently stands at $53.70. The share prices have been unstable over the last few years, partly due to the company's performance. However, considering that it has attracted mDAUs (monetized daily active users) faster than in the past few years, it may experience a new form in not so long.
How much is Twitter worth?
Twitter provides social networking services and micro-blogging services, and everything on it has an economical translation. Currently, the platform has a market cap of $41.09 billion, which translates to an 18.91% increase relative to last year. Market capitalization usually refers to a company's stock combined, and Twitter's individual stocks are currently at $53.70 a share.
Notably, Twitter became profitable for the first time in 2018, and its stock price maintained an upward trend until it peaked at its all-time high of $77.63 a share in March 2021. Since then, the share price has constantly struggled, reaching $31.30 in 2022.
For the unacquainted, Twitter generates most of its income through selling advertisement space on its platform. This means it needs a growing user base to continue attracting advertisers. Thankfully, in its second quarter 2022 earning releases, the company reported user and revenue growth beyond analysts' expectations.
How does Twitter make money?
Twitter is a social media platform, so its business model is very similar to that of other social networks. The platform primarily relies on advertising services and data licensing to make money. To better understand how each Twitter's source of revenue works, it is best to look at it individually.
1. Advertising Services
Twitter generates the majority of its money through advertising. In 2021, the company generated $5.077 billion, with 92% of the revenue coming from advertising, which clearly shows that advertising is Twitter's predominant source of income.
Twitter advertising services usually include exhibiting promoted products. These include but are not limited to the following:
Promoted Ads: On Twitter, promoted ads usually appear as ordinary tweets, except that they are labeled "promoted." Twitter uses proprietary algorithms to put these products into the right users' timelines, ensuring they get in front of most viewers. Further, the algorithm ensures the promoted products or services make it to the targeted group's search results and tweet conversations. The goal is to help brands enhance visibility.
Follower Ads: If you are on Twitter, you will often see the platform suggesting "Who to follow." Follower ads are designed to help account owners grow their followers' lists on Twitter, particularly users who are curious about their products or services. The follower ads are usually displayed based on user preference, demographics, location, and overall activity on Twitter.
Trend Takeovers: Every hashtag on Twitter can generate income. With trend takeover, ads appear next to trending topics, which helps ensure they get the most views.
As you might have expected, the cost of Twitter ads varies. Usually, advertisers pay depending on the results they want to achieve through advertising on Twitter.
2. Data Licensing
Twitter allows users to share posts of up to 280 characters per post, and roughly 500 million tweets are done every day. Now you can imagine the sheer amount of data shared on Twitter daily. Twitter can be a source of useful data (Twitter calls it firehose) that, when extracted and analyzed, can help businesses and other entities more satisfactorily meet consumer needs.
Normally, Twitter sells data licenses to allow businesses and entities to access and analyze historical and real-time data on the platform. Selling the subscriptions helps the company make money, while the data gives partner analysts powerful insights they need to enhance user experience and better satisfy consumer needs.
Notably, offering paid access to data on Twitter raises some serious concerns regarding sensitive user credentials at stake. In response, Twitter promises to ensure authorized parties do not breach data privacy and security policies and comply with the Digital Advertising Alliance Self-Regulatory Principles for Online Behavioral Advertising.
Besides, Twitter makes money through the MoPub exchange. This relates to the platform's mobile advertising exchange services, where Twitter receives some money for any complete transaction.
Twitter key metrics you need to understand
Like other companies, Twitter has to monitor a few critical metrics to keep its business model useful and efficient. Since the platform majorly makes money from selling advertisement space, the critical performance metrics to monitor are:
mDAU
Ad engagement changes
Cost per ad engagement
Even slight changes in these metrics can significantly affect Twitter's revenue. To ensure its revenue model remains efficient, Twitters need at least to maintain its user base and sufficient level of advertisers. By growing its user base, Twitter can possibly generate higher revenue.
The Future of Twitter
The pandemic adversely affected the global economy, consequently trimming advertising budgets. This has had a significant impact on Twitter revenues, raising concerns about its fate.
Well, relative to other prominent social media platforms, Twitter has a noticeably smaller user base. Since Elon Musk has just honored the agreement he made in April, it is impossible to state "what is next" with certainty. When talking about closing the deal, Musk said that he is buying Twitter because he cares about free speech, not money. Even so, it is obvious he will, well, want Twitter to make money and be worth at least what he has paid, $44 billion.
Elon Musk is a world billionaire and the CEO of Tesla Motors. He is also the president of the Musk Foundation, founder and chief engineer of SpaceX, and founder and CEO of the Boring Company and X.com. Elon Musk doubles as a co-founder of OpenAI, Zip2, and Neuralink. With all these responsibilities, Elon Musk has accumulated so much wealth and ranks as the world's richest human being. With all their wealth, Elon Musk still went on to buy Twitter.
Elon Musk completed his $44 billion purchase of Twitter on Thursday, October 28, 2022, and is not the sole owner of the company.
What interested Elon Musk in buying Twitter
In April 2022, Elon Musk publicly announced that he had collected enough money to buy Twitter. Musk's interest in buying Twitter was not just to increase his wealth but to bring in more reforms.
He was interested in making Twitter a free speech platform, removing bots, and dealing with fake accounts.
However, in July, he pulled out of the deal, citing the company failed to provide clear information on spam accounts and other essential details. According to Musk, up to 20% of Twitter accounts are fake or spam compared to the company's claim they are under 5%. Twitter threatened to start a lawsuit with Musk over the deal, even after he withdrew his interest in the company, which they eventually did.
How Elon Musk offered
Musk first wanted to buy the company at $54.20 for every share. However, since the company was unwilling to sell off its shares, it adopted a poison pill strategy to stop Musk from acquiring Twitter.
nfortunately, this did not work.
After Twitter sued Musk, forcing him to buy the company, he offered to buy the whole platform at $44 billion. In September, Twitter's shareholders accepted Musk's offer, who completed the purchase on October 28, 2022, becoming the owner of the social media service.
The "Musk Effect" on buying Twitter
Leftist media personalitiesand the entire Twitter management board received Musk's pronunciation as a threat. They concluded that the billionaire wanted to take control of the platform and possibly restore it for free speech. After a series of meetings, Elon Musk has managed to acquire Twitter with $44 billion and has already made a few changes. Here are some possible effects of allowing Elon Musk to own the Twitter platform.
1. Cut costs
Musk's takeover amount included $13 billion to be paid to a bank account to balance off the Twitter accounts. Recently, Twitter produced a document showing that it spends more than it generates. Musk intended to cut off such costs and ensure Twitter operates smoothly without huge debts. In one report, Musk notifies those interested in funding his investment that he will reduce Twitter's workforce by 75% but does not outline this figure in the report he wrote to Twitter.
After acquiring the social media platform on 28th October, Elon Musk has already fired several Twitter executives, including the CEO Parag Agrawal.
2. Launch the 'everything'
Musk has over 100 million followers and tweeted on 5th October that his aim for buying Twitter was to accelerate the creation of the X, or "everything app" In a piece of relatively detailed information, Musk states that Twitter's takeover would accelerate "everything app" in five years. (X is the vehicle brand he used to buy on Twitter). The "everything app" seems to be initially inspired by China. Musk said in a meeting with Twitter staff that the "everything app" was to function more like the WeChat app of the Chinese. This app enables instant messaging, mobile payments, and social media, which can greatly benefit users and possibly help the platform generate more revenue.
3. Raise more revenue
Musk had indicated that he would increase Twitter's annual income to about $26.4 billion by 2028. He suggested having 90% of revenue generated from advertising and a number of turnovers to help generate more money.
Among the many ideas for raising revenue that Elon Musk suggested include increasing the app's popularity by making an ad-free premium subscription. There would also be a method to grow Twitter's payments business and charge a fee for government and commercial users. He also has plans to find means of getting money from viral tweets and those with important information.
At the very least, Twitter is expected to be worth $44 billion in the next few years.
4. Deal with spam accounts
Musk has constantly insisted that the number of spam accounts on Twitter is more than the company states. He believes the actual number of vexatious automated accounts is far higher than the estimated below 5% of the monetizable daily active users (mDAU). He promised to authenticate all humans on the social media platform.
5. Address all concerns raised by whistleblowers
For example, Twitter's former head of security, Peiter C. Zatko, had made several allegations about the company in whistleblower complaints. Some of his issues include interference from foreign governments, poor management, and several information security failures. However, according to Twitter, the whistleblower's comments are false, and he was fired for poor leadership and performance.
Musk was allowed to add Zatko's allegations to his counterclaim against Twitter. In several instances, his lawyer interviewed Zatko as he prepared for a lawsuit that was to be heard on 17th October. This case was adjourned, and the purchase deal went on. After its completion on the 28th day of October, Elon Musk is expected to handle such issues and other whistleblower issues.
Conclusion
Twitter is indisputably one of the largest and most popular social media platforms. Having become a private company under the ownership of Elon Musk, the platform is anticipated to grow its user base and expand its revenue streams.
Ways to make money on Twitter
 With the right strategy, you can exploit Twitter to generate income. Here are the top ways to make money on Twitter.
1. Post sponsored tweetsAs it turns out, you don't necessarily need to be promoting your very own brand to make money on Twitter. Instead, you can find brands and businesses to pay you to promote their products.
Even if you're not a celebrity, if you have a large following on Twitter, you can make money posting sponsored tweets. You just need to reach out to companies looking for influencers with large
Twitter followers. Thankfully, several platforms help Twitter users find brands looking to pay for tweets.
If you have thousands of engaged fans on Twitter and are looking for a company you can connect with and promote their products. Sponsored Tweets and Paid Per Tweet can help you land a life-changing deal. Yet to believe you can make money posting sponsored tweets? See these celebrities who are making millions of dollars advertising their sponsor's products on Twitter:
•    Kevin Hart — This stand-up comedian has earned approximately $13.9 million from 46 promoted tweets. He joined Twitter in March 2009, and his Twitter account has 37.6 million followers.
•   Demi Lovato — This actress joined Twitter just a month before Kavin Hart and has gained
54.1 million followers. Having earned $10.1 million for just 23 promoted tweets, she arguably makes $6,500 per tweet.
•    Kim Kardashian — A prominent American television and social media personality, socialite, and model, Kim Kardashian has more than 74 million followers and makes up to
$10,000 per sponsored tweet. She has banked about $7 million from her tweets.
Many celebrities, including Khloe Kardashian, Christiano Ronaldo, Liam Payne, Priyanka, Steve Harvey, Stephen Curry, Pokimane, Ninja, and Virat Kohli, have earned millions from promoted tweets.
Of significance, if you get a sponsor, be cautious about what you tweet. This is vitally important as many people have been fired and lost a relationship with sponsors because of what they tweet.
2. Promote your brand's products
This is a no-brainer. If you own a business, Twitter is a great place to promote and sell your products and/or services. Since your followers are already interested in your content, they (and other Twitter users who see your posts) are more likely to be
 interested in the products you offer. All you need is to perfect your marketing campaigns.
Many people who promote their products on Twitter swear by the "old school" marketing approach.
Engaging photos and an enriched description with a call to action can help you get tons of sales.
Daily deals and discounted products can spur spending. Just make sure you are not overwhelming your Twitter feed with pushy selling.
3. Build and grow your email list
With a return on investment of $36 for every $1 spent, email marketing is something every business needs to consider. However, before you can get started with email marketing, you need an email list.
An email list — a list of people interested in getting emails from you — can be your most important asset if you sell products and offer services online. While there are many ways to build an email list, if you have a significant number of followers on Twitter, you can effortlessly grow your email list there. All you need is to share your lead magnet on Twitter along with a link to your email list opt-in landing page.
With the right words and strategy, you can turn your followers into subscribers and then into real customers. It only requires a little creativity.
OptinMonster, MailChimp, and MailerLite are some of the most effective email service providers you can consider to grow your email list.
4. Affiliate marketing
Affiliate marketing is one of the best ways to make money online, and Twitter can't be left out.
Affiliating is having people buy products you are promoting by clicking on a link that redirects them to the merchant's online shop. For every product or service successfully purchased using your affiliate link, you get a good commission in return.
To do affiliate marketing, you first have to identify a specific niche and create a strong interest in that niche. From there, you can start writing relevant, engaging posts on Twitter.
Since your followers already like your content, it will be easy for you to promote products you love. Just be keen not to overwhelm your Twitter feed with affiliate links when you start promoting.
Affiliate marketing is easy — anyone can get started, even if you are new on Twitter. This is because you don't necessarily need to have a lot of followers to get started. The key to having successful affiliate marketing is maintaining products within your niche.
 For instance, if you have more interest in restaurants, foods, cooking, and drinks, you will have to promote items within this category or related to the category. Most of your followers get interested in the things you post most about and
will likely click your affiliate links to learn more and purchase some of the products/services you promote.
When tweeting, naturally mix your affiliate links and promotions with your Twitter content so your followers can get used to your consistency. With time, you can earn a healthy income by tweeting what you enjoy most.
Some of the best marketing networks you can sign up to get their affiliate links include; ShareASale, Amazon Associates, FlexOffers, and Lead Dynamo.
5. Run viral giveaways
Viral giveaway is a great strategy to increase your Twitter followers and earn better from Twitter. An effective giveaway on Twitter can help you generate more sales for your business and earn about three times more profits. Besides, giveaways enable you to interact closely with your followers as you develop the brand image on Twitter.
To run a successful Twitter giveaway program, you need RafflePress or another similar plugin; the rest will be easier. RafflePress is arguably the best giveaway plugin offered on WordPress. Its easy-to- use drop-and-drag builder makes it super easy to formulate and run online giveaways.
This plugin is able to set the giveaway rules, set the start time of the giveaway, block all fake entries and even select the winner. All this is done with no coding efforts included. RafflesPress can help you go viral on Twitter by giving out bonus entries for retweeting the stipulated giveaway announcement.
In some situations, RafflePress gives free entry for all visits to your Twitter account, all followers, and likes to your tweet.
When ready with your giveaway plan, all you need is to post tweets with the link leading to your RafflePress giveaway landing page and get Twitter users to join the raffle. Add engaging graphics or photos to your tweet with detailed info about the giveaway.
6. Send Twitter traffic to your website or blog
Twitter has over 200 million mDAU and can literally be a great source of traffic to your website. If your website deals with marketing or is an online shop, more traffic can translate to more customers and increased sales. In the long run, you will end up making more money by sourcing traffic from Twitter.
 So how do you send traffic to your site? This is simple. To send Twitter traffic to your side, you just need to tweet links to invite the Twitter community to check out your online products or perfectly crafted blog posts. Tag other people and also have the most relevant hashtags so that your tweets can be easily seen.
Relevant featured images can also attract more people to click on your links. Typically, colored or visual content can generate up to 35% more engagement on Twitter. An eye-catching featured image on your post can generate clicks that might end up being successful purchases.
7. Produce and sell Twitter-related Services
If you have used Twitter for quite a long time and have gained prowess on how to go about money­ making activities on Twitter, you can earn more by training others also to get the skills. By analyzing your Twitter audience, you can easily identify their areas of weakness and help them improve their experience on this platform. This can be done by creating products and services related to Twitter and offering them at a price.
Several applications and websites have been created in the past year to help users make the most of Twitter's API, offering a wide range of services.
These services range from customized hashtags to many analytics of the impact of tweets on users. With all these, you can still come up with your own idea that might turn out to be genius and improve a preexisting product by making it simple to use.
For example, Twitter Tech Marketing is a technological solution that can optimize all adverts on Twitter. This is a tool that was invented to make it easier for business people to have their ads seen by the largest group of people who are on Twitter and are interested in the products advertised.
Apart from developing unique products, you can also make money on Twitter by training your followers on how to use the new features. You can as well train them on how to develop their presence on social networks and still be productive in other fields.
When offered at a fee, training can generate significant income.
Final Thoughts
The popularity of Twitter means endless opportunities to make money on the platform. Thankfully, you don't need to have millions of followers or be a social network guru to start making money on Twitter. It comes down to your strategy, consistency, and of course, a little creativity is key. If you are contemplating how you can start making money on Twitter, hopefully, you will find this post helpful. Start tweeting engaging content today to attract followers, and sooner than