Today, we are going to be talking about WordPress version 5 and if it's the right tool to be used by affiliate marketers to make money on the internet.
It is called the WordPress 5 Gutenberg Demo and it is the new plugin editor in the WordPress/internet market. In this Gutenberg editor tutorial, we are going to show you how to create your WordPress website with the new WordPress 5 Gutenberg Demo.
We're also going to discuss what is different, What stays the same, and how you can go back to the old tools.
What is Gutenberg Editor?
Gutenberg is the newly-developed editor for WordPress 5. It is named after Johannes Gutenberg, the creator of a movable type of printing press, about 500 years ago..
The previous WordPress version 4.9 requires users to make use of HTML and short codes. The goal behind WordPress 5 is to simplify the whole thing, especially for beginners.
They are making use of "little blocks"(maybe they can add layout options later).
However, developers and team behind this project said it is currently in its beta phase and will be officially launched on the 5th of December.
We'll sure keep you updated in the event of changes or improvements.
How To Install Gutenberg
Download the latest WordPress version. Alternatively, you can search it within your Dashboard( click on "add new" plugin).
Let's Explore Gutenberg
Now that we've installed Gutenberg, you'll notice a link on your dashboard that allows you to open the Gutenberg editor.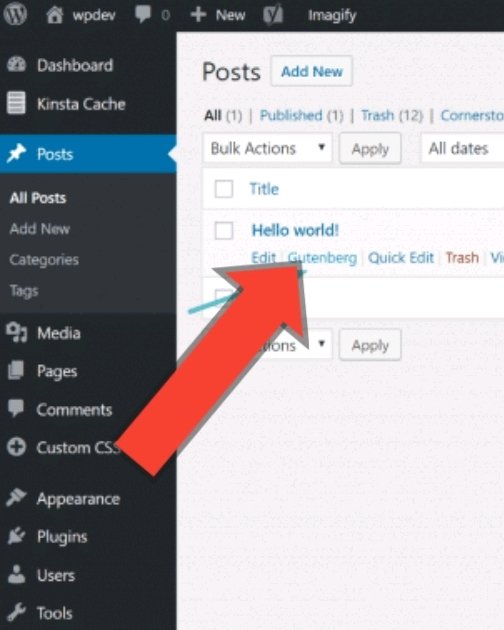 They don't take over the previous/default editor, which in our opinion, is excellent as you can decide to dive in right back into the default WordPress editor.
We will be using the website, Anxietyfreeguide.com as our case study. This is a website I set up to test this plugin out.
This is how the WordPress 5 theme actually looks like right here.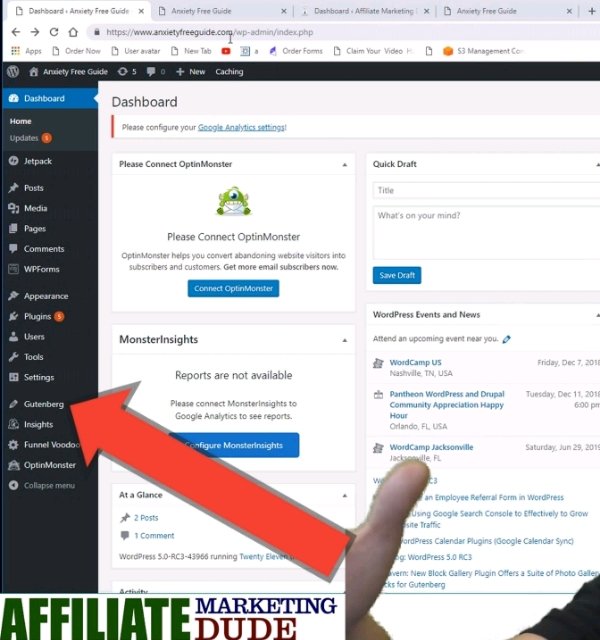 As you can see, there is not a lot of difference with the previous version 4.9. The main difference is the Gutenberg. That's what WordPress 5 is all about.
Gutenberg is going to change the way the internet works and how content is created.
Now, let's get back to our anxietyfreeguide page. If I want to edit this page, you're going to notice that the first big change is the way that the editor works.
Now, click on Post>new>, and this is what you'll see.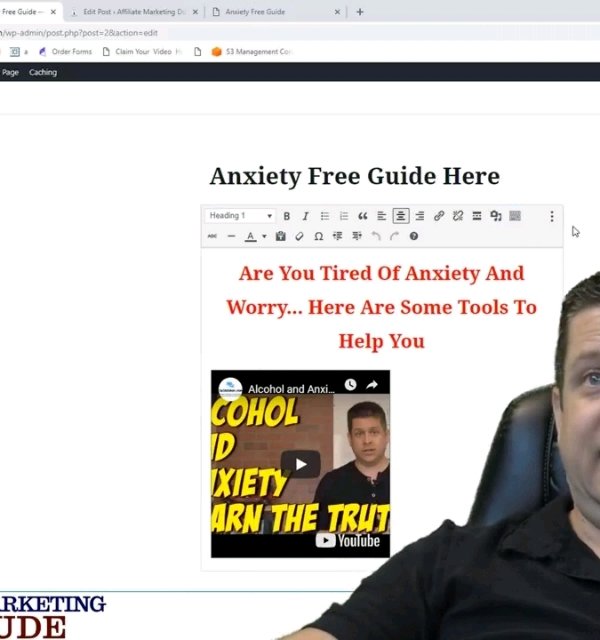 What's New With Gutenberg WordPress 5
Virtual-text switch
Switching from visual to text editor mode is now easy. We now have a drop down located in the left corner at the top. One more thing: can you now see the HTML comments at the start and end of the blocks.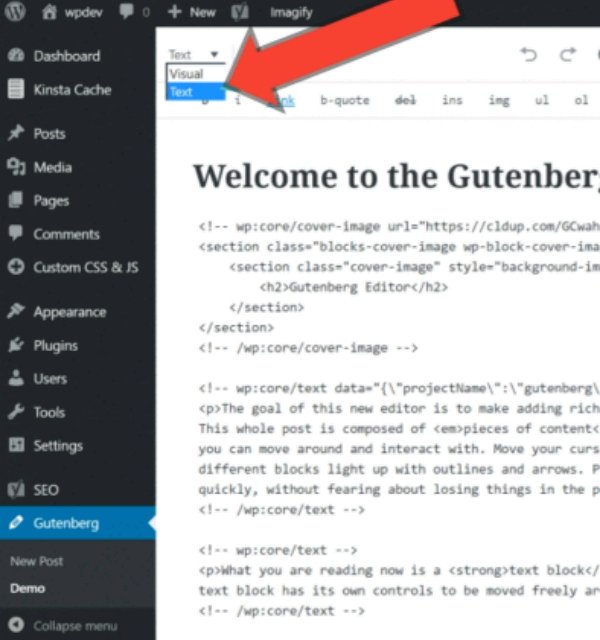 Excellent mobile optimization
We were amazed at how well it supported mobile so easily. Love to quickly insert an image or add a nice paragraph before publishing your first mobile post on the go? Gutenberg may be your go-to- mobile option.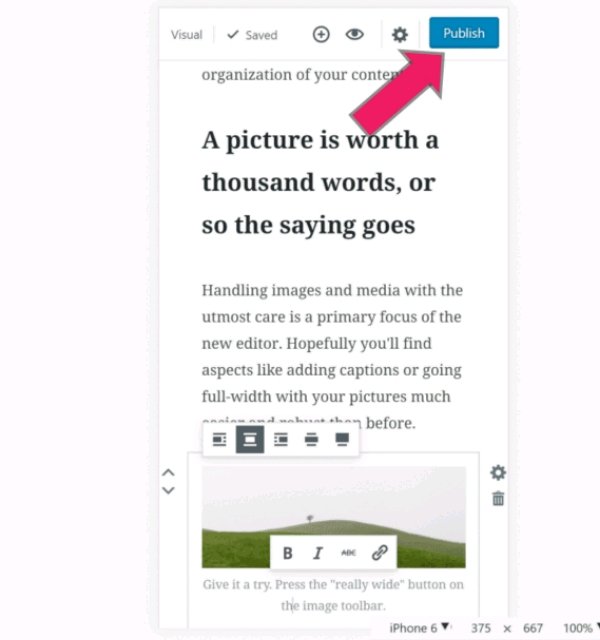 Blocks
One of the big thing that is added in WordPress 5 is the ability to add what is called "blocks". Now, a block is something like this: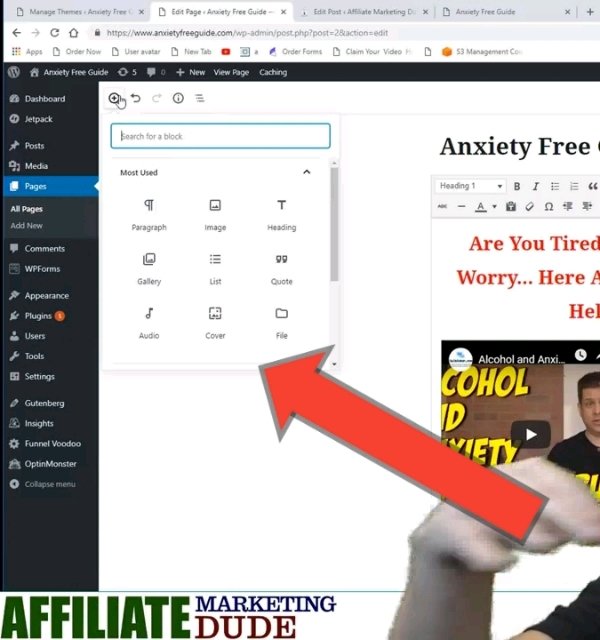 It contains different things that you can add, such as a paragraph, image, Gallery of images, quote, audio. Now, lets cover a few of them.
File
You can use the file option to make pages for giveaways and even download pages after someone orders. That makes it easy if you're doing a PDF or opt-in pages.
Video
It is also good if you want to use video. Now, the downside of the video is that it is going to be a self-hosted video. It is probably going to be slower. This will be fine if your videos are less than 5 minutes.
Custom HTML
this is good if you want to put an autoresponder code, banner ad code, opt-in code, and lots more.
Widget
it allows you to put a widget in the page and that's cool.
Embed
This is cool if you're getting into social stuff. You can embed Facebook, YouTube, Instagram, and lots more.
Now, let do a preview to see how friendly this is: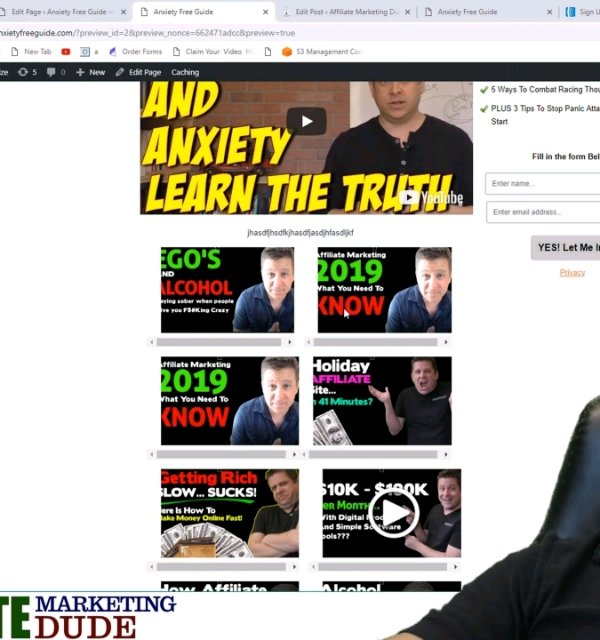 Okay, so, we've got our preview, slideshow, audio file, download button, opt-in box. It's actually a lot like a Facebook editor. That's actually the way Gutenberg is working for you.
Pros of Gutenberg WordPress Editor
Let's see a few pros of the Gutenberg editor
Publishers that love the medium style editing process would certainly prefer the WordPress Gutenberg editor.
Experience with Gutenberg is less distracting and enlarged screen space.
" Little blocks" are usually fun to use and highly responsive
Works excellently on mobile, and with time, we will see more and more people embracing it.
Easy to use/navigate for beginners
Cons of Gutenberg WordPress Editor
Let's see a few cons of the New WordPress Gutenberg editor
Don't forget, it is still undergoing various tests processes, so a ton of these cons will be fixed.
No markdown support
Though it sounds easier for a beginner, some may still find it hard to learn.
How Do I Revert Back To The Old Version?
If we want to get rid of the Gutenberg plugin, just click on plugin> installed plugin>deactivate.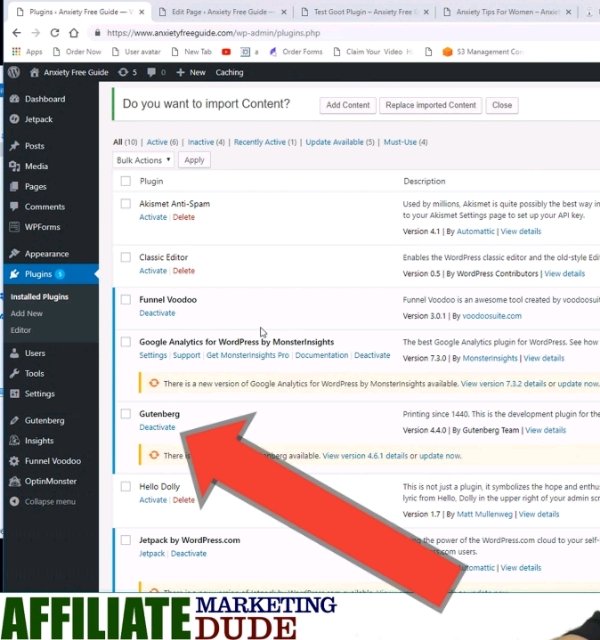 Then, you'll go ahead and install the original classic editor.
It then reverts you back into the old way. If you've got a site that is old and making money, don't update it with Gutenberg yet. You should only do that to your new site.
Conclusion
Above all, we were blown away with the new Gutenberg WordPress editor. It is definitely worth the hype. Play around with it, test it, and learn new stuff. Another thing we'd advise you to do is to learn HTML.
We advise everyone to go get a copy of it and install in their new site. This may actually be the dream editor we have been waiting for. To learn more about WordPress and making money, go to afiliatedude.com/5.