how to make money on udemy – udemy instructor pay
Click Here To Register For Saturdays "Deep Dive" On Making Udemy Courses For Profit
The online course industry is growing fast due to the demand for skills by professionals. The sector is estimated to generate at least 1-billion A DAY dollars by the year 2025. The feature that attracts most individuals to create online courses is the low entry budget that you need to start. Platforms like Udemy have made it possible for people to earn a decent income from online courses.
More and more individuals are looking to leave 9-5 jobs and find alternative sources of income. Online courses are attractive because they don't require initial capital, and you can always start with what you know. There are a lot of relevant skills that people are looking to learn online. Qualifications like Microsoft certification, excel, cooking, accounting, and personal budgeting have a huge demand online. Therefore, people tend to consider making an online course a viable way to generate income after quitting 9-5 jobs.
Many people are generating stable passive income streams on Udemy. Cheryl Spencer, a top instructor on Udemy, has had over 11,000 sales within one year on the platform.
If You Are Looking For Info On The Udemy Affiliate Program Click Here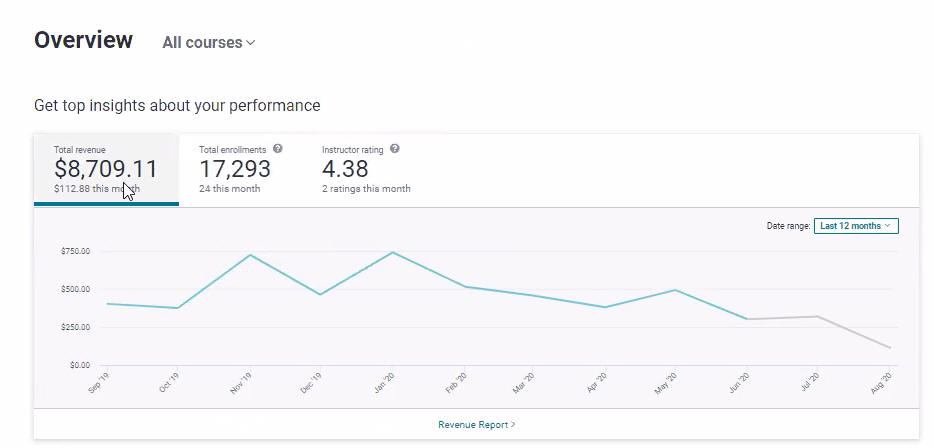 The courses she offers are short, cheap, and full of useful content. The instructor has been kind enough to share her experiences on Udemy on YouTube. In a 35-minute video, she explores how you can make money on Udemy and gives fabulous tips on how to work on the online course platform.
PART ONE: HOW UDEMY WORKS/ WHAT'S THE PAY?
Understanding Udemy can assist you in finding a way to generate leads for other sources of passive income. It can seem like a bad business strategy to create short courses on the platform that go for $10 each. However, you can create a sales funnel that starts with a quick online course and leads to more business opportunities.
HOW UDEMY WORKS
Udemy is an online learning platform that allows instructors to create video courses and sells them on the platform. You do not need to have previous experience as a course instructor to do a course. The platform provides all the necessary tools that you need to create a new course. You can join the platform for free and begin making videos that will make others know about a particular niche. Most of the platform's courses are 90-minute long, and they still manage to generate a lot of income. You do not have to create a 100 hour course to make profits on the platform.
It would be best if you kept in mind that the course's purpose is to generate traffic to your affiliate links. The site has 2.4 organic keywords that reflect a high amount of traffic that will allow you to make passive income on your online courses. The first thing you need to do before making a course is to find the right niche for your content.
FIND YOUR NICHE
The platform has a tool known as the market place insights that that works similarly to keyword tools. You can type in the keywords that you have in mind and see the most in-demand courses for that keyword. The tool provides the search volume for each keyword from the market insights data. You will have the top, median, and least monthly earnings for the courses that use a particular keyword. The tool can assist you in deciding the viability of the course that you want to create. You will be in a position to choose the relevant keyword that can drive traffic to your class. High-traffic keywords will help you reach a high number of students who are interested in your course.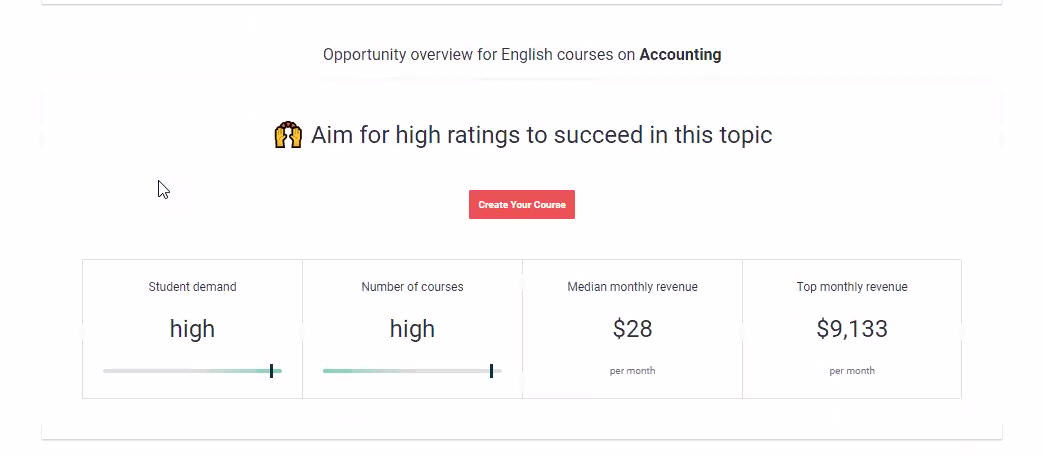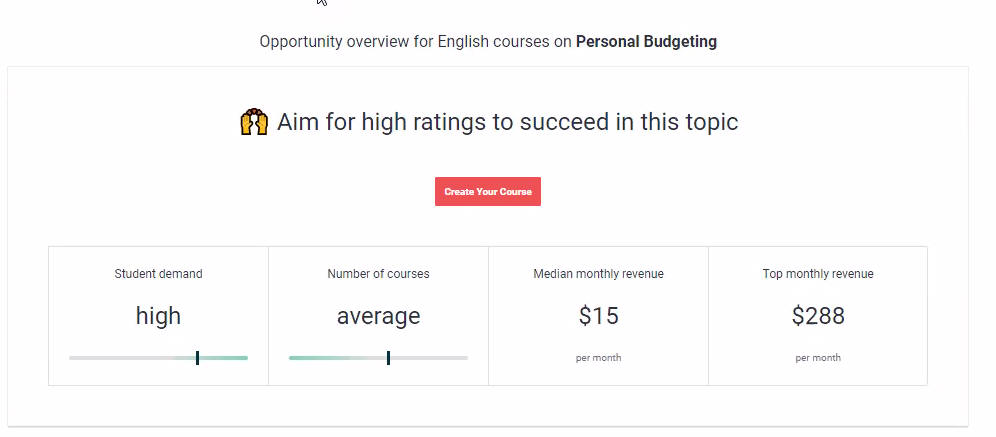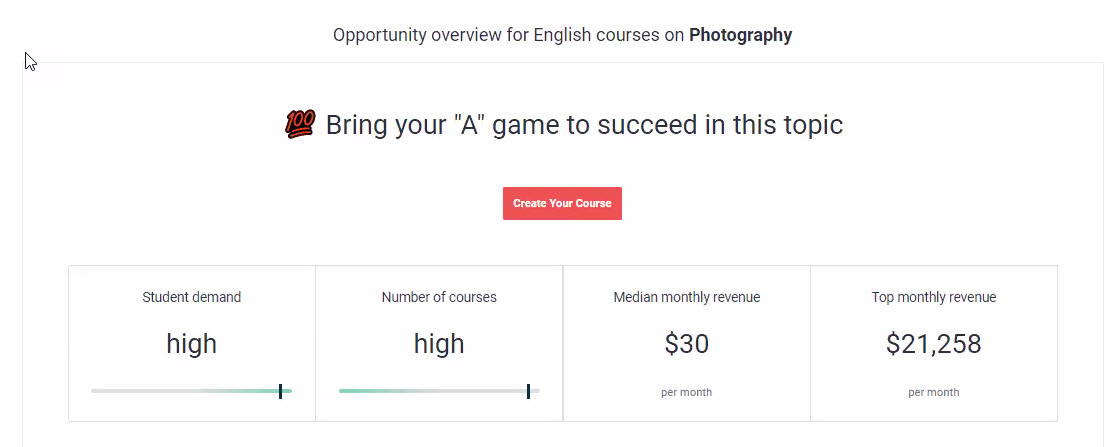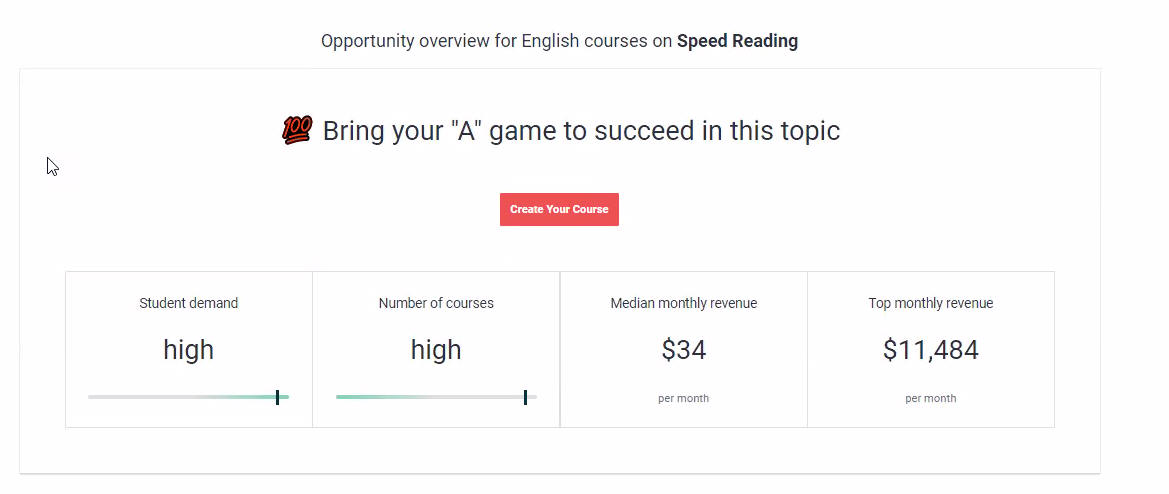 Alternatively, you can do a reverse keyword search on the website to see the highest courses. You can use any of the top keyword search tools on the internet to find relevant keyword searches on Udemy. The reverse search will help you narrow down the niche that you can select for your course.
The fact is that people are looking for many courses and they are willing to learn online. A keyword search tells you the courses that are in demand. You will be able to verify the application for the course you want to create when you see the statistics from keyword tools.
As a beginner, you can choose courses that are not saturated or highly competitive. Some of the popular niches on Udemy include excel, Shopify dropshipping, Microsoft certification, accounting, drawing, self-improvement, digital marketing, social media, and much more. Don't forget to choose a niche with high traffic so that you can do conversions with affiliate marketing links.
LEARN ABOUT PRICING
When doing your keyword research, you will see what the top dog earns in different niches, the median earnings, and the lowest earnings. You can price your course; however, you see fit. Keep in mind that classes that have a high demand tend to go for a higher price. Don't be afraid to take short courses for a small amount on the platform.
It is essential to note that Udemy tends to offer courses on discounts as a marketing strategy. The discount price can go as low as $9.99, even if your course goes for $300. However, discount sales are not a bad thing because they will positively contribute to your ranking. On the other hand, you will be making way less in terms of royalties than you intended. That's why you need to market affiliate offers with your course to increase your overall profitability.
You can look at courses in your category to find out the average prices for the course. You can also compare prices from the best earning instructor in your program. However, it would be best if you used to put into consideration the value of your course is to get more traffic to your affiliate offers. Therefore, the price should be within the range of most individuals looking to buy on Udemy.
CREATE A COURSE OUTLINE
At some point in designing a course, you will have to decide on the outline of your course. A clear understanding of the subject matter puts you in a better position to determine the areas that you will cover in your course. The platform has an option for modules and video content in each course. You need to create catchy titles for the modules and add the relevant videos for each module. Here are some of the specifics you need to include in your course.
* CHAPTERS
It can be tricky to decide the right chapters when you are a first-time instructor on the platform. A neat trick that can help you find relevant sections is by using a keyword explorer. You can type in your chosen keywords and see what people are looking for concerning the keyword. For example, people do searches on how to merge cells or create graphs on excel. You can use the searches as chapter titles for your course.
Using a keyword explores gives you accurate data on what potential students are looking to learn with regards to your course. You can select the searches that you have an excellent grasp and make them your chapter titles. Therefore, you will know that your students will be interested in the course from the word go.
* STATE THE BENEFIT OF EACH CHAPTER
Adding a benefit to your chapter titles is a simple way to capture your target audience's interest. For example, you can name a chapter "How to Merge Cell Fast in A Large Spreadsheet Using Excel" to show the benefit of that chapter. Each section should clearly state the advantage that your student will have once they are through with it. Try to understand the reasons why someone wants to buy your course and use that reason as a benefit. Your benefits should align with the motivation for the course you are creating. Above all, the benefit must compel a potential subscriber to learn more about your course.
* CREATE A CATCHY KEYWORD LOADED TITLE
Udemy provides the space for a course title and subtitles. You can use that space to create a popular title that will motivate your student to take the course. The title should be simple and not contain any big words. A compelling title can spark an interest in your target audience and prompt them to buy your course. Video titles also matter because they will appear on your landing page, so you need to optimize them with keywords. It takes a few minutes to optimize a title, and it will be worth the effort in the long run. Use keywords in a natural manner that won't make the title look weird to the end-user.
* CREATE VIDEOS
Udemy relies mostly on videos as the primary course material for clients. Most of the instructors on Udemy prefer to make videos rather than write a book. You don't even need to take a video of yourself. There are several tools on the platform that allow you to make videos, also make split screens to use when teaching. There isn't an exact manner that instructors are expected to deliver the content in videos. You can use whichever option that suits your course. There also a variety of tools you can use to make videos on the platform. You won't need to buy additional software to prepare videos for your courses.
* INCLUDE BASIC STEPS
Most individuals who buy online courses want to learn the necessary steps of skill and the steps to become successful at the said skill. For example, a Shopify course should explain how to open an account, attract traffic, and how to do drop shipping. Starting with basics ensures that students have the building blocks for skills.
Also, simple steps make it possible for your target audience to retain your teaching skills. Do not over complicate your course if you want people to follow the course until the end. Take time to create a highly informative course without being complicated or tedious. You can do advanced courses for pros, but focusing on the necessary skills will be more profitable.
* ADD DISCLAIMERS AND BE TRANSPARENT
Some subject areas like health, fitness, and beauty can be a bit sensitive. You need to give disclaimers if you are not a doctor or healthcare personnel in those courses. The disclaimer makes it clear that the students should consult with a professional before making the final decision. Try to be as transparent as you can with your target audience to build trust with them. Internet users appreciate transparency, and you have to ensure they get it. It is also a good policy to prevent future accidents or dissatisfaction from learners.
PART TWO: USING UDEMY TO GATHER AN AUDIENCE
Udemy has a lot of organic to the website, and creating a profitable course is one of the ways that you can tap into it. You need to create a course and position it correctly to attract the right kind of audience. It is not about the course, but how you can funnel the traffic into other profitable ventures.
* OPTIMIZE FOR RELEVANT KEYWORDS
Udemy acts as a search engine, and using the right keywords will ensure that your course appears in the relevant searches. You need to optimize your content using the primary keywords and other related keywords. Ensure that the course title and the videos are optimized to reflect the core of the course. You can use the Market Place Insights Tool on Udemy to find the keywords that are best suited for your course. The beauty of Udemy traffic is that the users are ready to buy any course relevant to their skills.
* IMPROVE RANKINGS
The platform seeks to engage the users to stay and buy a course. Therefore, find ways to increase the traffic to your course. A course with significant purchases has a higher ranking on the website. The algorithms on the platform will perceive that your course contains quality content when there are more sales. In return, your course will rank highly in relevant keyword searches. Your previous purchases will help you create a following that will come back for more when you upload new courses.
* CREATE AWARENESS OUTSIDE UDEMY
The act of creating awareness for a launch is common when it comes to authors. Authors tend to create awareness about a book before the release by informing fans there will be a discount. The awareness campaign inflates sales and gives the book a better ranking. The same happens when you take the time to create awareness about a course out of Udemy. You can invest some time to market your new course before the launch.
You can generate decent sales on a discount in the first few weeks and create an audience for your course. The strategy may undercut your profits, but you will gain an audience that is valuable for your backend profits. You can create awareness through social media channels to generate hype for your new course.
PART THREE: HOW TO SET UP YOUR COURSE AND SCALE FOR PROFITS
Cheryl Spencer managed to sell 17,000 courses within one year, which is impressive. Any person who can make sales of any significant magnitude has an outstanding talent. There are several tools in the platform that can assist you in marketing the new course. Using the tools will give you an advantage in the beginning after setting up your course. You can opt for all the marketing programs available on Udemy and enjoy the mega-size promotions on the platform.
* OPT INTO UDEMY MARKETING
You can opt for a marketing program on the platform that offers the course for a discount. You can create traction about your course using the marketing program. You need to understand that you give Udemy the right to decide the prices during sales when you sign up for the program. Overall, it is an efficient promotional tool to help you move traffic to your backend income-generating activities.
* OPT INTO AFFILIATE MARKETING
You will have the option to opt-in for affiliate marketing where a portion of your profit will go to the marketers. The benefit of the affiliate marketing program is that the third party and vendors are already motivated to spread the word about your course. You can forfeit a small portion of your money to increase your sales when starting.
* USE THE EMAIL MARKETING OPTION
There is an option for sending at least two emails per month to individuals who have bought your course. Two emails per month may seem like nothing, but taking the time to create compelling emails can help you make conversions. The email marketing tool gives you instant access to anyone who buys your courses. You can use that network to create awareness when launching subsequent courses.
* GIVE AN UNKNOWN BONUS
A bonus within the course is a beautiful way to create an email list off of Udemy. The gift should be something your clients cannot find on the platform. It also has to be something that your clients will find useful in their lives. You need to create an excellent landing page for the bonuses where clients can give you contact information. The extra nest egg allows you to create an alternative sales funnel that increases your passive income.
PART FOUR: IT WAS NEVER ABOUT THE COURSE
The best part about publishing an online course can use it as a source of traffic for affiliate marketing. Affiliate marketing is an excellent source for backend profits when you have an online course on Udemy. A course on Udemy doesn't guarantee instant success since you are not assured how everyone will react to your course. You need to have an alternative source of income that compliments your course. Backend profits are the sources of income that you get from sharing links on your Udemy course.
* AFFILIATE OFFERS
You need to identify affiliate offers that will be ideal or related to your course. It would be best if you did your research before starting the course and choosing the best affiliate offers in the market. Do not spam your clients with irrelevant affiliate offers that can impact the user experience of the course. There are so many options for affiliate offers like click funnel, products, software, online quotes, calculators, etc. The essential point is that you find items that are relevant to your course. A quick search on Google will show you many affiliate programs that you didn't know existed.
* BE CREATIVE
A lot of instructors rely on buyer keywords to find the right affiliate programs for their courses. Using buyer keywords can make you lose out on lucrative affiliate programs without knowing it. The best way to find affiliate programs is to follow the thought process that clients use after the course.
For example, a client who pays for an online course about creating websites will need web hosting services. Also, the client can opt to use a free website designed to make various themes for sites. You can add affiliate links for web hosting and websites that help create decent websites for a small price. The thought process will come in handy in helping you identify viable opportunities to increase your backend profits.
* MENTION SERVICES YOU OFFER
Take time to mention your affiliate programs, landing pages, or offers you may have at the beginning of the course. There is a common assumption that placing links at the end of the course is the best way to promote affiliate offers. It is wrong to assume that your clients will reach the end of your program and click on the affiliate sites.
Sometimes, clients won't reach the end of your course. Making the introduction at an early stage ensures that you will get a reasonable number of clicks. You have to ensure that your links get the most exposure during the course. Also, it comes off as being transparent when your clients know that you are selling from the word go. Otherwise, it will seem like the course was a lengthy sales pitch.
* SHOW YOUR COMPETENCE THROUGH YOUR CONTENT
You have to create terrific and relevant content for your course. Even though you are using the platform for traffic doesn't mean that you have to create some worthless course. A platform like Udemy attracts professionals and financially stable individuals looking to increase their skills in a specific area. Your course should show that you clearly understand what you are doing.
Great content can prompt your course subscribers to reach out to you for services or consultations. It isn't unheard of for learners to reach out to instructors for their professional expertise. For example, a client can reach out after a Shopify course to request that you help them set up their Shopify account for a fee.
* TRACK YOUR BACKEND PERFORMANCE
Since backend profits provide a decent source of income, you need to keep track of the performance. You must keep your marketing strategies in place to ensure that you have a steady flow of passive income going into your account. You don't have to monitor your backend every hour. You can do it once a day to ensure that your backend profits are flowing in as they should.
HOW TO DO CONVERSIONS OFF UDEMY
It would be best if you found a way to do conversions out of Udemy. You can easily do conversions from the platform because the users have seen your content and trust you. Therefore, your course should be of the highest quality because people will use it to gauge your proficiency.
Look for fast converting products and services that will earn you a commission. The leads you get from Udemy will be simple to convert when you have the right affiliate link. For example, you can give clients a link to a debt calculator on a personal budgeting course. Also, you can recommend a site for people to check their credit and provide a credit report. Another example is that you can recommend accounting software for a course for an accounting course.
SUMMARY
The reason why backend profits are vital for Udemy instructors is that a large portion of instructors makes a small profit from Udemy. There are a few instructors who manage to make money with courses on Udemy. Some niches like Microsoft certification rake in thousands of dollars in profits per month on the platform. Other niches bring in less than $300 per month in sales.
You need to understand that the platform won't make you a rich person overnight. You cannot afford to create a course on Udemy and sit back without any marketing efforts. You cannot rely on the platform as your only source of income. You have to tap into the traffic available on the platform and make conversions. You can create a variety of courses on the platform and include several backend links to make money with courses.
Overall, Udemy is a perfect online learning platform for anyone looking to make money with courses. The definite way to make money from the platform is tapping into the traffic to generate conversions using affiliate offers. An informative course on the platform can act as an excellent lead magnet for your affiliate offers.
2 Responses to how to make money on udemy – udemy instructor pay