How Does Yelp Make Money – Full Business Model
Yelp is a household name when it comes to online reviews. Currently, Yelp.com has collected about 184 million reviews as of 2022 from both consumers and businesses around the globe. This is pretty impressive given that the platform was initially launched to help local businesses and restaurants gain more exposure.
With all that data, traffic, and user feedback you may wonder how Yelp makes money.
The answer is this- Yelp has several revenue streams, including commissions, advertising, and other services. As of October 2022, Yelp is worth $2.46 billion.
Let's take a deeper look into the business, including how Yelp began, how the online review platform earns, and its competition.
Here Are Some Most Fascinating Yelp Facts:
Yelp, which has 184 million reviews worldwide, assists millions of consumers in determining which businesses are available in their area and how each has performed for their clients.
According to Alexa, Yelp.com is the 44th most visited website in the United States.
Yelp has 92 million unique mobile users per month on average.
Yelp receives over 178 million unique visitors per month across mobile, desktop, and app platforms.
Each new Yelp star can result in a 9% increase in revenue.
Before visiting a business, 45% of customers are likely to read Yelp reviews.
Within 24 hours, 35% of people who search on Yelp will visit the site they check.
A Brief History of Yelp
Yelp is the result of a collaboration between Jeremy Stoppelman and Russel Simmons. The company was founded in 2004 after the two of them left their PayPal jobs to create their own business model.
Yelp was not an instant hit and unlike the mega review site you see today. Initially, the platform began as an email referral network with an option to leave a review on the side. Stoppelman and Simmons were surprised to find that the users were more interested in leaving feedback through the 'Real Reviews' section, which then had them promptly change the model to suit this functionality.
A year later, Yelp began to climb up the ranks in terms of popularity. More and more people began to sit up and take notice, which means more traffic and reviews. In 2009, the brand went beyond local restaurants and businesses, entering the global market and regions such as Canada, the UK, Denmark, and Singapore, among others.
What's interesting is that Google tried to buy the company in 2009 for $550 million, but then the founders declined the offer. The spurned search giant then launched Google Places, a competing sendee that has a similar model to try and oust Yelp from the top spot. However, Yelp's rise could not be denied and is now the massive success you see today.
Yelp has a long history of data licensees, including industry-leading mapping platforms, local search products, and voice assistants. Automakers have also shown a strong interest in Yelp's content. It anticipates that its content will be integrated into the infotainment systems of more than half of the new vehicles sold in the United States in 2022. The emphasis on data monetization can be seen in the fact that revenue generated from data licensing programs tripled from the third quarter of 2019 to the third quarter of 2021.
Yelp's value proposition
Local businesses – when it comes to local businesses, Yelp is a trusted platform because it allows them to engage with a large audience, increase their visibility, and source their target audience. It allows businesses to increase their revenue, provide business data, and manage reservations and waitlist management.
Users – the platform assists users by allowing them to browse local businesses, discover new places, save time and money, view photos and videos, compare prices, read reviews, and make better decisions.
For content creators – Yelp invests heavily in engaging and fun content, making it easier for users and businesses to interact with one another. However, when it comes to content creators, the company offers them recognition in yelp elite, as well as invitations to special events and more.
Yelp Earnings, Traffic, and Company Size
To fully understand the scale of Yelp and how much it earns, you'll need to take a look at current and past statistics.
Yelp's success arguably began in 2006, when the site reached an impressive 1.5 million visits every month. In 2011, Yelp accumulated 22 million-plus reviews spread across more than 500,000 different locations. The company went public the same year, buoyed by the wave of success, having gone from $12.1 million in revenue in 2008 to $47.7 million in 2010.The online review platform also started to grow in size- Yelp purchased Eat24 for $134 million and European rival Qype for $50 million in 2015 and 2012, respectively.
In December 2018, Yelp enjoys 66 million unique visitors each month and reached 6,000-plus employees. In the same year, the platform already has 177 million user-generated reviews.
The revenue was estimated to reach $942 million, which mostly came from advertising (brand and local).
As of September 2022, the website gets 169.7 million visits, with most of them coming from the United States. 72.1 percent of the traffic comes from mobile devices, while 27.9 comes from desktops. Also, around 42 percent of the leads are from Google, while 34.7 percent are heading directly to the platform.
The platform receives the majority of its traffic from mobile users or desktop users. Yelp's mobile app is no exception to the general trend: mobile traffic is steadily increasing and replacing desktop traffic. In 2018, mobile apps accounted for 50% of all internet traffic.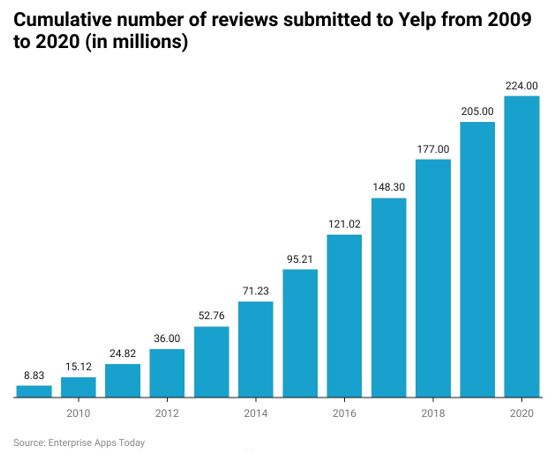 How Does Yelp Make Money?
Yelp.com helps users make informed choices when it comes to vacation trips, restaurants, hospitality sendees, and more by gathering reviews from those who went or have tried the food or sendee before. In a way, the website acts as an aggregator or a central online hub where people can find out if a business or restaurant is good without having to order or visit the place.
With Yelp being so popular, businesses can get more exposure and potential visitors simply by posting their presence on the website. This sen'es as one of the main sources of Yelp's revenue, which is advertising.
The vibrant communities of contributors who contribute to the content on Yelp's platform are central to the company's business model. In the form of reviews and ratings, tips, photos, and videos, these contributors provide detailed, firsthand information about local businesses.
Each review, tip, photo, and video adds to the breadth and depth of Yelp's content, resulting in a powerful network effect: more consumers and prospective contributors are drawn in as a result of the expanded content. As a result, Yelp cultivates and supports contributor communities while prioritizing the consumer experience.
Yelp makes money primarily through three different channels- advertising, transactions, and full-sendee programs. Here is a detailed breakdown of each.
Yelp Advertising
Yelp advertising is mostly aimed at SMEs and businesses that want to be seen. It makes total sense to want to get in on the action since people go to Yelp to find out what products or sendees are available to them (and to see if it's worth their time and money).
Currently, advertising on Yelp can be paid or free, depending on the route businesses wish to take. The free part is signing up for a business account and claiming the listing page for their locations. Once you have a listing, people can then leave reviews that range from 1-5 stars and feedback detailing their experiences. The more reviews a business gets the greater the consumer trust, which then snowballs into more customers and ultimately, more reviews. Yelp offers an upgrade for a price, which gives businesses a profile highlight whenever a user searches for a similar restaurant or niche.
They also get a Yelp Verified License and the ability to use the Yelp connect tool, among others.
As for paid advertising, the platform offers several choices, including targeted search, CPC, or cost per click, branded and enhanced profiles, and third- party advertisements.
Cost Per Click.
Businesses can pay to have their ads and banners displayed on the website. In some cases, search results will have a 'sponsored' highlight on the listings or suggestions in the 'additional businesses' section. They can also choose to feature a time-sensitive promotion that's related to an upcoming holiday.
Branded and Enhanced Profile.
Subscribing to a 'Branded' status means the business gets higher priority than the competition. SMEs get more control over how they're perceived, including an About area, CTA, or call to action buttons, photo slideshows, and even videos. In Enhanced, you get all of the Branded perks with a notable addition of blocking out your competitors.
Advertising Partner Program.
Third-party affiliates tied to a certain restaurant or brand can promote their businesses within Yelp as well. This mostly works through a revenue share model, which means the greater the success the better it is for both parties.
Yelp charges a monthly fee for the Enhanced and Branded Profile, while the CPC depends on ad performance. Advertising still accounts for a huge part of Yelp's annual revenue in 2022.
Transactions
Transactions only make up around 1 percent of Yelp's total revenue, but it's still an important part nonetheless. Yelp users can order their meals straight from the platform or get coupons and deals through partner promotions.
Businesses and local restaurants usually partner with Yelp in offering their food or sendees at discounted prices. Users can avail of the deal, which gives Yelp a commission in the process. Yelp Deals consist of prepaid vouchers for shopping at particular establishments, while gift certificates are more for giving to friends and family.
Yelp offers its users greater convenience by giving them the option to order food straight from the website. In partnership with Grubhub and Eat24, Yelp users will not need to open a new app or browser window when they're hungry.
They have expanded to non-food and sendee brands over the recent years, making Yelp a well-rounded consumer and online review platform.
Gift certificates operate in a similar manner. Instead of buying them for oneself, they are frequently bought as part of a gift for someone else.
As previously stated, Yelp purchased the Eat24 rights in 2015 and later sold them to Grubhub two years later. Despite this, the parties remained deeply involved with one another.
Full-Service Programs
Yelp has a plethora of tools, hosting, and self-sendee apps, as well as dedicated support available for businesses.
Enterprises can access the full-service program for a fee, which includes the ability to create deals and gift certifications, resen'ations, online shopping, video production, and customer support.
It's worth noting that Yelp has partnerships with other companies on non-advertising and subscription sendees as well. Yelp Knowledge is a licensing platform that gives businesses access to their data for valuable insights on ratings, review types, and location, among others.
Given the fact that Yelp gets millions of visitors on a monthly basis and has a wealth of data from reviews, business information, and more, it makes total sense to monetize it as well.
User-generated content is always good to have for both Yelp and its partners, revenue-wise since it's free marketing and word-of-mouth advertising.
10 Yelp Competitors and Alternatives
Trip Advisor
Yelp and TripAdvisor overlap each other in terms of hospitality sendees since the latter focuses on vacations, flights, hotel accommodations, and restaurants. Both platforms offer user-generated reviews of restaurants and roughly the same review metrics, e.g., from one to five stars.
TripAdvisor is just as popular as Yelp when it comes to searching for the best food and deals. As of October 2022, the company is worth $3.1 billion and brought in a $902 million revenue in 2021.
Angi
Angi or Angie's List is a home sendee and online directory platform. Like Yelp, Angi has crowd- sourced reviews to help users make a more informed decisions. In recent years, the website has undergone several facelifts and functions, the most notable of which is bridging the gap between consumers and contractors.
In 2021, Angi generated $1.68 million in revenue and is currently worth $1.08 billion in 2022.
Google Maps and Search
Google leads the pack in online search and reviews with 92 percent of the searches originating from its platform. Yelp and Google have had a tumultuous relationship ever since the tech giant tried to buy Yelp (and failed), which ultimately led to the creation of Google Places (in Maps). Today, both companies are going head-to-head and offering the same sendees for their respective users.
Google enjoys a net worth of $1,420 billion in 2022 and $209.5 billion in revenue last year.
Facebook Recommendations
Facebook Recommendations is a newly-launched sendee within the social media platform, catering to users who want to find a particular product or sendee. It's similar to Yelp in that users get to see previous reviews, but instead of a 1-5 star range, it's a 'yes or no' proposition. Facebook asks, 'would you recommend this business?' and users can either answer yes or no.
Recommendations is definitely a Yelp competitor as its users won't need to go out of the app or platform to shop for goods online. Facebook garnered a total of $117.9 billion in revenue in 2021 and is currently worth $430 billion.
Yellow Pages
Yellow Pages has a long history, starting out as a physical product that lists business phone numbers. The company slowly declined in the age of the internet, but somehow survived and is now an online portal. In 2020, the company managed to generate $107 million in revenue.
Groupon
Groupon started as a consumer-centric deals website for large groups, with cashback, coupons, and more in 15 regions. Today, you can download the Groupon app and connect with local merchants for the goods and sendees you need.
On the business side, Groupon helps businesses attract customers by giving them greater exposure while taking a commission cut in the process. Groupon's total net worth is $.96 billion and earned $88 million in 2021.
Bing
Bing is also a search engine and has had a history of working with Yelp. Like Google, the relationship turned sour when the two platforms began overlapping with each other. Microsoft put the nail in the coffin when it decided to partner with Facebook for its user reviews.
Bing generated $8.53 billion in 2021 and $7.74 billion in search advertising revenue in 2020.
Zagat
Zagat was founded in 1979 and is based in New York. Diners could use the platform to rate restaurants and tell people about their experiences. In 2011, Zagat was bought by Google for around $150 million, and its platform was integrated into the company's commerce and geo section.
In 2018, Zagat was reborn as a digital guide and had its rating system refreshed to a 10-point scale. As for revenue and earnings, a quick search reveals the company generates $8.5 million per year.
Home Advisor
HomeAdvisor isn't a direct Yelp competitor per se, as it focuses on the home improvement industry and providers. However, the business model is more or less the same, with users able to choose professionals based on past reviews and costs.
It's worth noting that HomeAdvisor is an Angi subsidiary. The platform is estimated to bring in around $300 million yearly.
Nextdoor
A copy of Facebook Recommendations, Nextdoor caters to neighborhood local and small businesses, with an option to organize an event or share information from one user to another. The concept and succeeding business model were so successful that its value doubled from 2019 to 2021.
Today, Nextdoor is used by roughly 33% of US households, and in more than 275,000 neighborhoods globally. It's expected that the numbers will rise even further once the company goes public. The estimated annual revenue for Nextdoor stands at around $173 million, and a net worth of $2.2 billion in 2019.
Yelp adopts an aggregate business model, which means that most of its revenue will come from businesses wanting to advertise on the platform. The wealth of user-generated data also means companies can try to get invaluable consumer insight, something that Yelp has monetized.