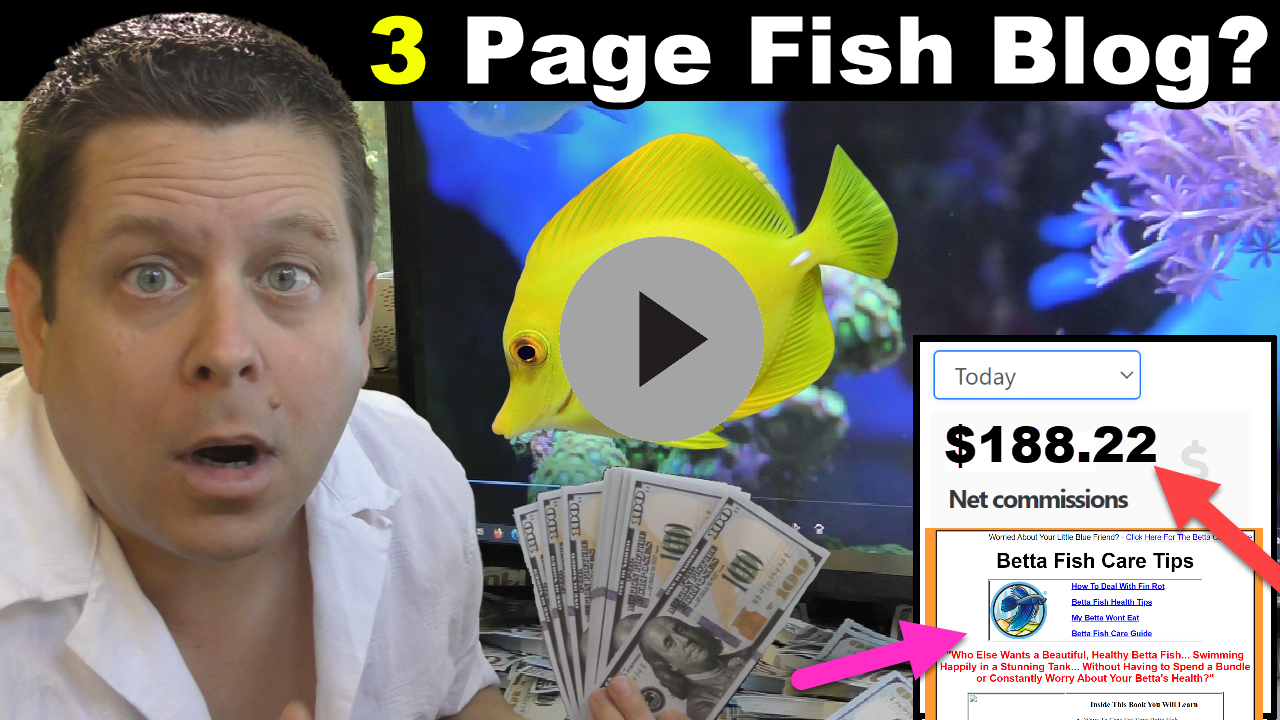 Check Out Marcus' Killer Niche Market Training Here
See The $188.22 Three Page Website / Blog

Learn A Simple No Face Low Content Video Method

Deep Dive Into The Fish / Aquarium Niche

Affiliate Offers And How We Make Money

CRAZY Simple Shortcut I Paid $509 For

How To Get Started








Fish Aquariums can make money too!
There are many ways to make money on the internet but a very interesting and unique way to go about it is with aquariums! Many various YouTube channels are devoted to fish and their cool homes. KeepingFishSimple is a great example of this he has 190k subscribers and makes an estimated $4.1K – 
$65.5K per year, according to socialblade. His videos are about him breeding fish and what fish are best for your own aquarium. He shows off his fish and aquarium and is very educational in his videos. He averages about 44.3k views on his most recent videos. He also has merchandise and his own website about fish upkeep.
Another person who has a successful channel about aquariums is Tazawa Tanks. According to Social blade he makes an estimated $478 to $7.7k a year. He has 81.2k subscribers, and an average of 8.2k views on his latest videos. His videos are about upkeep on aquariums and helpful tips on how to maintain or start the aquarium process. His videos are mostly educational information with a lot of b-roll. He also has merchandise and website of the same name.
The next channel is actually run by two people a couple their channel name is KG Tropics. They make an estimated $3.6 to $57.7 yearly according to Social blade. They also have a website and a store but they sell aquarium parts and accessories. Their most recent videos average 20.4k views. Their videos are kinda vlog style with them talking about the specific topic of the video. So one of them will vlog and show what they are talking about then cut to some B-roll when needed.
Next is Veteran Aquatics he is a former Marine and loves aquariums, he does a lot more DIY projects with aquariums and showcases that more than the others. According to Social blade he does not make as much as the others on this list but he still makes money from this, his estimated yearly earning is $21 to $436. He does not have merchandise or his own website. His videos consist of him doing a voice over him showing off the aquarium or the fish themselves. He only has about 4.64k subscribers.
Wild Fish Tanks, has 45k subscribers and makes an estimated $150 – $2.4k a year according to Social blade. He post videos about his aquariums and his adventures on getting his fish. He has an average of 19.5k views on his most recent videos. He does have his own store, and he makes a few YouTube shorts as well.
Prime Time Aquatics is another member in the fish and aquarium business. They have 189k subscribers and according to social blade make $2.1k – $33.2k a year. His latest videos averaged 4.6k views. He also makes a lot of shorts about his various fish.His videos follow the same format and style as the rest of the people on this it's where he talks about aquariums and it jumps to b-roll of what he is talking about.
In all, there are quite a few people who maintain aquariums and the fish that live inside them for a living. The reason these channels were all on this list is because each of them have made videos about how to make money on aquariums and how to follow in their footsteps. They also all share a passion for what they do and prove that having a love for what you do is a big part of their business!
Aquarium websites
An amazing unique way to make money is  through aquariums and breeding fish. There are websites that help with this are do it themselves a great website is Aquarium genius.  This website breaks down steps on how to make money on aquariums and fish breeding. According to similar web Aquarium genius has a total of 132k visits. They don't disclose their retune but they have ads so they make some money.
Aquarium Co-Op is another website that tells you about breeding and how to make money off of that. According to Similar web their annual revenue is between $2 – $5 million. They have have 753.5k visits and are ranked number 6 in their category.
Another website is Fish Lore, they are different articles on different types of aquariums and fish. According to Similar web is about $5 – $10 million. Their amount of visits is 691.2K and they are ranked number 7 in their category.
Aquarium advice is a website that has a lot going on for aquarium advice and tips. According to Similar web they make an estimated $2-$5 million and have 330k visits.
My Aquarium Club, is another website that has a lot of information about types of fish and aquariums they make estimated less than a million, according to Similar web. They have 327.6k visits  and are ranked number 20 in their category.
Turn your interests into a booming side hustle with these 20 fish and aquarium affiliate programs.
Next Day Koi
Nextdaykoi.com is an established koi and pet fish website, offering dozens of pet and hobby fish for sale. As the name suggests, it's a one-stop shop for everything koi, including assorted Fantails, Goshiki butterflies, Nishikis, Matsubas, Sankes, and more. Other notable products include fancy Black Moor goldfish and fish food.
The online koi store has robust referral rewards programs for those interested. Every successful referral purchase gives you a 10% commission, and you can sign up by going here. Web owners of fishkeeping, water gardening, goldfish, or koi sites are welcome, as well as pond maintainers, pond and aquarium drygoods retailers, and pond contractors.
You may need to wait to get approval before you can start promoting, but once you're given the go signal you'll get a special 10% off coupon code you can offer your audience, and promotional flyers you can distribute. NextDayKoi handles aftersales support, including concerns and questions about the fish your customers bought.
Saltwater Aquarium
Saltwateraquarium.com is an e-commerce website with a growing audience and a bustling YouTube channel. In terms of product offerings, you can get nearly everything you want here, including branded aquariums, aquascaping items, filtration systems, lighting, specialty items, pumps, and even live algae, coral, and saltwater fishes, just to name a few.
The website has more stringent requirements you have to meet before you get commissions. For instance, you'll need to earn at least $250 in commissions before you're issued a check. On social media, you will need to have at least 1,000 followers, while on YouTube you must have at least 10,000 subscribers. Website owners will have to send a report of their traffic data to be considered.
As far as sales are concerned, you get a 5% commission on sales in a 24-hour period. Payouts are done via store credit, check, or PayPal account every quarter. Successful Saltwateraquarium affiliates will get a Saltwater Family Swag pack, as well as their own unique affiliate links and coupon codes they can post on social media, websites, or YouTube channels.
Sign up as a Saltwateraquarium affiliate here.
Betta Lovers
Bettalovers.com is a specialty site that focuses on the health and well-being of pet Bettas. At the heart of it all is a comprehensive guide on how betta enthusiasts can take care of their fish so they can live a long and healthy life. Included in the ebook are little-known techniques, as well as tips and tricks you may not see anywhere else.
Betta Lovers has some of the best pet fish affiliate commissions out there, offering up to 75% whenever there's a successful referral made. After signing up, you get a custom referral link that indicates a customer bought the Betta guide from your website or recommendation through social media, ads, or YouTube, in which you get paid on the 1st and 16th of the month.
The program is handled by Clickbank, which makes the process a bit more complicated. You will need to sign up for an account on Clickbank, then copy your account ID and paste it into the link http://YOURID.bettafish.hop.clickbank.net. For more instructions, you can head over to the Betta Lovers affiliate page.
Petco
Petco.com offers a range of pet products, food, and supplies, including fish and aquariums. It's a popular brand that has a lot of goods, so signing up will be well worth your while.
The Petco Affiliate Program gives a 2% commission for valid sales, and you can promote their products on various online platforms such as websites, landing pages, newsletters, and more. They can even provide helpful tutorials for those who are just starting out in the affiliate marketing niche. Other than that, it's as simple as they come. Interested future affiliates can sign up here.
Marine Depot
Marine Depot's website, bulkreefsupply.com, is an all-in-one aquarium hardware shop for hobbyists. Some of the items they offer are pumps and plumbing goods, filters, chillers and heaters, fragging supplies, and specialty equipment such as auto top off machines, skimmers, and controllers.
The site's affiliate program is not visibly advertised, but you can check them out here, or ask a Marine Depot representative to get details sooner. Once you're in you'll be given a wealth of promotional marketing materials, including photos, banner ads, and even articles.
The Shrimp Farm
Shrimp, especially exotic and rare ones can also be considered pets, and if you're looking for a niche that hasn't hit the mainstream yet then The Shrimp Farm is a good place to start. Some of their most popular products include Tiger Shrimps, Black Fishbone Pinto Shrimps, packs of Neocaridina Shrimps, freshwater plants, snails, and breeding aids.
Affiliate marketers get a respectable 10% commission on theshrimpfarm.com sales. What's great about the partnership is that it's easy to get into, and you're not required to have any technical knowledge. You get a slew of text links, banners, and similar materials to promote the business, and when they click the link and follow through with a purchase then you get the credit for it.
The Shrimp Farm gives you total freedom to promote wherever you like, including via social media, email, or your blog. You will need to create an account first, then log in and enter your website address and PayPal details.
Dr. Tim's Aquatics
Drtimsaquatics.com mainly deals with science-based solutions for balanced and health-conducive aquatic systems. His aquatic products are mainly divided into four types- freshwater aquariums, saltwater aquariums, reef, seahorse, and nano aquariums, and water and pond gardens.
The site's affiliate program is simple and easy to navigate, but you will need to sign up first. As far as the commission percentage is concerned, you get a nice 10% commission on every successful purchase your visitors make. What's more interesting is that Dr. Tim's Aquatics holds a special promotion every now and then to drum up interest and revenue for both parties. The payouts are handled by a third-party company named ShareASale.
Pets Warehouse
Petswarehouse.com is all about pets, and thus features hundreds of pet-related products on its platform. Aside from notable brands Aqueon, Tetra, and the others in the fish and aquarium categories, there are plenty of other products you can promote to your audience.
The Pets Warehouse Affiliate Program is divided into two tiers- commission and super affiliates, which get 6% and 8%, respectively. The company has a dedicated management team so you can get timely support as needed. Currently, they will not accept discount sites and coupon sites, which means only web owners, YouTube channels and social media bloggers can join.
The program works through an auto deposit payment when you make a sale and an average of $60. Pets Warehouse sometimes gives out promotions and highlights big ticket items you can advertise, which then pays out a whopping $3,000. To sign up, head over to the Pets Warehouse affiliate program page here.
Fish.com
Fish.com is such an easy website to remember, and all that online traffic means you have a greater chance to make a lot of money through its affiliate program. As far as aquarium and pet fish supplies are concerned, consumers won't be lacking in options, with fish food and feeders, reef supplements, filters, decorations, and whole setups galore.
Like Marine Depot's program, fish.com doesn't really advertise its affiliate platform but it's there. You can try to contact a representative through email or the 'Contact Us' page, but the details are 6% commission for web owners and affiliate partners when they successfully refer another person to buy.
Likewise, once you're approved you gain access to the site's support team, as well as a product feed, unique links, tracking tools, and a banner you can display on your blog or website.
Aquatic Experts
Aquaticexperts.com has a longstanding partnership with Saltwateraquarium and somewhat overlaps each other in terms of aquarium goods and accessories. Pond and aquarium hobbyists will find a lot to like here since all the products are selected with care and encompass a wide range of pet fish environments.
The product you'll be promoting as a fish and aquarium affiliate program member isn't the items on Aquatic Experts. Rather, you'll be selling a digital ebook called 'Expert's Guide to Saltwater Aquariums'. The main hook that draws you in is the massive commission bonus of 50% for every successful referral you make, which is a very attractive prospect. Clickbank will be responsible for tracking sales and paying out members, so you'll have to register on the platform before you do anything else.
Being an affiliate unlocks tools such as ebook covers, ads, banners, and free articles. You can sign up for Aquatic Experts' affiliate platform here.
Glass Aqua
Glassaqua.com is a high-end aquarium boutique shop that caters to those who want more than just a container for their pet fish. The site has all the elements that you can add to your fish aquarium, including glass tanks, wood, rocks, and both aquatic and non-aquatic plants. Browse through their highlighted creations and you can get all of them in a convenient bundle using their 'Shop the Look' feature.
As it stands, Glass Aqua has a robust affiliate program where you can direct traffic to them and get rewarded for sales. After successful registration, you can earn 5% on every sale, and there's no cap or limit to how much you can make. Payouts are done on a monthly basis, and the company takes care of the after-sales support.
Keep in mind that there's a higher-tier affiliate program called VIP affiliate, where you get a higher share for every sale made. For this, you'll need to have considerable site traffic or social media influence.
Warehouse Aquatics
Warehouse-aquatics.co.uk is billed as the 'UK's best online aquatic store', with enough products and niche items to prove it. The website is a fish hobbyists' virtual paradise, with Juwel tanks and cabinets, as well as essentials and necessities available for everyone.
Warehouse Aquatics offers a tiered membership program for its online marketers, handled by a third-party company named Awin. There's a terms and conditions page you must agree to before you can start, but after that, you get to the important part- the commissions. Standard rates are 3%, and if you make a sale of £60 or above the commission rises to 5%. The commission structure doesn't end there- when you make a sale of £200 or more, then you get 7% out of the whole thing.
You'll need to remember that Warehouse Aquatics forbids PPC campaigns, but you are free to promote voucher codes provided by them to make the products more appealing to your audience. Register as a Warehouse Aquatics affiliate here.
Krafty Koi
Kraftykoi.co.uk handles everything koi and pond-related items in a clean and well-designed online platform. Aside from the usual pond food and koi food, you can purchase a number of aquarium products and pond treatments as you please.
Krafty Koi has several requirements for those who are interested in becoming brand affiliates. There's a flat 2% commission on all products you refer to, and the links you provide can be in HTML, as a product feed, or through banner adverts. As for the site types, the company is more forgiving and can accept sub-networks, voucher sites, cashback sites, employee reward sites, price comparison sites, and technology affiliates.
Joining can be done here and not on the official Krafty Koi website. The page offers helpful details such as adding contact details for its third-party liaison.
Dream Aquarium
Dreamaquarium.com deals in the virtual and not physical. Instead of having the usual plethora of fish and aquarium goods, users are presented with a digital product, or more specifically, a realistic screensaver and virtual aquarium.
Fish enthusiasts will be delighted with realistic fish behavior, including how the fiddler crab chases fish while cleaning the aquarium. Top-notch effects, such as light rays, soft shadows, waving plants, and bubble streams all add together to make a believable virtual aquarium. If you're an affiliate, you can make $2.50 per sale which pays out at the end of each month through PayPal.
Dream Aquarium's affiliate signup page can be found here. Keep in mind that there's a minimum of $100 before the site pays out.
Chewy
Chewy.com is a charming general pet store that has something for every pet owner. Its fish category is quite large, boasting saltwater supplies, freshwater supplies, fish food, water conditioners, and more. They also have some rare and cute aquarium products you likely won't find anywhere else.
The pet supply provider has a decent 4% commission rate for its affiliates. A quick look at the Chewy Affiliate Program page reveals helpful details, including its free-to-join model, 1:1 support from its dedicated team, and regular newsletters to keep you up-to-date on the latest promotions.
Aside from signing up for the program, you'll also need to register an account at Partnerize, all of which can be done here.
Elos Aquarium
Elos.eu is on a whole other class, with exquisite hand-made Italian aquariums for discerning hobbyists and fish enthusiasts. Recently, the company debuted a Diamond Line aquarium lineup, with crystal glass and Quiet Drain technology that eliminates pain points associated with fishkeeping.
Elos Aquarium offers a higher commission rate of 5% to its affiliate members whenever they pass a sale along. This applies to all its products, including fish and coral foods, fertilizers, test kits, cabinets, and branded aquariums. Elos affiliates also receive adequate support, including an FAQs page, terms and conditions, and a dedicated customer representative.
Aquarium Specialty
Aquariumspecialty.com deals with all things aquatics and can be your one-stop shop for lighting, equipment, food, and parts. The website's founder started in 2006 to educate and support hobbyists, and now offers high-quality aquarium supplies from brands like Aqua Illumination, Ecotech Marine, and more. True to form, the platform hosts helpful videos for aquarium beginners so they can get off on the right foot.
Aquarium Specialty's affiliate program is pretty much streamlined and easy to understand. First, you get a base 5% commission on every referral sale you make. You can take to the platform of your choice, e.g., social media, website, or ads, and generate interest to get people to click on the special referral link.
The company is open to those who are interested, including bloggers, influencers, aquarium clubs, and even forum members. You get paid 60 days after the sale is completed and through PayPal.
That Fish Place/That Pet Place
Thatpetplace.com is a catchy name for a website that sells fish and aquariums of nearly every type. The family-owned business has several physical establishments spread across the US. Online, you won't have to get up and off the couch to buy freshwater fish, saltwater fish, aquarium plants, invertebrates, and aquarium accessories, just to name a few.
That Fish Place/That Pet Place runs an affiliate program through Flex Offers, and to get the details you will need to register an account with them. As for the benefits, a page on the company website mentions that you can offer site-wide discounts and the usual commissions on purchases made at their website.
Pet Life
Petlife.com is a premium retailer of pet products and contains unique items such as dog clothes, fitness wear, and wireless pet electronics. For the fish and aquarium categories, you'll be able to find what you need, as there's a large collection of items such as water and tank health solutions, aquarium lighting, fish tank equipment, decor, and feeding accessories.
Take a peek at the backdoor and you'll be presented with a Pet Life Affiliate Program, where you can enjoy a 15% commission on every referral (except treats and food). Signing up for the program can be done straight to the website, and the approval process is fairly quick. As part of the registration process, you will need to provide your website URL, your Facebook page, and/or YouTube channel where you presumably will be promoting their fish and aquarium products.
https://shop.petlife.com/pages/register-affiliate-account
Waterbox Aquariums
Waterboxaquariums.com is a snazzy aquarium goods website with more than just equipment. Visitors can browse through the site and shop for accessories, chemistry, and aquariums varying by size and model. You can purchase freshwater or saltwater aquariums and fill them up with elements without ever having to go outside.
The brand offers a hefty 9% commission for its affiliate program members. However, if you want to get more details you may need to sign up first on its official website. Alternatively, you can click or tap the 'Contact Us' link and submit a query so you can know more about their affiliate offers. Other than that, you can start browsing through the high-ticket items so you can get a significant cut when one of your visitors or audience decides to buy them through your referral link.
https://waterboxaquariums.com/pages/register-affiliate-account
As a side note, you may need to enable Java to fully see the site's content and what they have to offer.