"I want to make money on Etsy!" is FLAWED THINKING!
Etsy, YouTube, Pinterest, etc. are not the moneymakers, but the platforms you can use to make money on the internet.
Benefits of using Etsy as your platform:
TRUST
Etsy is a trustworthy site with millions of users.
TRAFFIC
Because it's a trusted site, netizens look to Etsy before other sites to spend their money.
ORDERING SYSTEM
There's no need to worry about creating a merchant account due to Etsy's built-in ordering system.
One incredibly easy and efficient way to use Etsy as a tool for making money online is selling DIGITALLY DOWNLOADABLE products related to a relevant niche.
EXAMPLE: Wedding invitation templates, woodworking plans, printable wall art, digital planners for students, etc.
Once you choose your niche, find a way to direct traffic from outside sources to your Etsy shop.
TIP: Try grabbing a domain relevant to your niche to increase your likelihood of gaining traffic.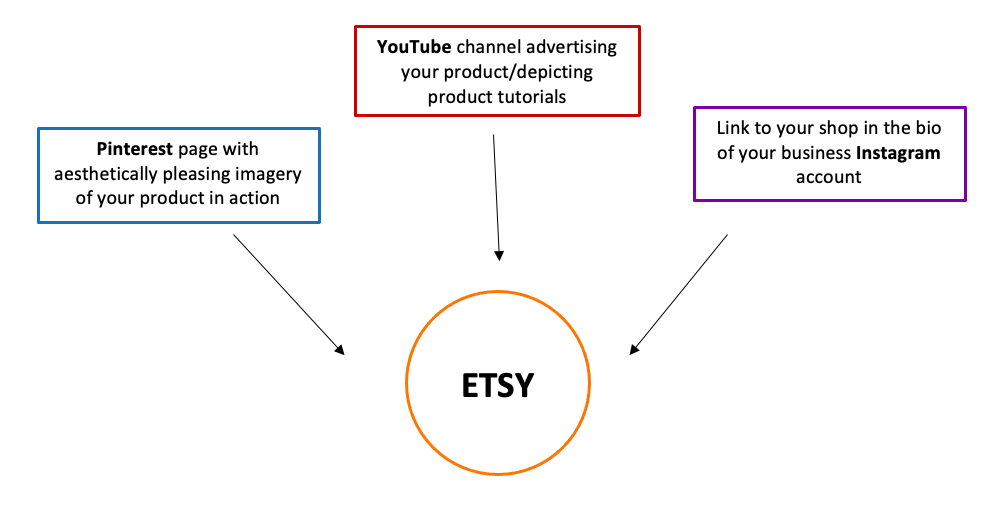 Let the market guide your decisions!
Make your decisions not solely based on your opinion of what would sell, but also based on solid data of the market and what is currently selling. This data is called your constant. Hard facts such as the amount of searches a keyword receives daily, traffic analytics, and current trends are all constants in your research.
Some tips about using keyword tools and using constant data:
DON'T: Use the keyword tools the way they're intended.
This will only get you the same results everyone else is getting and eventually lead you to a dead end!
DO: Shift your thinking and find a way to combine tools in a way others aren't.
Make your money being different and more creative than the rest.
EXAMPLE: You find that "outdoor bar" is a popular search right now, according to your constant data. Rather than trying to build an outdoor bar and sell it yourself, sell the digital plans for building an outdoor bar instead. This not only will be more effective for your sales being as you're no longer trying to compete with retail giants, but less detrimental on your wallet because there will be no building, packaging, or shipping costs for your digitally downloadable item.
TIP: As mentioned, digitally downloadable items create more revenue because of the lack of costs you'd otherwise have to pay for selling a physical item that needs to be built, packaged, and shipped. Once Etsy takes their cut, there will be nothing else consistently taking your money; you keep the rest!
Plans for builds (directions on how to build a certain building, piece of furniture, decoration, etc.) are very popular right now according to constant data of the market. This is another constant that not only we see, but also advertisers who will pay money to get a bit of the action. You can benefit from this by including relevant ads in your business plan.
Here are some suggested tools to help you find relevant offers as well as research keywords:
Some working examples of Etsy shops making money selling digitally downloadable products:
WOODWORK DIY ETSY SHOPS
All Etsy shop stats found using the shop analyzer tool on Alura
Shop Nation – plans for shop furniture (workbenches, cabinets, etc.)

Size Buro Studio – interior design + architectural plans
* €1.53k (European euros) = approx. $1.56k (US dollars)

Primitive Millworks – plans for garden planters + decor + furniture

JohnMarc33 – plans for various indoor and outdoor furniture + decor

Handyman's Daughter – plans for shop + garden furniture and interior furniture

Wood and Advice – plans for garden + interior furniture
* ₪16.32K (Israeli shekels)= approx. $5.02k (US dollars)

3rd Coast Craftsman – plans for chicken coops + workbenches

O.W. Garden Vintage – plans for garden, farm, + interior furniture

Michael Designs – plans for interior, farm + garden furniture
* TL21.97K (Turkish liras) = approx. $1.22k (US dollars)
Wood Plans PDF – plans for indoor + outdoor garden furniture
* €7.49k = approx. $7.61k (US dollars)

Wood Gears – plans for outdoor + garden furniture

diyMontreal – plans for indoor + shop furniture

DIY Wedding Market – plans for wedding decor + furniture

YOUTUBE VIDEOS BY ETSY SHOP OWNERS
All Etsy shop stats found using the shop analyzer tool on Alura
SANDRA DI – "Etsy Digital Downloads that will ACTUALLY SELL"
Breakdown of selling invitation templates, printable wall art, resume/cv templates, etc. on Etsy
Flatter Me Prints: printable planners, office decor PNG files, etc.

LAUREN THURMOND – "4 Things You Need to Know Before Selling Digital Products on Etsy"
Advice on selling digital downloads on Etsy with examples and walkthroughs
Lolos Graphics: commercial use PNG files, print on demand graphics, etc.



JESSICA STANSBERRY – "8 Digital Products that Make AT LEAST $100/day"
Examples of digital download products that sell well on Etsy + a breakdown of statistics
Hey Jessica Shop: printable planners, social media templates, etc.

BRANDON TIMOTHY – "How I Made 70K+ Selling Printable Wall Art on Etsy – Passive Income Tutorial 2021"
A breakdown on his printable wall art Etsy shop & sales + tips that personally worked
Neptune Art Prints: printable wall art

LINH TRUONG – "starting my own business (making stickers and prints + selling on etsy)"
Video capturing the process of starting an Etsy shop with stickers, prints, + lightroom presets
Starfruit Press Co.: lightroom presets (photo filters)