Uber Affiliate Program
This program allows people who create content to earn money while referring new Uber users to the platform. You can make as much as you want, depending on your efforts to bring in new Uber drivers and customers. For every Uber user you refer to, you could earn up to around $5. Uber affiliates get rewarded for the new riders and drivers they refer to the system.
Referrals are usually tracked in the system using the client's ID. The ID is generated by initiating a new app and registering it to the affiliate program for Uber. Affiliates will, however, be required to attain an absolute minimum in the referral fees, which is usually $250 for them to receive payments.
NOW… $5 for a ride is not much so what is the real secret to making the UBER affiliate program work?
You Can Refer DRIVERS To Signup To Earn Money With Uber… as of this writing they pay as much as $200 for a new driver signup.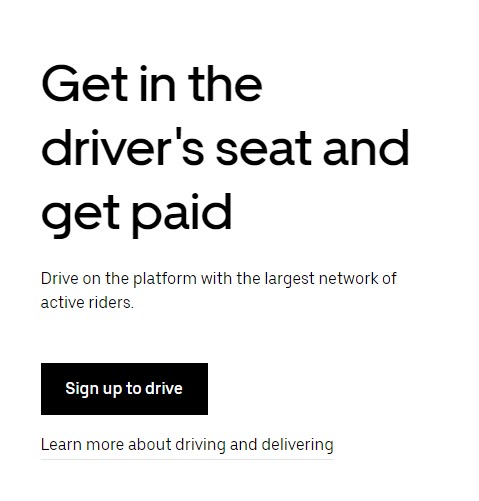 Here are some results from offervault for the uber affiliate program: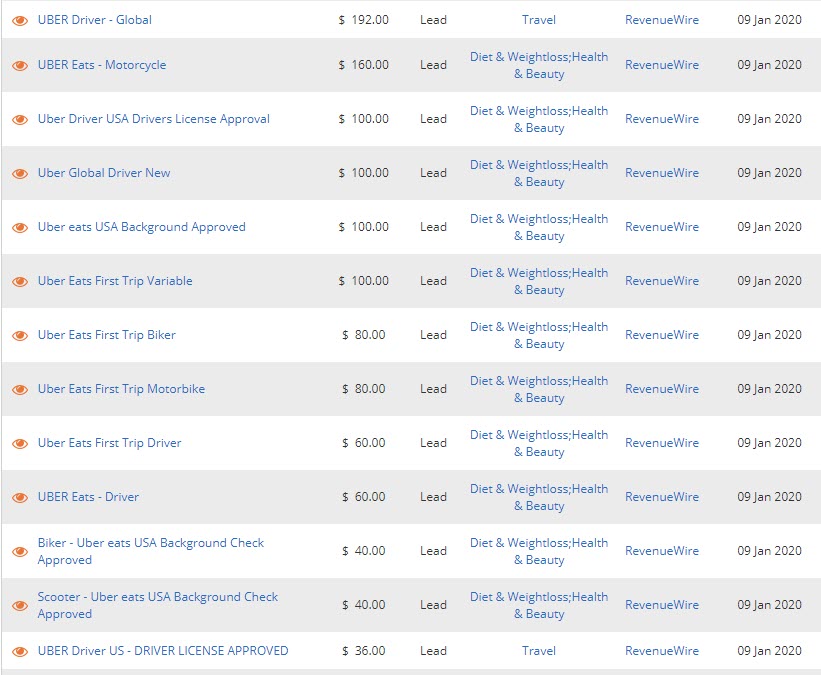 How to Join the Uber Affiliate Program
You Can Join Thru An Affiliate Network Liker RevenueWire Or You Can Go Direct To The Uber Website To Signup.
Here is a detailed process by which you can sign up for the Uber affiliate program. Navigate to the developer dashboard and head on to settings. Scroll down, and you will find a box for agreeing with the terms and conditions and click on it.
How to acquire the affiliate link?
The first step is creating an account after you have downloaded the Uber app. Then you can now log in to your account. Head on to the developer dashboard as the main aim is to create an affiliate link backtracking to the Uber site. Uber, however, does not make it that easy; you will have to create it rather than Uber creating one for you.
For some websites, the link usually is ready, and all you have to do is copy it and paste where you wish, but here, you will have to create it yourself. Navigate to the authentication tab, and this is where you copy your client identification.
It should appear on your screen on a red text. Now look for the link that Uber gives you then place your client ID immediately after that link. Once in possession of the affiliate link, you can add it to your site and start reaping from the referrals made to Uber.
How Much Can You Make?
Uber typically pays $5 for every referral you bring in. That is for every driver that is based in the US and joins Uber via your link. The amount may not look hefty but come to think of it if you have a website with a massive following. You could earn sufficient revenue from the affiliate program only. The principal determiner is the amount of traffic on your website and the conversion rate of course.
Personally I Would Go Thru An Affiliate Network So I Don't Have To Mess With Apps And I Could Get Paid Each Week For My Referrals.
How to Promote Your Affiliate Links
There are various ways through which you can promote your Uber affiliate link and bring in more customers for a higher income. Among the most important ways include:
• Deep product tutorials
Promoting affiliate links using tutorials is one of the most effective ways. Help the readers and potential customers on what to expect once they join Uber. Tell them clearly what Uber entails and how the company will solve their problems. Show them the primary advantages of joining Uber, and they will surely click on your link.
• Use affiliate banners
Provide the affiliate link in the form of banners on your website. The clickable banners can be placed at any point on your website like at the sidebar, at the footer and header, in marketing messages such as in email, etc. In case you are not able to create an affiliate banner, you could always reach out to the support team for Uber, who will assist you.
• You Tube affiliate links
Videos are a typically powerful marketing strategy, and this is true, especially to the affiliate marketers. Research has it that the majority of businesses have reported new customers who came directly from a video posted on social sites. You can promote your Uber affiliate link by producing videos that are relevant to Uber and include the link in the process. That way, several target traffic will click on the link and sign up, giving you some commission.
• Promoting your link on Facebook
Social media is an ideal avenue to fish for prospects. Almost everyone is on at least one or two social sites. Therefore, promoting your affiliate link on these sites will categorically lead to a high conversion rate. Many people will click on your link and sign up on Uber using your referral link.
Lyft Affiliate Program
The lyft affiliate program offers users an opportunity to earn passive income by referring other people to the website. The business gives you a chance to garner profits by referring your friends and family to join Lyft as new drivers or riders.

As per the website… lyft pays $5 – $6 per referal… so again i would check out revenuewire to promote thru them for the higher payouts and the benefits of having a network back you up.
Referrer Eligibility
Referrers may be any person with a working Lyft account. They could be riders, drivers, or partners of the company. You also have to be a citizen of that particular country you are living in and be an adult. Lyft enables you to use their platform in various ways; you can use it as a driver and rider too. In case you flaunt the referral rules, then your ability to engage in the referral program could be curtailed by Lyft.
Lyft Codes
Unlike Uber, Lyft has got Lyft codes for use under the referral program. They are alphanumeric codes that you distribute to other people so that they can join the Lyft community. However, Lyft holds all the rights and permissions for all the Lyft codes produced, and they can deactivate the codes given at their discretion.
How Do You Refer New Users to the Lyft Platform?
Referred Riders
Using the Lyft passenger app, you can refer new riders to the Lyft community. But for you to be rewarded for bringing in a new rider, you must have an existing Lyft account, and you are of majority age. That means that you are 18 years of age and above.
Referred Drivers
For you to be compensated by the Lyft referral program, you must satisfy some requirements. You must have been a driver on the Lyft platform or already created an application to be one, you must be eligible and already approved to drive on this platform. Lyft is responsible for approving or denying approval as a driver in the company. The review process may be lengthy or short, depending on several factors.
Invitations to the platform
Lyft enables you to invite your friends and family to join the platform directly. They will provide you with automatic invitation emails and texts which can be sent to a potential rider or driver. The invitation could be having a promotional offer or a bonus for the new driver. Once the invitation is practical and someone joins the Lyft community, your code will be applied to compensate you on the same.
Referral Rewards on Lyft
General
You are entitled to a reward for every rider or driver that you refer to the Lyft community. These referrals must, however, be from the same country as you. You cannot be rewarded for cross-border referrals, and all the requirements must be met. The company creates reward criteria, and they are also subject to alterations at any time.
If the new user satisfies the criteria set, then the type of referral reward you will receive will be dependent on which Lyft account you used when inviting them. The amount also depends on the type of account used to solicit the new rider or driver.
Rewards for Referred Riders
New riders on Lyft could receive referral credit when they create their Lyft accounts. The credit, however, is only used in the platform, and it is not redeemable for cash or transferred. Referral credits may be having restrictions like geographical use or expiration dates. The rider will be notified of these upon signing up.
If you are a new rider, you could always look at the promos tab to ascertain whether there are any referral credits available and what are the restrictions on them, if any. Lyft constitutes all these and other conditions, and they are subject to alterations by the platform at their discretion.
Maximum Rewards
Lyft has got a maximum amount that they will pay for referral riders and drivers every week. The amount stands at $2,000. Say if, for example, the reward for referral drivers is $10 for every new member and you generated 230 drivers in that week, the total amount you will be paid will be $2,000. That requirement applies to all the Lyft accounts, but you are at liberty to open multiple accounts to beat around this maximum payout policy. The referral program for Lyft, however, pays $16 for every new driver who joins the Lyft community using your referral link.
How to Promote Your Referral Link
Numerous ways can be used to promote your referral link and bring in more riders and drivers to the platform. Here are among the most viable options:
• Instagram affiliate links
It is much like just promoting the link on Facebook. Instagram has also got a massive audience, and from here, you can scoop a couple of new invites to the Lyft platform. Instagram posts are, however, made in a way that you cannot click them, so here you must drive traffic to your bio. Ask them to click the link from there.
• Twitter affiliate links
Making use of Twitter requires top-notch wordplay. That is because you have only 280 characters to make someone click on your affiliate link. Here you have to be more creative to bring in the leads in huge numbers.
Credit Card Affiliate Programs
It works by luring prospective clients to purchase credit cards. Online shopping has been on the rise, and more and more people are seeing the importance of having credit cards. They have more advantages in the modern world and thereby recommended by numerous experts.
Their referral program also works straightforwardly. All you have to do is dive into the internet and look for potential clients and show them the importance of having credit cards for their online dealings.
So after they accept your offer, you will provide them with a link to the website providing the credit card so that they can sign up and apply for a credit card. From the affiliate link, you provide to the customer is where you will earn your commission. It is a lucrative way of making money since the majority of businesses have shifted to the eCommerce space. Credit cards are considered more secure and efficient; therefore, people will always be looking to apply for them.
Final Thoughts
All these affiliate programs are viable options for earning money passively. However, you should ensure that you meet the set requirements to be compensated. Also, remember that the more the customers you bring in the platform, the more your commission, so sprinkle those affiliate links all over the internet to boost your income.