Make Money with Affiliate Links on Youtube: Affiliate Marketing Tips for YouTubers — affiliatemarketingmc at YouTube.com
Today we're talking about how to make a living with YouTube and affiliate marketing. Does it work? What are people doing right? We'll show you how to turn your YouTube channel into a full-on business, so that you can get paid doing what you love to do—making videos.
Affiliate Marketing
First of all, what is affiliate marketing? Affiliate marketing is where a company has products and services to sell. They use affiliates to help them sell those products. They generate a custom link for each affiliate, and when the affiliates send people to that link, they get paid.  As an affiliate marketer, that's exactly what I've been doing for the last 18 years from the comfort of my own home.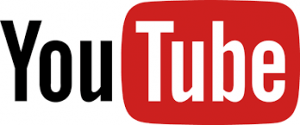 YouTube and Affiliate Marketing
When it comes to YouTube and affiliate marketing, things are a little bit different. They're not as linear as search-based marketing. Most YouTubers don't know what they're doing when it comes to affiliate links. They'll create a video, and in the video they'll say something like "link in description". Then down in the description they'll have a bunch of words, and then they'll have their raw affiliate link displayed.
If you're a YouTuber, you don't want to do it that way. There are two main reasons you don't want to have raw affiliate links on your YouTube channel. First of all, you're not building a brand. If viewers go to the link and they don't buy, then they're kind of lost in cyberspace. Maybe they'll watch another video again. Maybe not. But either way, they're lost.
Second, most raw affiliate links don't have a disclaimer. If you are doing an affiliate marketing, you need to have a disclaimer. If a viewer is watching your video, they might think you're just a kind person that wants to help out. They might not know that you get paid for sending people to your link and when they buy. If you don't have a proper disclaimer, you can get into legal trouble.
Monetize with YouTube
If you're a YouTuber, you might have an audience, and you might have views on YouTube, but you might not know how to monetize them. Or worse, maybe you've been demonetized. Well, there's actually a better way than just relying on views.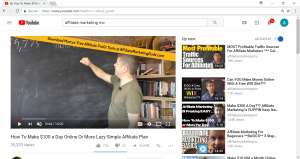 Understand Your Audience
In my years of affiliate marketing, I've found that you can make more money by understanding your audience. You have to realize that every single view on YouTube is an actual person. Then, think outside the box and think about what your audience ultimately wants. Each person that interacts with your videos does so with a purpose, whether it's for entertainment, education, etc. You have to get the intent out of them and understand what it is they want to do. Then you can drive them to the things that help them.
[smart-affiliate-ads group="5″ position="random" limit="3″]
Own Your Own Website
The key here isn't just to brand your audience, but to brand yourself as well. If you're going to do YouTube and affiliate marketing, you need to have your own site. You also need to have your own domain name. You can learn how to do this in my video over at www.GoHubSite.com. It'll take about 15 minutes to set up, costs about $6 a month, and you can have as many different sites on that hosting account as you want. Then you can do lots of affiliate marketing with YouTube and other stuff as well. Instead of giving people your long, ugly raw affiliate links, you can send people over to your website, where you'll have your affiliate links.
Get Visitors On a Mailing List
When you send people over to your site, you can also have them put their name and email in an opt-in box. This is very important, because it builds you a mailing list. This is your audience—you did all the work to build it up on YouTube, so you might as well make the most of it.
Once you get them onto a mailing list, you can contact them and understand them and get to know them better. And you can send them different offers all the time. You might do this through standard affiliate programs, such as ClickBank or Amazon. Or, you might give them offers some other way.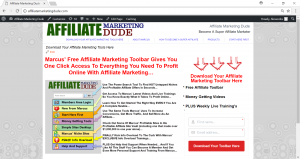 CPA Marketing
CPA marketing is an alternative to affiliate marketing. This stands for cost-per-action or cost- per-acquisition. Instead of having to generate a sale, you can get paid on downloads, forms, clicks, phone calls, free trials, leads, and things like that. This is a lot more lucrative because it's a lot easier of a barrier of entry. When you send your visitors these offers, they're going to convert way higher than pay-per-sale offers.
Final Thoughts
So remember: When you're doing affiliate marketing on YouTube, you want to say no to direct affiliate links, and say yes to creating your own site. You want to say no to shady tactics and yes to having disclaimers so that you are covered. You want to say yes to owning your site, building a list, and CPA marketing.
For more information, visit www.AffiliateMarketingDude.com.