Beginner Road-map To Makes $100,000 Per Year with Affiliate Marketing — affiliatemarketingmc at YouTube.com. 
When I first started my business, my first goal was to make six figures online. That's right, I wanted to make $100,000 a year from the internet and the comfort of my own home. And I knew there was a way to do it, but I felt really stuck, because no one really showed me the way. And there wasn't any sort of roadmap.
So what I'd like to do today is give you the roadmap that took me to my first $67,000 a year, my first $100,000 year, and even my first million dollar year. This is what you need to do to make $100,000 per year with affiliate marketing.
It sounds like a big goal, but in actuality, it's only $274 dollars a day. If you break that down into 24 hours days, that comes to $11.42 an hour.
Here are the steps you can take to building a $100,000-per-year business.
Find a niche
The first thing you need to do when starting your affiliate marketing business is to find a refined audience. You have to find a group of people who are interested in something. The more you know about this group of people, the better. It could be anything. It could be people looking for how to save money, people looking for ways to make recipes, anything.
The best way to find this group is by using the Google AdWords Keyword tool. This is the back door to Google. Google has the front door where you search for things, and the back door shows you what people search for on a monthly basis.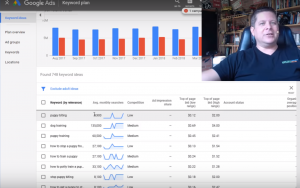 Those people are part of what we call a niche market. Your niche market is going to start with a specific keyword, but it's going to branch out and be broad. So you might find that as your going through, your niche is going to segment into several different little niches. You want to keep it kind of tight, but broad enough to where the money's there.
Make sure you hold onto that list of keywords that you find, because you'll be using them later.
Buy a domain name
After you find your group of people, and you find a niche that will work, the next step is to go ahead and buy a domain name.
A lot of people think they can do this with free hosting, with a free domain name. But the best way to do it is to own your own domain. This won't cost you much. You can get them for $4, or $8, or on sale for even less.
It's very important that you get a domain that fits your niche. You need something that's refined, based on your keywords. And you want to do this for every niche.
You also want something that's easy to remember, so that they can come back to you.
You'll notice how in this video, I use something like GoHubSite.com. That's easy. You type it in, and it's not that hard to spell. When people get confused, they don't go to your site, and they don't buy anything.
So make it easy. Make it based on the keywords, and make it very, very specific.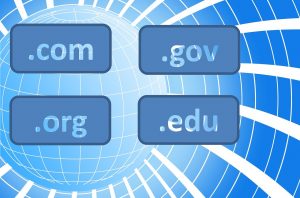 Get web hosting
If you go over to GoHubSite.com, I'll teach you how to get a domain free with your web hosting. I'll also teach you how to set this up the way that I do.
The reason I tell you to get hosting through me is 1) I'm an affiliate and I get paid when you sign up for hosting, and 2) because I do this with my sites, and I use the same hosting platform. All the training videos I put out are based on that hosting platform.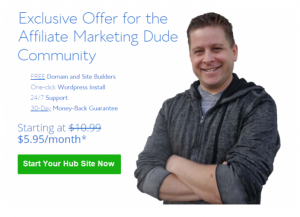 Set up a website
The next thing I want you to do is set up a website.
When I set up a website, I use WordPress. I use WordPress for almost everything. Using WordPress is super easy. You'll have it installed in just a few minutes. It's a very easy platform. And all the tools that I've designed for you in my courses work on WordPress. You just click "install", and you're ready to go. Your WordPress site doesn't have to be fancy. You don't have to spend $1,000 on a theme. Just set up something simple.
Go through your keywords
Next, you want to go through those keywords that you found using the Google Keyword Planner.
Check out how many people are searching for those keywords, and see what the competition is like. Hopefully it's pretty low, and there aren't a lot of advertisers. Search for those keywords on the main page of Google to see if there are ads there.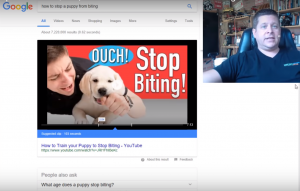 Then, think about if the people in that audience might need something else that does have a lot of competition. If that's true, then you'll be able to buy cheap traffic in a market where people are paying a lot of money.
Find affiliate offers
Once you know there's a real market there, you can search for offers. We usually use Offervault. You can also use Clickbank. Sometimes you have to do a little bit of poking around, and a little bit of manipulating of your search ideas to see what's going on.
To make $100,000 a year, your goal here is to serve this market really well.
Let's say you find a ClickBank offer that pays $32 dollars a sale. All you have to do is sell around eight of them a day, and you'll make $100,000 a year.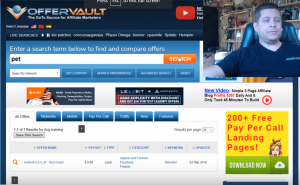 Make content
Now, you want to start to make content based on your keywords. You can do it yourself and make it free, but you can also outsource it. You can get good articles for around $20 an article, or even $6 an article, or something like that. You can even take your article and have someone make a video about it. Fiverr would be a good place for that.
Get people to opt in
So you build your website, and you start to put content on it. On the side of your site, you want to have an opt-in box that tells people to put their name and email so that people can get something from you, like a "puppies stop biting" guide. You're also going to put your other content, whether it's video, or whatever it is.
Get traffic
Next, think about your traffic method. Do you want to do free traffic, or paid traffic, or both?
If you want to go the free traffic route, all you have to do is find forums in your market. You could go to these forums and learn about your niche, and you could help people out. Then once you do, you can lead people back to your site.
Some niches will be kind of competitive. They'll be kind of tough to break into, which is why I like paid traffic.
It's not going to come overnight. But if you do paid traffic, you'll get some results pretty fast.
In conclusion
Does your audience respond to what you're doing? If they do, great. Keep at it and make it more prominent. If they don't, get rid of it and do something else.
Just start putting things on your site. Make good stuff, get it out there, put some images, make some videos, start to rank it, test some paid traffic. The more you test, the more data you'll get, and that's when you win the internet. Affiliate marketing is driven by data.
The data doesn't care how much money you want to make. It doesn't care who you are. It's just data.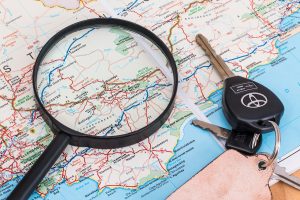 This is your roadmap. Go down the list, make content, give good stuff, lead to affiliate offers. Rinse, repeat. Build you list, email your list, laser focus on your keywords, laser focus on your market, put good offers in front of them. You should get some results.
And that, my friends, is how it's done.
For more information, visit www.AffiliateMarketingDude.com.