Linktree Alternatives Watch This First
If you've tried marketing your business on Instagram, one thing you probably know is that you can only place a single link in your bio. This makes it unappealing for individuals looking forward to promoting different things at the same time. But, all is not lost, and as a savvy marketer, you shouldn't accept any limitations but instead look for the best link-in-profile tools such as Linktree.
When Linktree was launched in December 2016, it took the Instagram world by storm. It worked really good and this made brand influencers, online creative, entrepreneurs, and marketers to hop on Linktree train. Even though Linktree is free, it lacks some features that make it unfavorable. In this article, we will tell you what Linktree is, why it may not be favorable, and the best alternatives that will take your business to another level.
The First Thing I Noticed With Linktree is the uniform buttons… these get BARELY any clicks so if you are trying to direct your instagram traffic and get people to click on things that make you money this will not do…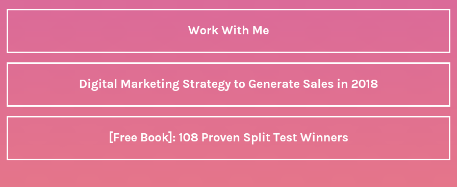 Notice the coloring and the look and how it all blends together… there is no real "benefit" to clicking.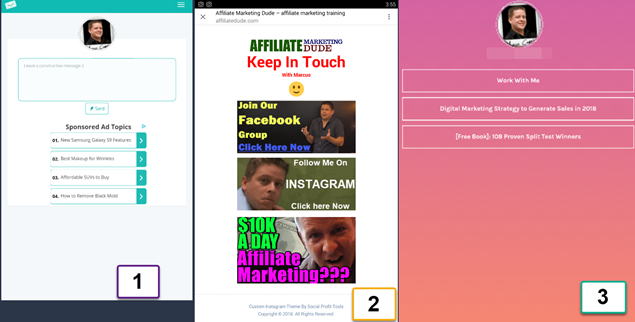 Notice this example… which one do you think will generate more clicks to the offers?
If You Said #2… You Are Correct.
After testing hundreds of millions of visitors i have found that big and bold and stuff that stands out will win the click over boring and mundane.
PLUS with linktree you do not have TOTAL control or brand ability.
Brand ability is where you get people to recognize you over and over again.
If i have a linktree url in my description… that is creating brand awareness for linktree… NOT ME.
So what I do instead is get my own domain name… in this example i got affiliatedude.com nice and short for people to remember.
Then I Get Webhosting and Install WordPresss (this takes about 2 minutes)
Once I Am Done I Can Use The Free Theme At SocialProfitTools.com and create a simple theme.
Then I Use The SocialProfitTools plugin and i can make my boxes and links.
This is all trackable and changeable and now that i have my own website and domain name i can simply host whatever i need to, videos, pdf's, order pages, anything i want and its all on the same simple theme which converts FAR better than linktree links.
And This Method Will Only Cost About $70 Per Year (they give me my domain free when i get hosting)
Advantages of using a link-in-profile tool
Before we delve into the best Linktree alternatives, it would be better to tell you why you should use link-in-profile in the first place. Link-in-profile tools are important Instagram marketing tools for any influencer or brand, and offer the following benefits;
· Cross-platform promotion- This tool is used in cross-promotion whereby you link out to any other social page of your choice
· Increased click-through rate (CTR) – If you give your Instagram audience more options to click on, chances are that they will click through and boost your CTR which is a popular Instagram metrics
· More targeted – With more links to choose from, it's possible to carry out more targeted Instagram campaigns using different links that target different buyer personas
· More affiliate sales – Link-in-profile tools allow you to add one or more affiliate links to the custom landing page and your branded or personal links
· Better branding – These tools promote visual identity and better branding as they allow you to insert brand images on the landing page
What is Linktree
Linktree is the most popular and oldest link-in-bio tool you can find on the market today. In simple terms, it is a tool that assists in the creation of a free landing page and generation of a link to that page, which you can easily place in your profile. This bypasses the one-link limit to Instagram and directs your audience to a page with multiple links.
Setting up and using Linktree is a walk in the park and you can effortlessly paste the links and rearrange them using a drag and drop interface. What's more, the user's interface is super clean and cannot be cluttered even if you share more than 27 links. Since Linktree was launched, there have been other similar tools determined to offer extra features you can't find from Linktree, such as the option to add images to your links.
Pros and cons of Linktree
Pros
· Clean display
· Simple setup
· It's branded with your Instagram page
· You can add as many links as you want
· It can include basic statistics
Cons
· Few themes available in the free version
· Detailed statistics and social links are only available for pro users
· Has limited customization options
Best Linktree Alternatives
Linktree is undoubtedly an undisputed leader as long as Instagram bio link personalization is concerned. However, there are other Linktree alternatives with better features hence worth trying. If you are wondering which link-in-profile tool you can use over Linktree, keep scrolling as we won't leave any stone unturned, and here is the list.
1. Campsite.bio
First on our list of the best Linktree alternatives is campsite.bio, and for good reasons. This tool is similar to Linktree, although it has more features that make it more accommodative. The links in Campsite have images, and this makes it a go-to tool for individuals with a soft spot for visuals.
Campsite allows you to add unlimited links to your profile page and move around them without encountering any technical problems. Besides, you can easily add links to your other social media pages and look completely natural. What's more, you can customize the fonts, font-weight, color, and even social icons on your landing page, and this makes Campsite the best tool for branding. The landing page is similar to that of Linktree and includes a space for your profile name and picture, and interestingly, you can add your brief introduction underneath.
Features of a free Campsite tool
· Ability to add brief information and change the title of your Campsite
· You can easily see links analytics and the times they've been clicked
The premium features include
· All the free plan features
· Allows you to use a custom domain such as 'links.yoursite.com'
· You can hide the Campsite branding and manage the metadata such as title, images, and description
· You can easily schedule the links for them to go live with your other content or posts
· Integrate with MailChimp and Google Sheets to expand your email list
· You can include the Facebook Pixel ID for retargeting
· You can view your traffic if you integrate Campsite with Google Analytics
2. ContactInBio
ContactInBio is yet another popular link-in-profile tool and the best alternative to Linktree. According to experts, Linktree and ContactInBio have similar basic landing page designs, but the latter has extra add-ons that make it exceptional.
First things first, ContactInBio comes with an option to add a contact form directly to your landing page to improve how you communicate with your audience. Besides, it has a clean and easy to use interface, and what makes it outstanding is the 'live preview' feature that allows you to view any changes as you make them.
ContactInBio comes with different content block options that are easy to add to your landing page. These blocks include text block, image carousel, social media buttons, and video blocks. The free themes are outstanding and give you detailed statistics of how many people visit your page daily, the date, the country they come from, and the language spoken.
If you'd want to capture your Instagram audience's details but you don't have a website, ContactInBio will be your ideal tool. It has full landing page capabilities, and whether your online shop sells makeup kits, artworks, or clothing, ContactInBio can offer your audience an easy opt-in platform and keep other links to your social media and shops on the landing page.
Features available on ContactInBio free plan
· Seven pre-designed background themes to choose from according to your personal preferences
· Ability to customize your texts, links, and button color styles
· Allows you to auto-import images and links from Linktree
· You can connect various accounts and switch between them with ease
Features of premium ContactInBio (business option – $7 per month)
· Comes with all amazing features in the free plan
· Supports Facebook Pixel ID integration
· Has a video uploading feature which allows you to add a tutorial video to send to your followers on YouTube
· Ability to customize your landing page colors and designs
· You can add and change the image of your business or profile photo
3. Link-In-Profile
Link-In-Profile is pricey and it's a bit different from the other two tools we've covered in that for it to work, you must add a clickable link in your Instagram posts. The setup process is easy and straightforward, and one thing that stands out is that you won't have to edit your landing page constantly to add new links. Link-In-Profile is a go-to tool for influencers who do a lot of sponsored posts and working on new campaigns using new affiliate links.
Once you set up Link-In-Profile, add a link in the caption; it will remain active and this tool will pull the image onto the custom page automatically and make it clickable. If your followers click on the image, they will be directed to the link you added in the caption on Instagram, which in turn, increases your traffic and more money.
Benefits of Link-In-Profile
· More visuals than other Linktree alternatives
· Perfect for accounts with multiple links
· Automatically updates with new links every time you post to Instagram
· Well-optimized for both desktop and mobile
4. Swipop
Swipop is among the best Linktree alternatives that allow you to create a page filled with several links. What makes this tool stand out is that it can be integrated with Stripe that makes it easy to sell your premium content from the same page. Swipop is an ideal option for influencers who want creative methods to monetize their accounts. You can sell early access to YouTube videos, access to VIP photos, and even PDF guides directly from your Swipop page. What's more, clicking the 'eye' button on top of the links distinguishes visible or invisible links and therefore, you can easily set up various links in advance and activate when need be.
Benefits of Swipop
· Comes with a professional design
· Setting up is easy
· Allows you to sell premium content
5. TapBio
TapBio seems complicated, but it's easy and one of the best next-generation Linktree alternatives. TapBio adopts a unique interface famously known as card-based that uses cards over blocks. In addition to creating just one landing page, you are allowed to create multiple cards with every card hosting a different set of links. For instance, one card might pull videos from your YouTube channel and the other pulling all your Instagram posts with a link in the caption to be turned into clickable posts.
Benefits of TapBio
· Interesting and quirky design
· Custom background image on every card
· Can automatically pull data for cards from linked YouTube and Instagram accounts
· Comes with dozens of customization options
· Short custom URL
6. Shorby
Shorby has been around for quite some time now, and it has gained popularity due to its retargeting feature that allows you to make shortened and traceable Shor.by links to retarget any audience that clicks on them. With Shorby, you can easily create a landing page with several links and generate a link to that link. The landing page comes with a colored background and will be branded with your profile name at the top. Interestingly, you can include social icons that link to other social media networks. If you'd want to make the most out of your IG bio, Shorby is the right tool for you.
Benefits of Shorby
· Unlimited links
· You can add social icons
· Comes with a professional design
· Link tracking and retargeting
7. LNK.BIO
LNK.BIO is not as popular as other Linktree alternatives, but that does not make it inferior. This tool comes with a simple yet elegant interface that you'll like. It gives you an option to schedule any link you'd like to appear on your profile. This feature makes it even better for anyone with a paid campaign approaching to schedule the Instagram link to go live as soon as posts go live.
LNK.BIO can pull Instagram profile photos automatically and allow you to add custom images that go side by side with any link you add to your landing page. What's more, it's possible to edit your links, for instance, to change the image without necessarily deleting the entire link.
Benefits of LNK.BIO
· You can include as many links to your page as possible
· Keeps track of how many times your link has been clicked
· You can see the analytics page and how often your page gets viewed
· You can add a tracking code as well as extended bio
· Links can be added to other social media pages
Bottom line
Whether you find it better to stick to Linktree or any of the above mentioned Linktree alternatives, it is necessary to find a way to make the most of your Instagram bio link. We are in the 21st century, and utilizing the advanced technology will ensure that you don't only connect with friends from all corners of the world on Instagram but also advertise your business, drive traffic and make money. With Linktree alternatives, the profile spaces are short, but if you utilize the link properly, you'll create more space to tell your followers who you are. Instagram bio links can be compared to ABOUT PAGE, and if you want more followers, you must show your audience what you are.