Over the past years i have made hundreds of thousands of dollars promoting clickbank products.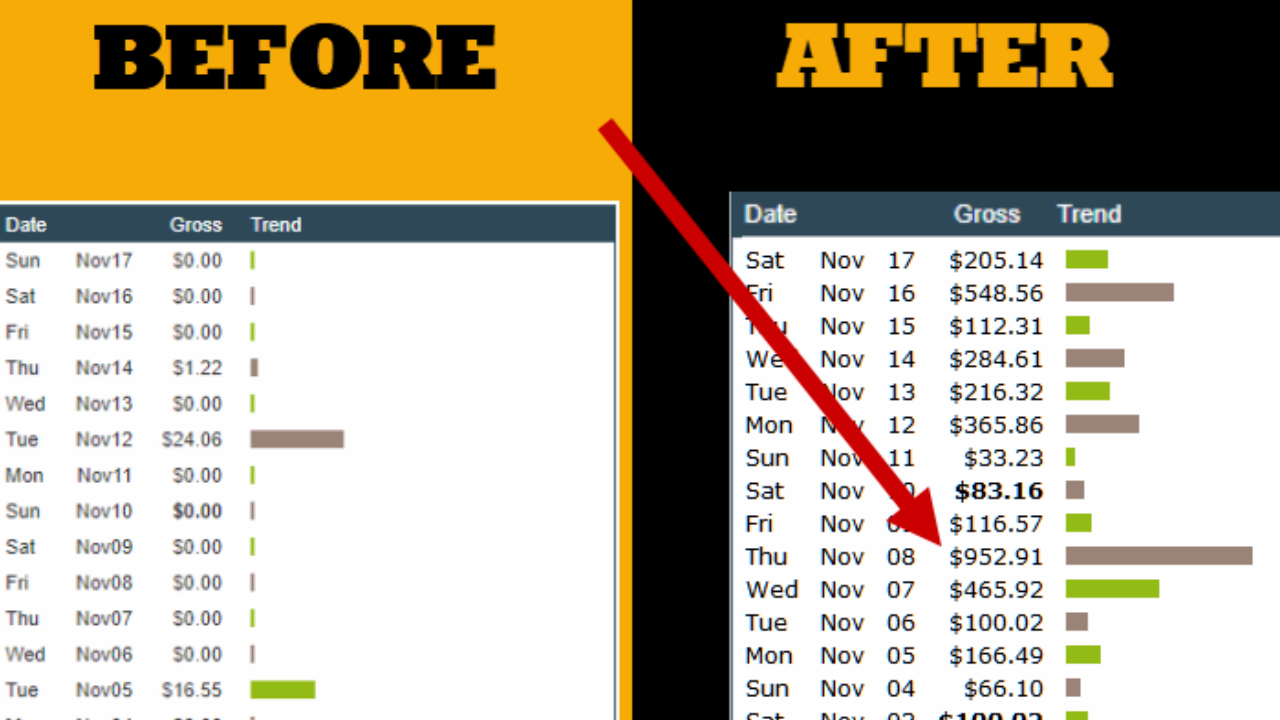 I have promoted everything from how to make money online, to tattoo designs, to weight loss, beta fish, and even a lottery guide.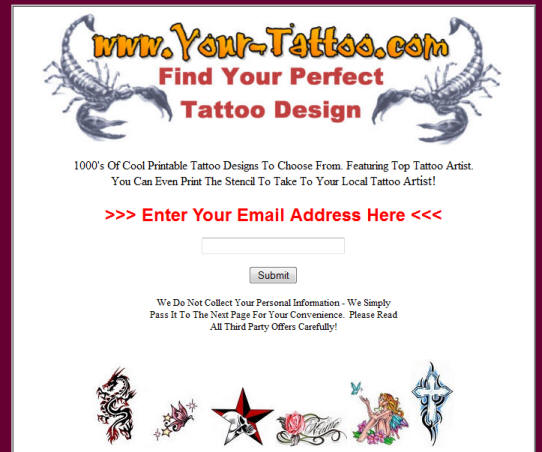 Here is what the clickbank tattoo website looked like.
It is important to note that clickbank is NOT always the main center of attention of these websites or my business… i use the offers as a supplement… in this tattoo market the main offer was a email submit offer and the tattoo johnny affiliate program where i generated profits every day.  I was also able to get between 1-3 sales of the clickbank offer per day as well.
ClickBank is part of the network of affiliate marketing systems that enable you to earn income through product advertisements. Affiliate marketing refers to marketing of other people's products or services to get commissions. For instance, if you have a company that sells kitchenware, then you may help the company reach its customers by marketing the products in your website or YouTube channel. The company then reaches an agreement with you on the commission you'll earn per product or service sale. The moment you drive a visitor and he buys items from the company, the company pays you commission. This is made possible by the unique link that a company gives to its affiliates.
So if you're new to the affiliate marketing niche, then you may be wondering now of where to get affiliate products or vendors? their payment methods and whether they're legit. This is where ClickBank and other affiliate marketers chip in.
ClickBank and how it works?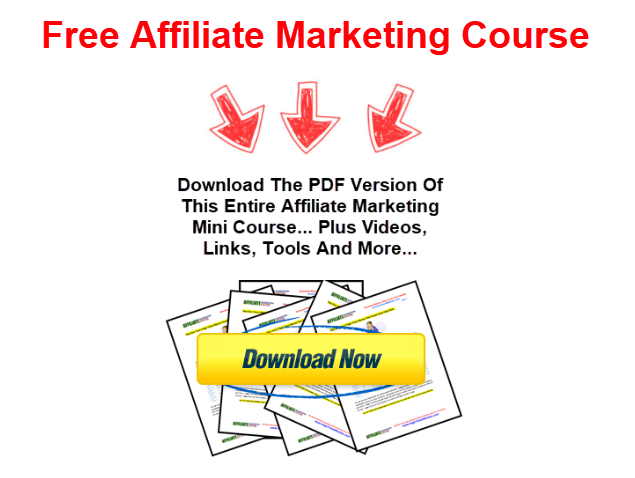 ClickBank is an affiliate networks that hosts thousands of digital products such as videos, e-books and software. It is simply a marketplace that connects product vendors and affiliates. The company was founded in 1998 and is based in the United States.
ClickBank works in that if you are a vendor, you create a product and market it through ClickBank's system. The company then distributes the product to a marketplace where thousands of affiliates can check you. The company then assigns unique links for every product and affiliate so that when a sale is made they'll be able to channel their commissions to the account that made the sale.
Are we on the same direction? Well, most people start off as affiliates and later become vendors. As a ClickBank affiliate, you can earn plenty of income in a short time if you focus on the right promotional tips. To sign up for ClickBank affiliate program you'll only need to navigate too their official site. you'll then sign up for free and search the marketplace for a list of products to market. In each product, ClickBank generates a unique link for you that enables you to earn commission for ever sale you make.
Besides, ClickBank is a large affiliate network with some of its affiliates earning 5-6 figures per month. Joining and earning more from the ClickBank program are two different ventures. To earn high commissions with ClickBank you'll have to know of the best ways to promote ClickBank products.
ClickBank Gravity
When it comes to ClickBank gravity, many affiliate markets argue on what it means for the affiliate business. The topic is trending on top ClickBank forums and social media platforms such as Facebook and Twitter.
When you open a product in ClickBank's marketplace, you'll see a variety of options beside it with one being its Gravity. To be specific, ClickBank gravity refers to the number of sellers marketing a certain product. When each affiliate makes a sale, then ClickBank adds 1 to the gravity. If the affiliate makes a sale the next day, then the ClickBank adds 1 to the gravity. If the affiliate fails to make a sale the next day, the company adds 0.96 to the ClickBank gravity. The number ranges between 0.01 to 1 for each sale in a period of 12 weeks.
So if a product has zero gravity, then it means there were no sales for the past 12 weeks. If the gravity falls below 1 then it means no affiliate sold the same product in the last two days. Higher than 1 gravity means more than 1 affiliates sold the product in the last two days.
For products that have over 100 gravities it means they're high quality and hundreds of affiliates are earning from the sale of the products.
However, you should not pick the product basing on its gravity. For starters, a low gravity product could sell better than a high-gravity product. This is possible since 10 affiliates could be making one sale per day for a product while other 100 affiliates make the same one sale per day. The difference between the two is a 10 and 100 gravities yet the sales remain the same. That is, the gravity is not an indicator of how the product sales but instead number of affiliates selling the product.
How to Find ClickBank Products to Promote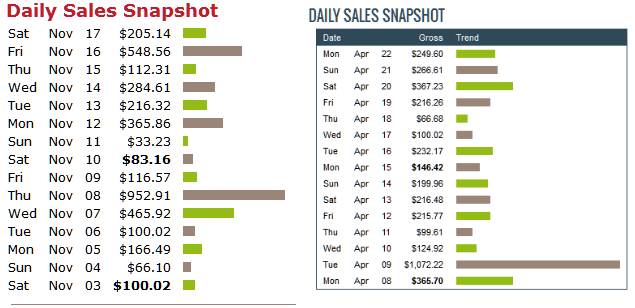 With ClickBank it's important to select the right products so that you'll have an easier time marketing and getting more clients. You don't have to waste your time and resources on products that hardly sell due to factors such as low quality. You should also get the products that match your site's niche so that you'll hardly vouch them to your audience.
To select a ClickBank product:
1. Find A Niche of Your Interests and Expertise
The first step in selecting a ClickBank products involve identifying the ideal products to advertise. Affiliate marketing involves more sales and if you lack the passion and dedication to promote then you won't make any cash.
Considering ClickBank has over 13,000 listings you may have a hard time trying sorting through the products. The niche you choose should contain the products you are familiar with. That way, you'll find it easier to market the products with a touch of authenticity and detailing.
For finding good clickbank niches i like to use my trigger word method which you can learn more about here.
Download marcus trigger word list here.
2. Review Your Sales Channels
When you join ClickBank, you can either look for products to promote on a new website. Alternatively, you can promote them on your existing blog or site. if you are looking for ClickBank products to promote on your site, its important you get the products that match your site. this is because unrelated products will disinterest your audience.
Also, the products you market on your blog should be useful to your site's visitors as well. If for instance your site is dealing with medical Cannabis, then marketing CBD products will work because your visitor is interested in the niche. But if you market products like mobile phones, then its highly likely your site visitors.
3.Choose The Products to Market



After selecting the ideal niche to market products from, your next task is creating a spreadsheet that includes the details of the product such as product name, gravity, price and link to its information page. Your spreadsheet should cover all the products of one category. If you want to promote products from other categories, create another spreadsheet.
ClickBank has a variety of sort options you can use to get your ideal product. Search your products by sorting them using the right search parameters so you'll find your products quickly. ClickBank sorts the products by default using popularity. Focus on the gravity metric option and use it to pick your products.
4. Comparing the Key Metrics to find your best product
You should not market a single product but instead focus on multiple products. This gives you the chance to compare how the products fair in market sales to deduce the best products in each category. ClickBank has several metrics for each product including the initial sale, average sale, gravity and average rebill. It is important to pay attention to commissions and gravity.
5. Research on the vendor's pitch
Once you are through with a list of products to market, you'll need to analyze the products well. The product's suitability does not end with a high commission or gravity. Rather you need to analyze the product and see if they excite you.
You'll also need to check the vendor's pitch and possibly market products with plenty of information. In affiliate marketing, little information means lower quality and most customers dread such products.
How to promote ClickBank Offers as an affiliate
1. Use of Banner Ads
Ads are the most effective way of marketing ClickBank products. However, to place banner ads you must have a blog or website. However, when posting a banner ad on your website, you should match it with a related article. It's not advisable to put your ads in unrelated articles as failing to pre-sell your product could result into your readers getting bored. Also, since website traffic related to your offers, placing the ads on the right places helps your site to safeguard more conversions. These banners contain the affiliate links and when visitors click them, it leads them to the vendor's site where the can purchase the products.
Also, if you don't have a blog or website, then you can buy ad banners space in other sites to place your ads. You should choose sites within the same niche that have a higher traffic. It's also best to place your banner ads on different sites so you'll get conversions from different sites of the same niche.
2. Social Media Marketing
The last decade has been a hallmark of rise for most social media platforms. Facebook and Twitter are the topmost platforms you can count on to promote your ClickBank products. Facebook currently has 2.45 billion monthly active users while Twitter has more than 300 million users worldwide. Considering the huge demographics, you'll easily find market to promote your products on these two top social media platforms.
The secret to making it in Facebook and Twitter is hang a large social circle. Once you have an audience, start crafting eye-catching product-review style articles that markets your products. Ensure your articles have eye-catching titles so you'll attract more readers. Also, you can market the ClickBank products on Facebook online groups such as Online marketing and other related categories.
3. Article Marketing
Article marketing is a technique that site owners use to market affiliate products. In article marketing, you write articles basing on a certain topic and recommend products of some companies. If you built yourself as an authoritative site, then chances are rife that visitors will purchase your products,
Before you delve deeper into article marketing, you should establish trust and rapport with your audience. You should also have a large number of visitors to earn substantive commissions from marketing the affiliate products. When it comes to article writing, you can write product reviews or blog posts on related topics. You can even look for guest writers to write their own articles and paste affiliate links strategically at the article.
4. Email Marketing
Email marketing is another form of marketing that is useful in turning readers to potential customers. Besides, you don't have to send individual messages to your email list but instead send general mails that target all customers. Before you pitch your products to your customers, you should start with pre-selling elements to avoid the situation of aggressive sales pitches.
When marketing the product via mails, tell your customers why they need the product and how it's useful to them. Also, include the unique features, benefits and drawbacks of the product. These should come in series of products with the last containing an affiliate link.
5. Participate in ClickBank products forums
there are many forums online that are related to ClickBank products. It is at these forums, that customers and affiliates meet together to post suggestions and reviews. Establish yourself as a credible in these ClickBank forums. Once you have the trust of the forum members you can go ahead to promote the ClickBank products. But for this strategy to work, your trustworthiness and expertness should not be in doubt with the forum members.
Creating affiliate links with ClickBank
To create your ClickBank affiliate link:
i. Log in to your ClickBank affiliate account
ii. Navigate to the ClickBank marketplace
iii. Search for the product you want to promote (the best way to search for the product is via its keyword. Alternatively, you can search for it in the product categories)
iv. Locate the product on the search results and click the "Promote" button (a new window will appear)
v. Click the "Create" button and ClickBank marketplace will create a unique product link for you.
ClickBank is one of the top affiliate programs on the internet. It allows you to earn more by marketing products from different vendors. With over 13,000 product listings you'll hardly miss a product to market. Join ClickBank today and enjoy huge commission on the sales you make