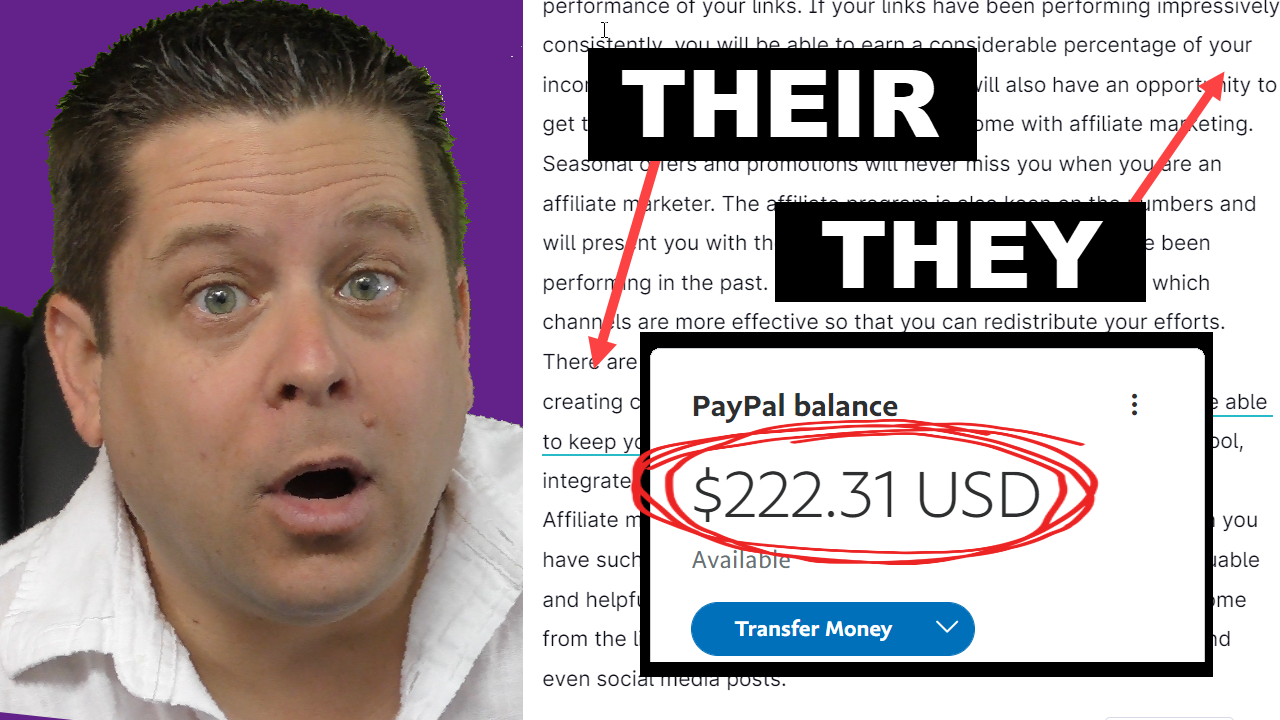 Grammarly Affiliate Program and Other Related Programs
Affiliate marketing is intended to raise awareness about a product or service by giving users more information before they make a purchase decision. For a long time, Affiliate programs have been a reliable source of income for many people. Plenty of programs are available in nearly all sectors of the industry and market in general.
For the affiliate marketer, this means being able to work on research to create the best content for your readers. Once you have prepared the right content for your audience, you will need the affiliate links you will include. The affiliate programs are responsible for giving you the links, and you have to sign up for the program to be able to participate in it.
Grammarly Affiliate Program
This program has been designed to enable marketers, bloggers and content creators on the internet to earn additional income by working with Grammarly. Grammarly is a tool most content creators and editors use daily to ensure grammar accuracy in your writing. Before submitting any work or sending that email, you might want to review it again with Grammarly.
If you are keen on the quality of your written work, then Grammarly is one tool you should invest in. It is accurate, easy to work with and powerful enough to give you the correct suggestions and examples to make your editing easier. The many powerful features of this software ensure you have weeded out all the errors by giving you suggestions backed up with more information and explanations.
The Grammarly Affiliate program has been designed to get you the commission you need based on your efforts. By working with the program, you will be given a link that you will use to gain new people. You can include the link in all kinds of web content, from blog posts to social media posts.
With the affiliate program, you must raise awareness about the importance of proper grammar and good writing. Whenever new users have signed up with your link and go for the paid packages, you will earn a portion of the income that Grammarly gets. When you do this, your link will do the rest and get you the commission you need. The affiliate program has been designed specifically for this. As such, it will get you the kind of results you need and a unique opportunity to earn additional income.
Affiliate marketing depends on your efforts, and results are always varied. If you are active in your marketing campaigns and make your list available to as many people as possible, you will be able to get much better results. You will also be able to make a unique impression when you have worked on driving the point home and giving your audience the information that they are looking for.
Affiliate programs are very lucrative, but they do require a lot of work, to begin with. If, for instance, you are active on social media and have gained a considerable following, you can use your affiliate link to your benefit. The readers will be interested in the product that you are promoting, and when they sign up for the service with your link, you will earn something. As such, getting into the right program and being active in supporting your efforts is essential and matters a great deal.
Encouraging people to write better and produce better content on the internet also works more effectively when you have something to give your readers. Informing your affiliate marketing audience about writing and content preparation challenges means they will be more likely to subscribe to the services you suggest.
If you have a blog, your chances will increase since you can go into greater depth concerning the importance of good writing for the internet. You will also be able to provide suggestions about what can be done to improve the quality of content you prepare for your website, blog, emails and so on. The affiliate marketing program will do most of the work, and all you have to do is prepare content to go with your links.
Other Related Affiliate Programs
In addition to the Grammarly affiliate program, there are several other related affiliate programs. These are designed to get you an additional source of income as you market the products and services that will help your readers. These programs are similar to the Grammarly affiliate program because they give you links to use when you are part of their program.
They also vary in the amount you earn for each sign-up or subscription. As such, it is essential that you compare the affiliate programs available and what each is ready to pay for the subscriptions that you will be getting.
Grammarly is a writing tool; as such, the related programs we are looking for also need to be related to writing and content creation. Grammar tools are essential for improving the quality of written language, and whenever you are well equipped with the right tools, you will be able to get better results.
The related programs are also about grammar, and the tools that are being marketed in these programs are, in a way, competing with Grammarly. If you want to promote a grammar tool that will help your readers prepare better content and write more powerful emails, these alternative programs are just what you need.
They are easy to work with, and they will enable you to reach as many people as possible. Additionally, these tools are simple to use, which means that once you have the experience of using them, you will be able to provide more accurate information to your readers.
1. ProWritingAid Affiliate Program
Comission = $20/sale base commission, $0.20/lead base commissio
ProWritingAid is yet another grammar tool that has its affiliate marketing program. The tool is powerful and is used for finding more than mere typos in your work. Becoming a marketer with them is easy, and they give you a unique and rare opportunity to earn additional income from their affiliate program.
It is meant for grammar and keeping your work as accurate and valuable for the readers as possible. When you are part of the affiliate program, your main work will be to outline the benefits and advantages of the tool in addition to what you stand to gain when you work with an effective grammar tool. This means creating content in the form of reviews, blog posts, tutorial videos and even social media posts.
You can send your message to many people through as many channels as you would prefer with affiliate links. You can easily earn a consistent income from this program if you have the right amount of content in the right places.
Affiliate marketing has been proven to work, and there are already people who have achieved excellent results in just a short amount of time. If you can write consistently about multiple features of the writing aid, you will be able to generate enough content to earn your links.
As a ProWritingAid affiliate, you will earn a commission based on the performance of your links. If your links have been performing impressively consistently, you will be able to earn a considerable percentage of your income from affiliate marketing alone. You will also have an opportunity to get the additional perks and benefits that come with affiliate marketing.
Seasonal offers and promotions will never miss you when you are an affiliate marketer. The affiliate program is also keen on the numbers and will present you with the statistics to show how well you have been performing in the past. As such, you will easily be able to tell which channels are more effective so that you can redistribute your efforts.
There are plenty of features of the grammar tool to talk about, and creating content for your blog will not be a problem. You will also be able to keep your readers informed with tutorials about how to use the tool, integrate it into your browser and much more.
Affiliate marketing will be an almost invisible part of the setup when you have such content on your blog. The readers will be able to get valuable and helpful content about grammar tools while you get passive income from the links that you include with your blog posts, web content and even social media posts.
If you are not all that into Grammarly, ProWritingAid is another grammar tool with easy integration, which also offers an affiliate program. As such, you have the freedom to choose which grammar tool you want to promote on your online channels and make an income while you are at it.
2. WhiteSmoke Affiliate Program
https://www.shareasale.com/shareasale.cfm?merchantID=4924
Comission = 50% Per Sale Plus Bonuses
Earning money from your online audience is easy with an affiliate program. The WhiteSmoke affiliate program is intended to provide you with an additional source of income through affiliate marketing. The affiliate program also has a better business model than most programs, meaning that there are more ways to earn through the program.
When you are part of the WhiteSmoke affiliate program, you can inform your writers about a solution that will solve their grammar challenges. The marketing materials will also be provided when you sign up for the affiliate program meaning that there is not much work that needs to be done on your end. With the link within your content, you can make a better impression on your audience, who will also be likelier to click on the links.
Registration is as simple as signing up as a publisher and getting the marketing materials you will need to make your campaign a success. Much of the work has already been done, such as gathering information, so the presentation of content to your readers will be a lot easier. With the references in place, your content will be more credible, which means that readers will be more interested in what you offer. The affiliate program is also a unique opportunity to earn from your web visitors, and it does not take much to become part of it.
When you emphasize the importance of a grammar check to improve the quality of any written work, it is also essential that you can provide examples that your readers can relate with. Affiliate links are a suitable means of doing this, with the commission and other income coming steadily.
With the links and the right content strategy for your blog or social network, you can easily reach a wider audience, which means your click-through rate will also be improved. The affiliate program that you are working on will also be more successful when you have good content to go with it. Great content will keep the readers engaged, increasing their chances of clicking on the affiliate links you have included with the rest of the content.
3. Readable Affiliate Program
https://readable.com/affiliate/
Comission = 10% on all sales
Did you know you can earn by referring people to a website online? Readable is a writing solutions service provider specialising in grammar correction for content prepared online. For instance, blog posts and emails must always be correct in grammar. They are read by many people, meaning they must be correct to make the right kind of impression on your audience.
With Readable, your work is corrected as you write it, making it much more manageable. The affiliate program is meant to give you a means of earning income passively by informing others about this powerful grammar solution. When you have become part of the affiliate program, you will be given a unique referral URL that you will use to direct other internet users and readers of your content to the website.
Affiliate programs are compelling and will give you unexpected results at times. Once they have signed up on the website and paid for a subscription, you also get to earn a portion of whatever it is they will be paying for the service. As simple as that, and you are set up massively.
When you are consistent about the work that you are doing, the results will also be steady, and your income will be reliable. You will also be able to keep earning as long as the people you have referred are still subscribed. As such, affiliating with Readable is a long-term source of income that you can set up and manage for much longer.
The settlements are done via PayPal, and you must have earned more than $20 for your payment to be sent. Even when you cancel your subscription, you will still earn as long as the referrals keep their accounts. This is also more convenient for you and allows you to earn more effectively through links and content on the internet.
Making your audience aware of the importance of good grammar and writing for web content can be challenging. However, when you have a solution to propose, the process becomes much more manageable. For instance, it allows you to explain how the solution works and what benefits your readers can expect from the solution.
Once you have them convinced, the affiliate link will be more effective. Include it with your content, such as within the body of your blog posts and on social media posts. This will get you the exposure you need and an opportunity to earn an income passively on the internet.
4. Ginger Affiliate Program
https://www.shareasale.com/shareasale.cfm?merchantID=71612
Earn $0.20 per FREE registration (no payment info required!)
Receive up to 50% shares per premium account upgrade
Ginger software is an application used to improve your grammar by pointing out where you made errors and making suggestions on how to improve the quality of your writing. It is quite a powerful tool for making better startup communications, among other uses.
It is also equipped with a rephrasing feature which will get you more in-depth checks to improve your grammar. The suggestions made by this software are also more accurate and enable you to make the crucial changes that will improve your delivery in terms of grammar. The affiliate program enables you to earn an income by telling your web audience about Ginger.
When you introduce the product to them and explain to them the benefits they can gain by using the application, you will be able to convince most of them to sign up for the service. As such, you will also be able to earn an income for yourself through the use of affiliate links. These links are tracked to ensure that the visitors you bring to the platform earn you credits each month. As long as your referrals are subscribed, you can rest assured that there will be at least some income at the end of the month.
The basic version has limited features, but the professional version of Ginger has everything your audience wants. Your readers will want better writing results and readily use your suggestions to improve their writing. When you explain these benefits in more detail, you will succeed better with your affiliate marketing. When you convince more readers to subscribe to your recommended service, you will earn a consistent and reliable living from it through the affiliate program.
5. Writer Affiliate Program
Assistance when writing is crucial as it improves the quality of your work and makes it easier for you to outline the benefits of the concept you are presenting to your audience. For instance, a message that has been appropriately delivered will be more likely to make a better impact on your audience than a poorly composed one.
Writer is an AI-powered writing assistant designed to get you the best results with your writing. You will also be able to make more progress when your writing is clear and your messages accurate. One of the ways that you can make this possible is through the use of grammar tools.
As part of the affiliate program, you will be given a link that you can use to sign up new users. When your link is used, you start earning a commission from the new subscription, which will remain as long as the other person is subscribed.
The affiliate program is also designed to make it easier for you to earn by referring users to the platform. With the many powerful capabilities that are presented by the software, there is something that you can cover in your content, and you can quickly capitalize on this aspect to make your audience more willing to sign up.
Being part of the affiliate program means you can give your readers more information about the software. The grammar tool will have realistic and practical applications in the lives of its users, and when you have marketed it right, getting results will not be as difficult as it might seem.
Additionally, the affiliate program has also been designed so that you can keep track of your results and how much impact you have made with your link. Your link can gauge your performance, which is a powerful metric for many online marketing campaigns.