Find Hot Amazon Affiliate Niches In Seconds: For Affiliate Marketing — affiliatemarketingmc at YouTube.com. 
Let's talk about how to find hot Amazon affiliate niches.
I want you to go think about the last three things that happened in your house. This is because you're going to have experience with these three things, and you'll know a little bit about them, and you'll know what you did to fix them.
You can actually make little websites about these things, and lead people to Amazon products, and you can make lots of money.
Now, let's look at some examples of using affiliate marketing with common household problems.
Pool Filters
We're going to go to the Google Keyword Planner tool and search for the term "pool filter".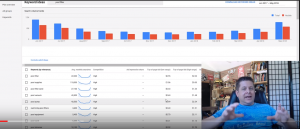 You'll notice that the competition says it's slightly high, but the numbers are actually pretty low in comparison of what this niche sells. Pool filters can be thousands of dollars (the average is around $500), so there's a lot of money in this market. And there are a lot of people getting a lot of traffic.
There are lots of people talking about pool filters on YouTube.
Here are videos with hundreds and thousands of views.
We can also see how much pool filters are selling for on Amazon.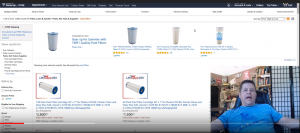 As you can see, these pool filters on Amazon are pretty expensive ($1,500; $724; $607, and so on).
Because these are in the category of patio and lawn, you'll currently get around 8% commission. That means if you get 8% on a $600 pool filter, you'll make around $48 per sale. If you sell 2 of them a day, that's $96 a day. That amount times 365 days a year (since your websites don't take breaks), that's around $35,000 a year. And that's with one little site about one little item, which is pretty darn cool.
Refrigerators
Now, let's take a look at refrigerator problems. We can go to the Google Keyword Planner and type in "refrigerator won't". We see the suggestion for "refrigerator not cooling".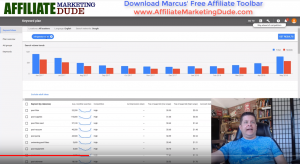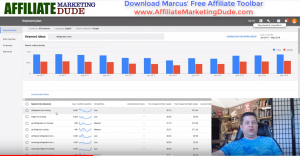 Look at that: "refrigerator not cooling" has 5,400 searches a month with very low competition. If you were to pay for the traffic, it would be around 16 cents. With a little work, you could probably even get traffic for free.
Now let's look and see if they sell refrigerators on Amazon.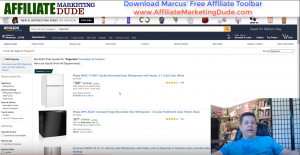 Here are some refrigerators from Amazon. Some are around $180, and the more expensive ones are like $1,500 bucks.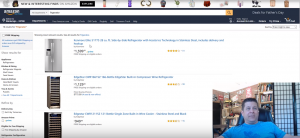 Your commission on these will be pretty good.
There are also other affiliate networks that you can get these on, such as Best Buy, Sears, all different places that will pay you a huge commission.
You can also refer customers to CPA affiliate offers for "refrigerator repair", "home repair", different things like that. And as you can see, the sky is the limit to what you can do. You could literally just have a site that's about "refrigerators not cooling". You could even sell extended warranties for refrigerators, or things like that, and make a ton of money. It's really easy to do.
And if we go to Google right now, and search for something like "refrigerator not cooling" in quotes, we can see what the competition is like.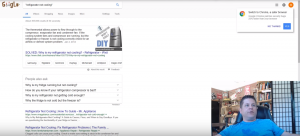 We have "refrigerator not cooling" with only 305,000 competing. That's not too bad.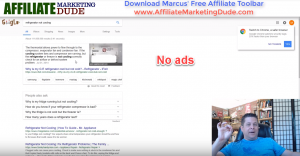 And on the paid search, there are literally no ads. Which means you can do a lot of damage here, and make a lot of money, and sell a whole lot of refrigerators.
Dishwashers
If you were to look up something like "dishwasher won't", you could find other opportunities too.
Let's look up "dishwasher won't" on the Google Keyword Planner.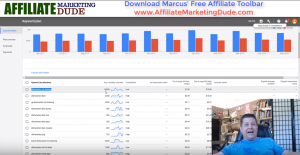 The automatic search has a few suggestions, and one is "dishwasher not draining". This has 14,000 searches a month. It says it costs $1.90 per click, but let's see if there are any advertisers on Google.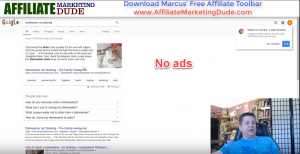 It looks like there are no advertisers on page 1, so we should be able to get these keywords pretty cheap.
They don't have dishwashers on Amazon, but you could find them at Best Buy or other places like that.
Air Conditioners
Air conditioners are another potential hot Amazon niche. Let's see what we can find for "air conditioner won't" on the Google Keyword Planner.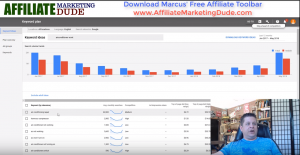 These suggested related keywords have cheap traffic and low competition.
We can look at this in Google and see if anyone is bidding on "air conditioner not working".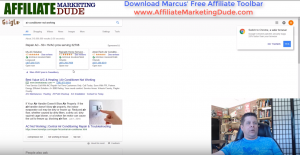 There are a few competitors here, but not many.
Now, let's see look at YouTube and search for "air conditioner not working".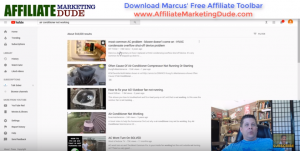 We see videos with thousands and millions of views, all related to air conditioners.
If we look on OfferVault, we can find a lot of offers about air conditioners.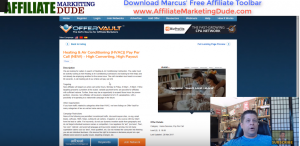 Here is a pay-per-call offer. That means that someone calls the number, and if they stay on the line for 90 seconds talking about their air conditioner, it pays you $18. The people on the phone don't even have to buy anything.
These are all examples of potential niches for Amazon affiliate marketing. Remember, you can find these niches just by thinking about problems with household items and what you did to solve them. If you need a solution to these problems, then someone else probably does, too.
For more information, visit www.AffiliateMarketingDude.com.