What is Commission Junction 
Commission Junction is the previous name of CJ Affiliate by Conversant. However, you will be free to refer to this program using either of the two names. Ideally, it is a marketplace that allows you access to thousands of products that once you promote, you can earn from them.
This program is suitable for blog owners, publishers, and interested individuals who would want to connect with credible affiliate programs. Did you know that this program comes with products from some of the most trusted brands across the globe?
One of the biggest concerns that people will always have is the legitimacy of the program. Indeed, Commission Junction has proven to be not only reliable but also worth trusting. Their level of consistency is unmatched, and their resolve to remain transparent has always been unwavering for over 20 years now.
How does CJ Work? 
Commission Junction allows you to find different marketing offers from multiple advertisers. There are a variety of programs that you can take a look at. Whichever category suits you, ensure that it becomes your priority. Ideally, you will need to tailor your content in a way that promotes whichever category you have chosen. It is from this that you will get paid.
Did you know that this program has a high performer feature? This way, as long as you perform well, you will be confident of landing more invites from advertisers, which means more revenue. Rely on the various analytics to tweak your performance.




How to sign up 
Signing up for this program is relatively straightforward. Take the time to follow the following steps, and you will be good to go.
•    To begin, you will have to visit their homepage on www.cj.com. On the top menu, select Publisher and click on sign up, which leads you to a sign-up form. Here, select your preferred language, fill your names and other details, and then click Next.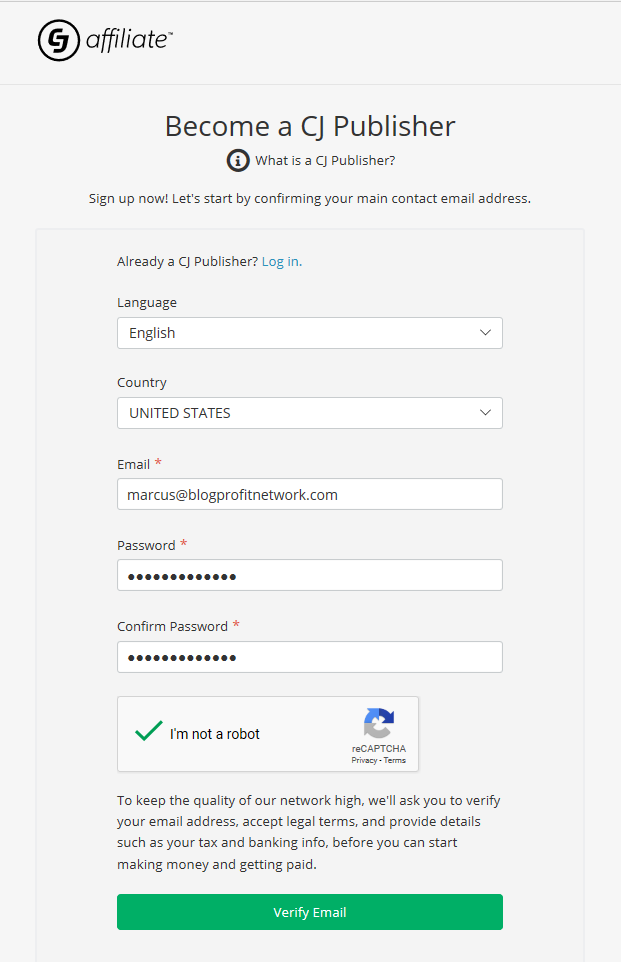 •    You will receive a confirmation email at your address. You will have to confirm that the account is yours before proceeding to the Publisher Sign Up Form. In this form, you will fill various details, including your residence, preferred currency, and your phone number.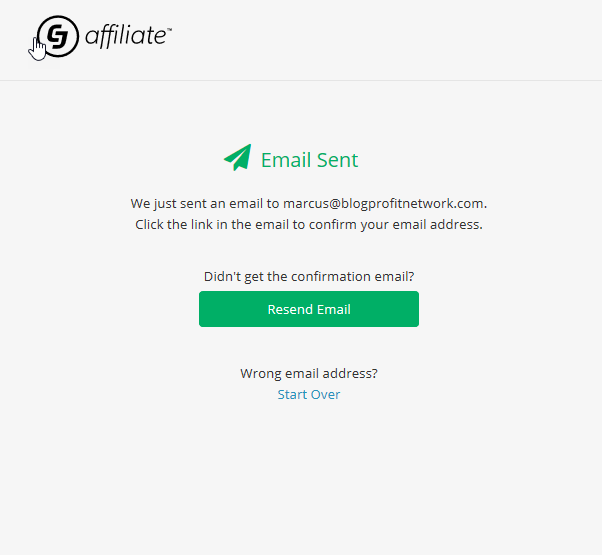 •    Upon filling all your details, accept the terms and conditions of the program. Usually, taking the time to go through these terms will prepare you for any eventuality. Mostly, you will need to accept their privacy policy, age certification, certification of authority, and the service agreement.
•    You will get a redirect to the login page. Once you are logged in, you will first have to fill your tax details, depending on your area of residence. It will be essential for you to be cautious about this aspect, as it will be definitive of your experience and earning in the long run.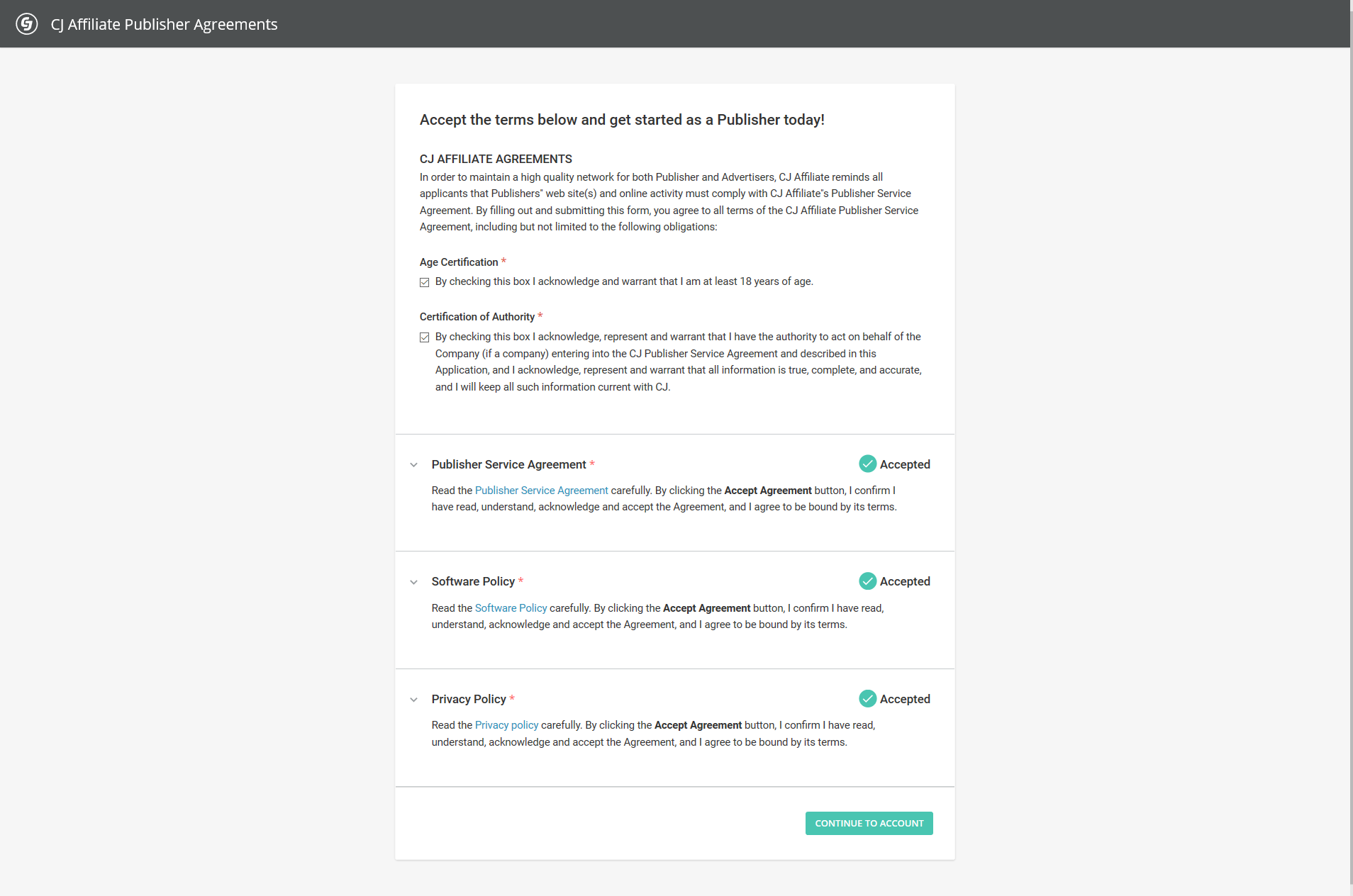 More than often, it will be essential for you to understand the requirements of this sign-up. Like in every other institution, not everyone is welcome. Usually, you will first need to be over 18 years old, and that you have a website. If you have multiple sites, you could still add them to your details. There will be no need to create a new account.
However, you will need to be relatively careful if you have limited traffic on your site. That is because most non-performing websites get deactivated within the first six months. CJ advises newbies to start with already optimized and comes with useful content for its visitors. For instance, if you boast of over 10K readers, you will be in for good news.
On top of that, you will have to pass a network quality review bar. This review aims to audit your traffic, which ensures that the people you are getting on your site or sending to the advertiser are legit. If there are instances of buying traffic, there is a high chance of being locked out.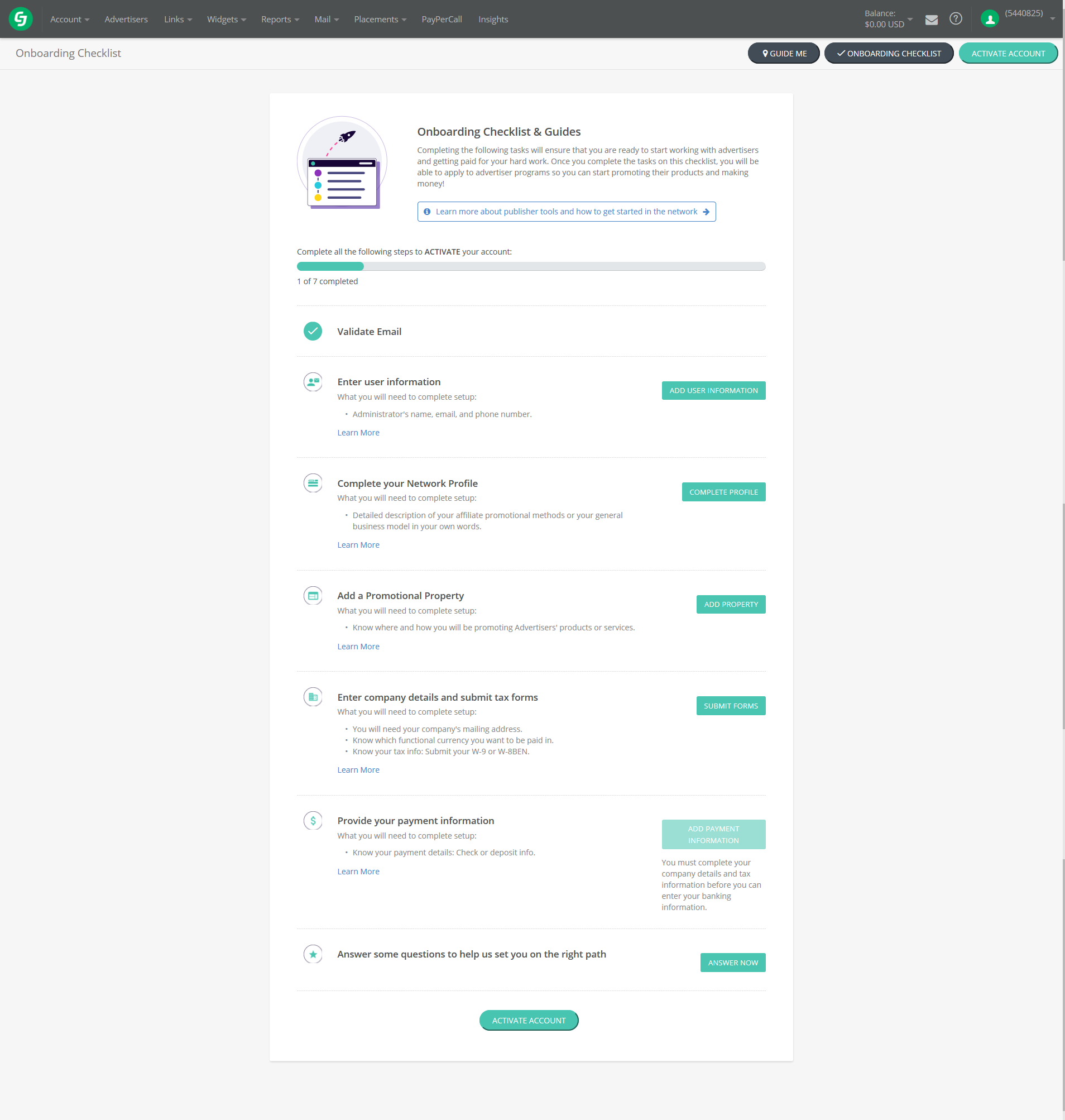 Ideally, it could be relatively hard for small marketing campaigns. As long as you have solid traffic right from the onset, this should be no issue. However, your ultimate should not be acceptance—remember that you will need to apply to each affiliate program within the network.
Some of the other critical requirements that you should have in mind include the following.
•    Ensure that you are committed to affiliate marketing. Unless you give it the attention it deserves, you will hardly make enough out of it. Besides, advertisers will hardly want to associate with publishers that are not motivated. While at it, you should put enough time into this program. A couple of hours a day until you make enough for you will be vital.
•    Your site should feature top-notch content. Take the time to invest in SEO. It is through this that you will not expose your advertisers to being blackened.
•    Be confident in generating enough results. It is what matters the most.




Features of Commission Junction
•    Integrated toolbox
Undoubtedly, this site prides itself on a user interface that you will take a while to learn. However, once you are conversant with it, you will be confident of a smooth experience. For instance, this Publisher's integrated toolbox will help you in monitoring your activities and earnings. It will also be easier for you to know how to improve your conversions too.
Most often, you will see the performance of the various advertisers at your disposal. With this, you will find it much easier to pick a friendlier advertiser, and which products to promote. While at it, you will have access to information on the various products you would like to embrace.
Did you know that you will get daily or flexible reports once you start selling? These reports highlight both your commissions and performance. You could also request a customized report whenever you need one.
•    Deep-linking and link generation 
Once you integrate a line of JavaScript into your site, you will be confident of various affiliate links generating automatically. Remember, the site comes with a feature called Bookmarklet, which you can also install on your browser. This way, you will no longer need to worry about wasting time clicking or adding items to your cart.
•    Product Widgets
One aspect you will always love about this site is the customized product widgets it features. You will have a wide variety of widgets to choose from, including slideshows, collages, and grids. Usually, by customizing, you will pass information the right information in a more legible and easier-to-read format. Through this, improving your conversion will hardly be a hassle.
•    Real-Time Monitoring 
Indeed, you will always want to be up-to-date with your commissions and transactions. Fortunately, Commission Junction allows you access to all these pieces of information in real-time. With such at your disposal, it will be easier for you to adjust accordingly and change tactics for better results in the market. It will also be more comfortable to understand which affiliate products work best for you. You will also be free to correct any mistakes right on time, without necessarily refreshing your page.
•    Mobile Solutions 
Having a mobilized package will, undeniably, be vital in ensuring that you track, test, as well as optimize their mobile conversion. With this, it will be possible for you to monitor the tendencies of potential customers on the go, which means it will be easier to optimize for the most suitable audience.
In most cases, this mobile package will allow you to monitor your potential customers' app engagements, app downloads, and mobile web actions, which will all be essential in improving your conversion at the end of the day.
•    Enhanced selectivity 
Interestingly, Commission Junction hardly bundles multiple products under one ad code. This site allows you to choose which product suits you, what products you would love to display, and where to do so. This way, you will remain organized throughout.
•    Automation 
As a blogger, you will often aim at getting individual links for the products you are mentioning on your blog, which most affiliate programs don't offer. It is through this that you will be sure of bagging more revenue. CJ is the only marketplace that comes with a perfect solution to this problem.
CJ allows you to monetize your various commercial links without necessarily editing any of your old links. Mostly, it converts any outbound links into affiliate ones. However, it will only function if you have an existing relationship with the advertisers in question. This advertiser comes with deep link integration too.
Affiliate Programs Offered 
Are you looking for a site that prides itself on a wide variety of programs? Commission Junction is home. This site gives you access to various options, regardless of which type of blogger you are.
Most often, you will be free to filter programs according to events, promotion types, and link types. You will also witness that there will be different categories from which you can pick your preferred venture, including health, automotive, recycling, and gardening.
Let's talk about the offers you get on these programs. Often, they guarantee you a Cost Per acquisition payment, which includes pay-per-call, pay-per-sale, and pay-per-lead. You could also get pay-per-click payments from different advertisers.
How do they pay
Mostly, Commission Junction pays through US bank accounts or Payoneer. Of the two, Payoneer seems to be the most straightforward method, which means your money will not be stuck somewhere for way too long.
First, you will need to sign up with Payoneer. The process will hardly take more than a few minutes. This account is free, and it can be linked to your US bank account too. Once you sign up, you will proceed to add or link it to CJ.
On Commission Junction's site, navigate to the top left and click on Account then Account Details. You will be prompted to fill in your tax information. Upon completion, choose Direct Deposit as your ideal payment option. It usually takes less than 15 seconds to withdraw your money from Payoneer once everything is ready.
Remember, the minimum payout is usually $50 on Payoneer and $100 via check, with the payment terms being Net 20. As such, you could also consider getting a check or a direct deposit to your US bank account. The amount you receive is often dependent on the share of the revenue from the advertiser.
Why you need to work with CJ 
•    This program prides itself on a huge base of advertisers that you can work with at any time. Currently, there are over 3000 advertisers on this network, which allows you to choose whoever suits you best.
•    Their payouts are reasonably reliable. As long as you attain the threshold, the payments remain to be as regular as you wish.
•    Did you know that you can manage multiple affiliate sites without too much hassle? For instance, if you have two or more websites, all you will need to do is to add them to your list of sites. Having them under one roof will often be more convenient.
•    You will be free to choose advertisers as well as products that suit your content. This flexibility is essential in giving you enhanced returns in the long run.
Cons of being on CJ
•    Their customer support service is not reliable. Mostly, it tends to be relatively slow in responding to queries and even emails.
•    Joining this program could be an uphill task, especially for those with smaller websites.
•    It takes time for you to learn this user interface and even reporting tools
As you look forward to joining affiliate marketing, CJ will undoubtedly be one of the best options at your disposal. It's time to make money, go for it!