Hey guys it's Marcus here from BlogProfitNetwork.com
What I'm going to do is I'm going to teach you how to use the all-in-one SEO pack plug-in. I'm gonna show you how to use this plug-in to actually rank on Google instantly! This is a really cool process and I want to talk to you about some of the flaws and issues people have when trying to rank their site.
Don't you want your wordpress blog to have as much exposure as possible? Woudn't it be nice that you're drawing in hundreds to thousands of people into your blog and bringing yourself a lot of revenue from advertisements?
Then look no further! With our All-in-one SEO Pack Plug-in, you won't have to waste your time having to research all the important keywords and data that you have to place into your blog! For this tutorial, we'll show you how to use the SEO pack plug-in so that you'll get instant website rankings for your wordpress blog.
So the first thing that you'll see in each new post that you'll be making on wordpress is that there's a UI (user interface) for the All-in-one SEO Pack Plugin on the bottom of the page that you'll be using.
You're going to see this here and it's going to have title, descriptions, and everything.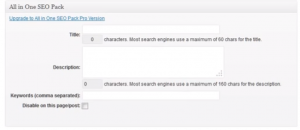 This is similar to the old days when we used to rank sites using what were known as meta tags. It's the same kind of thing, we're just using it on a wordpress base. Basically, it works the same way as how you'd be using tags which is one of the important parts of getting your page to the front of the search engine's results.
So next, you'll have to go to the Google analytics section and see how many results are there for that specific word that you'll be using. You'll have to do this so you'll know how many search results pop up so you can forecast how many competing results you're going to be competing with.
First and foremost, you want to pick a keyword that you can actually rank for.

We're actually going to rank this video live before it even is live. We're going to try to do that. 
What you can see here is what lot of people are looking up. This is a Google keyword tool and what I would recommend you do is to use the trigger words that I use to find your niche.
You can find those trigger words at blogprofitnetwork.com
Put your name and email in the box and we'll send those to you right away for free!
For right now, we're going to try to rank for all in one SEO tutorial or plugin tutorial.

You can see on Google that there are only nine results for this in exact match which means our chances of getting a top ten are pretty much 100%
Next step is you have to fill out the title of the SEO plugin with the same title with your blog post (IMPORTANT – you'll also need to place it on your keywords and your description as well)  and then fill-out the description with the important keywords as well. Make sure that your keywords aren't repetitive since this will put people off.
We're going to add a new post and we're going to use our title. We'll Just copy it in there – all in one SEO pack tutorial. Let's put that in here: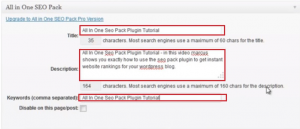 Now, notice the use of the keywords. We don't want to keep repeating and repeating and repeating and keyword stuffing. We actually want to mix it up so we have keywords like:
All-in-one
SEO pack
Plug-in
Tutorial video
Instant website rankings
WordPress blog
That's pretty much what we need and I'm just going to duplicate this up here and then, we're going to scrape our youtube video and put it right down here.
Our keyword is all-in-one SEO pack plug-in tutorial which does get some traffic. It looks like a lot of traffic and the other words will get it as well.
Next, we're going to add a category for all-in-one SEO pack. Add that on there and that's going to give us some extra link juice.
We got this!
Let's go ahead and put our keywords.
I'll hit publish and now, we are published and you can actually view the post.
Finally, you just have to post your blog post and everything should be good to go in at least a minute or two! The KEY to making this succeed to by using the right keywords!

 There's our little post. It's got the SEO plug-in and everything like that and we're actually gonna put this video on it as well. Let's take a look and see if anything changed in Google. 
10 results for this actual keyword and you can see that we are number six in 35 seconds in Google! That is how to use this!
Again, remember: You need to use the right keywords! That is the key to making this work and this will start to get traffic!
If you want the trigger words and my keyword method,
CHECK OUT BLOGPROFITNETWORK.COM
Put your name and email in the box
Got a lot of cool videos and everything else for you! 
Check it out and I'll see you on the inside