Wix Vs. Squarespace Breakdown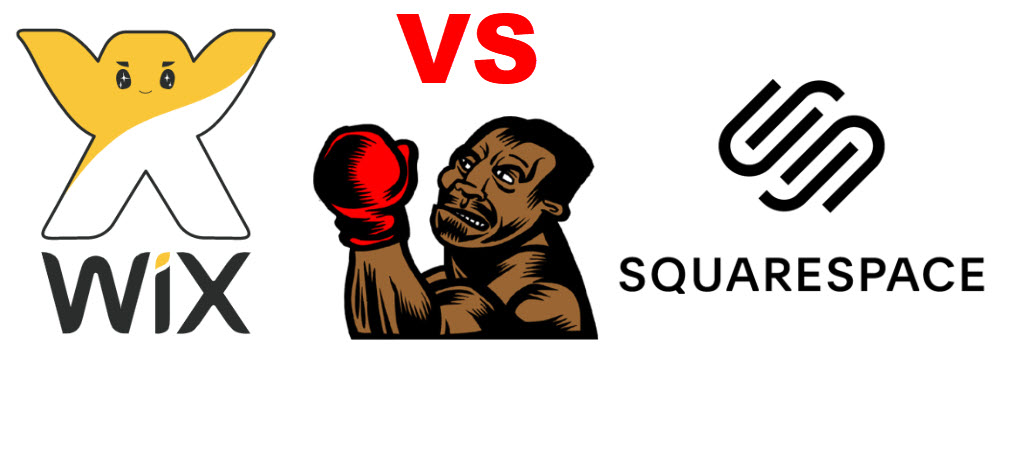 Ease of use
One of the critical differences between this software is the ease of use. Before looking to other features as a beginner or even those people with experience for that matter, you have to look at the ease of use. You don't have to choose something that will make it hard for you to use it. Of what use would be an outstanding feature if you can't even utilize it to its potential best?  It is for these reasons that you don't have to opt for a website builder if you have no idea how to use it.
Wix and Squarespace both share a lot of features; this means you have to be careful here so that you don't be indifferent at the end of your assessment. One of the standard features between them is that they both have a drag and drop editors. The other common element is that they are easy to use. Using both this software is not a challenge; you simply go to the component that you want to be added to your website and select and drag it to your preferred position. This can be anything you want to edit, and it can be images, textbooks, social widgets, and many more.
If you are looking for the perfect drag and drop builder for your website, then Wix is the ideal choice for you because it enables you to pick and drop elements as per your preference. Squarespace, on the other hand, is just a semi drop and drag website builder. This simply means you won't have that ability to drag and drop elements as per your preference. It will take you some time before you get used to using the site.
SQUARESPACE EASE OF Use
Squarespace is an excellent option for beginners, but it is more technical compared to Wix. Here the learning curve is a bit more involving; you will have to put on more energy and dedicate more time before you get used to navigating through this platform. However, when you get used to it, you find out to your surprise that it is actually what you wanted, and it is simple to use. Everything will start to be easy for you. One outstanding feature of Squarespace is it enables the user to use multiple templates for one website. You won't have any problems adding content to your website; you just have to click anywhere on that website and start typing.
Wix ease of use
Using Wix to create a website is extremely easy and straightforward.  It is even far from boring as the whole elements associated with it are fun and full of agility. An exciting part of it is that Wix does all these activities without dumbing down its primary functions. It is best for beginners as well as professionals.
It does not limit to using drag and drop features. If you find out this option is not comfortable for you, then you can use its other unique feature called artificial design intelligence.
Design flexibility
Another thing you have to consider if the flexibility of the design. It is the wish of every one of us to build a super attractive website that it can bring in many audiences. It becomes more comfortable to come up with a beautiful website if you have some design flexibility. This will allow you to include more features of your preference to come up with something unique and attractive as you will be having a variety of templates at your disposal. When creating a website, we have a lot of factors you need to put into considerations; some if you things you have to look into include the ease of switching from one theme to a different one. You also need to ask yourself if the design is appealing to the eyes. Let us have a close look at how website builders benefit from creativity control and design flexibility.
Wix templates 
Going through the long list of Wix templates, you will see a lot of features and quality designs. This means you are not limited to a few templates in a specific domain. You will have over 500 super attractive templates to choose from, listed in different industries like blogs, videos, photographs, etc. Below are some of the things you have to look into;
Models should have a professional outlook and with a lot of whitespaces
Templates at not always responsive, this means you need to make some adjustments
It is not possible to make some significant changes to your website without revamping its content. Editing minor elements like fonts and colors are allowed, but considerable changes require you to rebuild your site again.
Squarespace templates
Here you will not have a lot of templates options to consider as for the case of Wix. Moving around the elements is not even accessible. However, switching your website templates is more flexible with Squarespace.
Below are some of the factors to look for  in Squarespace templates;
It has over sixty beautiful template designs to choose from.
You can easily use the templates for tablets and the mobile ad they are fully responsive.
You can also switch your website without at any given time without worrying about content loss.
Templates designs
Wix has a lot of templates to choose from compared to Squarespace. Apart from the wide variety, Wix has also had an attractive and responsive template designated. However, When it comes to the template design part, Squarespace wins it without a doubt. It comes with some stunning models with modern design and minimal colors that exclude sophistication. In terms of template quality, Squarespace emerges as the winner without any doubt.
Theme customization
As we have seen earlier, both Squarespace and Wix have an amazing and colorful template. But you should not be carried away with the good looking of the models, consider making changes depending on your one likes or preferences.
Customizing your templates is more comfortable with Wix. They are mainly meant for beginners. With just one click, you will be in a position to replace almost everything, including texts, logos, images, etc. However, you must be extra careful when choosing your template because Wix makes it extremely difficult to move from one model to another, you will be required to rebuild your whole website.
On the other side, Squarespace has a drag and drop option and allows you to switch from one template to another without any difficulties. It is possible to make additional changes like background, fonts, and color.
Features and tools
You might have probably created your website layout, and you are ready to welcome your visitors, it is essential to note that coming up with a beautiful website is a great way to bring om many visitors to your site, but for them to stay longer and even explore your site further, you have to provide them with attractive options and features. It is for these reasons you have to opt for a website builder with the best tools and features. If you are aiming at building your website without writing any form of code, then Wix is an excellent option for you if has a variety of tools to create websites for different industries like corporate website, e-commerce and many more.
You don't have to add more tools and features, as most of them are provided at the control panel. The only let down is that these apps come with limited features in their freemium packages.
Squarespace does not have an extra market as for the case of Wix; that is why it is built with a lot of tools and features.
Wix eCommerce
Wix comes with a variety of eCommerce templates, all of its options come with built-in tools.
Squarespace eCommerce
This builder offers the best and attractive e-commerce features. The first option is meant for product merchandising, while highly experienced users use the second one.
Blogging tools
Creating your blog is a very tedious process; it involves note than just publishing your texts. It is for these reasons incorporating blogging tools is very important if you want to scale up your blog.
Wix allows you to choose the creative and beautiful layout and come up with your blog immediately. It has attractive features like galleries, feeds, built-in templates, and email campaigns to help your establish your blog and promote it to higher levels.
Squarespace, on the other hand, also has essential blogging tools. With its visually appealing templates, it is beneficial to high-quality graphic blog designs and photographs. It comes with other crucial features like social sharing, contributions, category support, and many more.
Marketing tools
Your blog is not going to establish its presence on its own. To increase your outreach and grow, it is essential to employ some useful marketing tools. Both Wix and Squarespace don't limit their users when it comes to marketing tools.
Wix's marketing tools allow one to launch a successful email marketing campaign by allowing them to send out beautiful newsletters.
Squarespace also assists in running a successful marketing campaign by sending customized and stunning emails.
SEO features
If your website receives more traffic, then it means that you are likely to be successful. In order to get high traffic to your website, you have to work with your SEO strategy to get a high rank of search engines.
Both Squarespace and Wix are the best option here.  If you want to optimize your website highly, then you have to include metadata and highly ranked keywords.
Another common factor is free SSL certificate, optimization for headings, alt text for images, etc.
Wix SEO
Wix has an extended SEO guide. It is meant for beginners who don't know much about the SEO world. It also offers some other built-in features like;
•    Default meta tags
•    XML sitemap
•    Rapid page load
•    Instant Google indexing and
•    Automated mobile optimization
Squarespace SEO
Squarespace uses various strategies to boat your rank on search engine results.   It also provides an in-depth guide on what needs to be done at each stage. It also offers some other benefits like;
•    Google search analysis
•    Clean up URL
•    Free SSL certificate
•    Automated image tagging
•    Creation of a lightweight version of your webpage
Customers support
Both Wix and Squarespace offer the best customer service to its clients with a number of ways to solve your issue. Both of them have support forums, knowledge bases, and video guides.
Wix support system
When you experience any difficulties, Wix provides a variety of ways to help you out. Wix will offer yo you their support via informative blogs, forums, over the phone, email, support center, and social media channels as well as step by step guides.
Squarespace customer support
Just like Wix, Squarespace often incredible customer support. It reaches out to their clients via ;
•    Live chat
•    Webinars
•    Community forums
•    Step by step guides
•    Emails
•    Informative articles and blogs
Website packages and pricing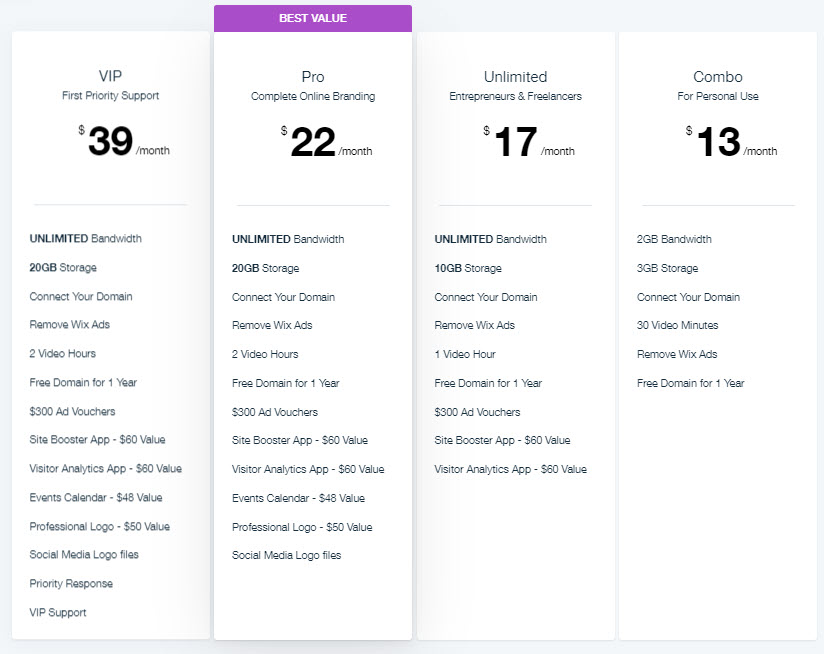 Both of them offer beautiful packages and pricing. Squarespace has four pricing premium plans. The first two plans are suitable for beginners, and the latter tie is best for e-commerce websites.
Wix offers more pricing options and packages; it has a total of 7 premium plans, which are further divided into various business, website, and eCommerce plans.
Final verdict
Both of them are the best website building tools. However, Wix has emerged the best with a very small margin.
My Favorite Hosting Is Bluehost… They Even Hook You Up With A Free Domain… Search For Your Domain Here