There is a lot of information out there that is misleading when it comes to affiliate marketing. The data can be an overload or a distraction from your mission to make money online. Luckily for you, the video provides the exact steps you need to take to become a successful affiliate marketer.
The training is useful for beginners looking for a comprehensive guide for affiliate marketing. It can also be a refresher course for seasoned affiliate marketers. You can always pick up a few new strategies to boost your income. Learn how to find the right niche and offers for your affiliate business for sustainable income.
Follow the tips and strategies to see results to avoid clicking the "fail button." You can get notes, lists, and links from DownloadMyNotes.Com for future references or use. You can buy Marcus's affiliate marketing course and learn more from SimpleSiteBonus.com. You can get his help every Tuesday on the member call when you buy the course.
PART 1: HOW AFFILIATE MARKETING WORKS (FLOWCHART)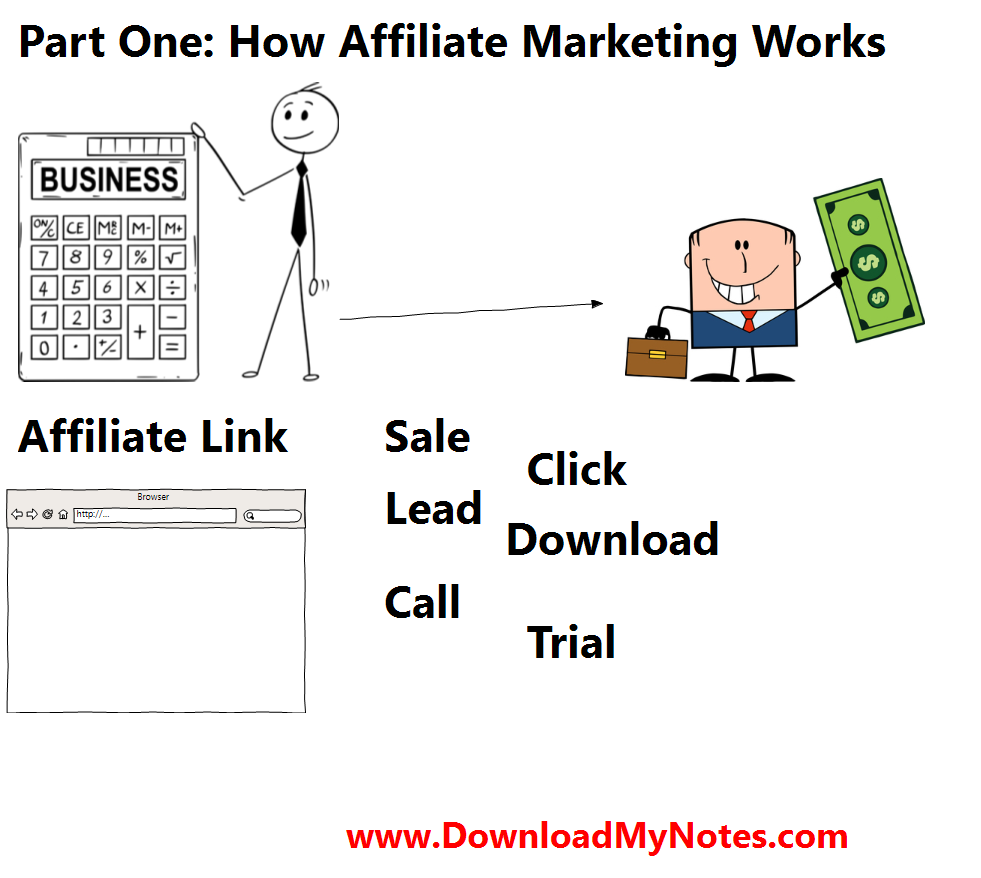 Affiliate marketing is a thriving industry because business owners opt to pay for each sale instead of traffic. Most business owners prefer to pay per sale because it is sustainable for them. Paying commissions per purchase is cheaper than paying for traffic or leads without assurance for sales.
For example, a business owner sells the Chi Ching button for $12 but doesn't want to pay 50 cents per click. Therefore, the business owner can opt to hire an affiliate marketer and give them a portion of their sales. He can pay $3 or $6 per sale, and he's happy because he only makes a payout when the marketer sells the button. The business owner is happy, and the affiliate marketer simply makes money.
Businesses that use affiliate marketers have affiliate programs on their websites that generate affiliate links for the marketer. Affiliate links have custom codes known as cookies. Cookies make it possible for the system to identify the affiliate marketer referred to as a client. The affiliate gets money when the order goes through. The best way to refer clients through affiliate links is through websites. There are several types of networks that you can tap into and make money.
WAYS THAT YOU CAN GET PAID AS AN AFFILIATE?
MAKE A SALE The easiest way to make money as an affiliate is to make a sale. Every time someone buys the product you are promoting, you get paid. When someone uses your link to buy something on Amazon, you get paid. Making a sale is the most common way to make money through affiliate marketing.
* CPA AFFILIATE MARKETING
CPA affiliate marketing is another avenue that you can explore to make money online as an affiliate marketer. CPA stands for Cost per Action or Cost per Acquisition. So how does CPA affiliate marketing work? The method generates viable leads for businesses that have a high cost per click rate. For example, a mortgage lender can opt to ask an affiliate lender to get potential customers to fill out a contact form. The cost per lead is affordable for the business, especially when it has a high closing rate.
Getting paid per lead is profitable, but the pay varies depending on the task that a business owner gives the affiliate. A company can pay $2 for every email address or zip code submission, $50-$100 for a big application, or $40 for someone to check their credit score. Lead generation is an excellent way to make money as an affiliate marketer.
* PAY PER CLICK
Pay per Click is another method to make money as an affiliate. You just need to get someone to click a link, and you get paid. There is a catch, which is known as a scrub factor. It means that a client may specify the source of traffic for the click. Therefore, if clients ask for traffic from the U.S. and get traffic from India, you won't get paid. You need to note the scrub factor before you start marketing the links.
* PAY PER DOWNLOAD
Another method is through the use of paper downloads. There are business owners who pay affiliates to get leads for paper downloads. It is a simple way to make money through affiliate marketing. You get paid every time someone downloads a PDF, toolbar, software trial, or whatever download you are marketing.
* Pay PER CALL
You can create an affiliate income by getting paid per call. Businesses like mortgage or pest control companies pay affiliates to generate leads through calls. You get a custom phone number for potential customers to call. The payment rates can vary from $8 per phone call to over $1,000 per call. The business owner may specify a duration that they want the customer to stay on the phone. You can keep a client on the line for 30 seconds, one minute, or two minutes for the phone call, and you get paid.
* PAID PER TRIAL
The last avenue for affiliate marketers is Paid per Trial. A company can run an offer for people to try a new product. You can generate leads for people to pay $1 for the trial and make around $30 for providing leads. You can make a decent income when you combine leads, downloads, and clicks combined. Affiliate marketing isn't a pie in the sky but a lucrative business. Keep in mind that the 12 billion from affiliate marketing is the amount the industry can track. There are many affiliate sources that no one follows annually.
PART 2: HOW TO DECIDE ON THE RIGHT NICHE/OFFERS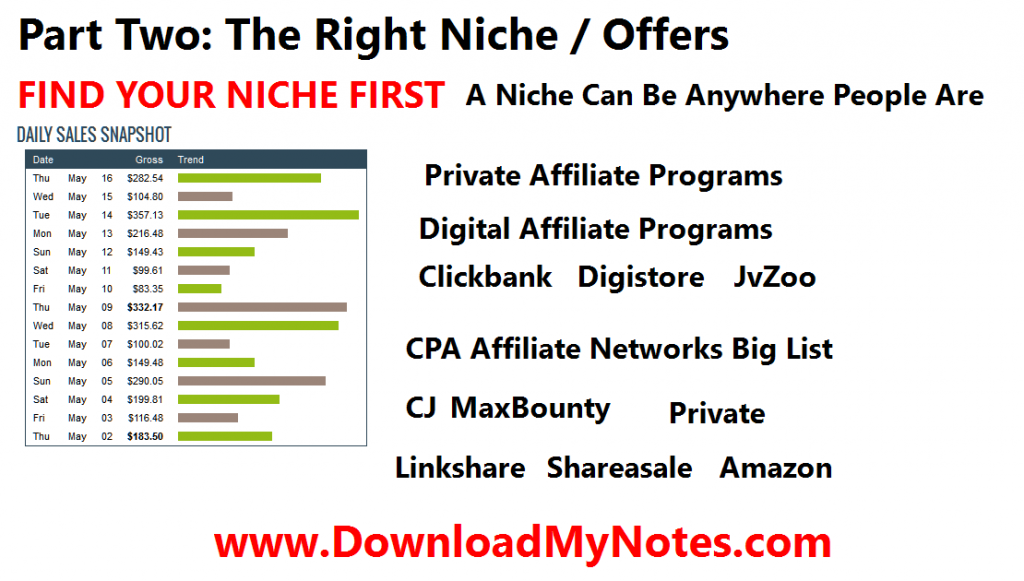 Most people in affiliate marketing go about the process of finding the right offers backward. What happens in most cases is that an affiliate sees someone on YouTube or social media, and they decide to promote the product. That isn't the appropriate way to find the right niche or offer for you to promote.
Most affiliate marketers tend to promote things in an oversaturated market that they don't stand a chance to beat the competition. For example, the keyword efinance' has a lot of competition because big companies like Lending Tree who have deep pockets. You won't be able to beat the competition with your laptop and a limited budget. You and I can't afford to lose money on paid affiliate marketing.
WHAT IS A NICHE?
A niche is anywhere on the internet, where people are discussing a specific topic. A niche is a group of people hanging together, talking about a particular topic, or searching for something. Marcus talks about finding the right keywords using his favorite keyword tool, AH Refs when figuring out the right niche. A keyword explorer lets you see how competitive a keyword is on the internet.
You can find a niche anywhere, including on YouTube, keywords, Facebook, Twitter, and any other place. You need to decide the niche that you can work with first, as the Reddit budget spreadsheet. Once you decide on a niche, you can work on how you are going to get paid.
HOW TO USE KEYWORDS TO FIND THE RIGHT NICHE
When you type the word efinancing' in a keywords explorer, you will realize that it is pretty competitive. It will be a tough market to break into with that keyword. The best way to find an ideal niche is to search first before choosing the offers to promote. You can opt to search for ualification' and find keywords searches that relate to refinancing.
The keyword exploration helps you find niches that are less competitive but have a decent amount in your niche. You can find your niche anywhere, and that's why a keyword explorer is an excellent tool to find the ideal niche. Your niche can be people looking for qualifications or budget spreadsheets. You will see less competition with less in-demand keywords, and you can choose the level of competition you prefer.
For example, when you search 'budget spreadsheets,' you will find different keywords like Reddit budget spreadsheets, printable spreadsheets, or loan spreadsheets. For example, when you choose the Reddit Spreadsheet as your keyword, you can post a budget spreadsheet with Reddit links without a website.
However, in 2020 you need a website, and you can learn how to get one at gohubsite.com. The website will cost $6 per month, which is affordable. You can opt for a free website, but anyone who can afford to watch this video can afford to pay $6 per month. You can check the number of people looking for a Reddit spreadsheet and post a budget spreadsheet to tap into the traffic. You can also create a video if you are looking to double your traffic. Be sure to tell people to click on the affiliate links so that you can make some money.

HOW DO YOU GET PAID?
The first place to look for affiliate programs is through Private Affiliate Programs. You can go to Google and looks for specific affiliate programs. You can search for a credit check affiliate program or budgeting course affiliate program. The second option is digital affiliate programs like Clickbank, Digistore, and JvZoo. The digital affiliate programs use a paper sale method. You sell software, and then you get a commission.
A third option is CPA Affiliate Networks lists, and you can find a big list on DownloadMyNote.Com, which has an exhaustive list of networks. CPA affiliate networks have because you are not selling anything. You can visit sites that give offers like Offer Vault or another search engine and search for anything in your niche. You can search for budget or related topics like loans and credit score. Most of the offers state the payout that you get per lead on the search engine.
You can tell potential clients that you can check out your credit score when you want to refinance your loan. Once you see an offer you like, you need to visit the website and sign up for it. You can find offers from Linkshare, Shareasale, Amazon, CJ, or Maxbounty. Some sites like Amazon allow you to sell anything while other sites may use the paper sale method. The rates on Amazon are pretty low, between 1-3% of the price of the item you are selling. However, sometimes you have to use the opportunities available to you to make some money.
PART 3: HOW TO GET TRAFFIC TO YOUR AFFILIATE LINKS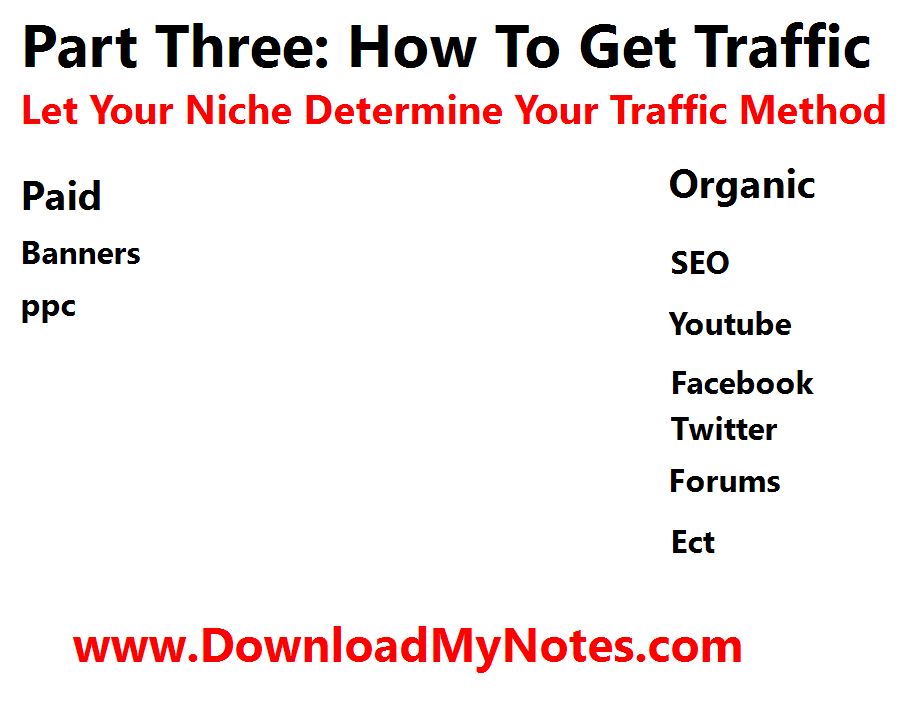 Once you find the right niche, it is time to find the right sources for traffic. The niche you select plays a significant role in the income you make as an affiliate. There are a lot of people who make a lot of money through affiliate marketing as a business. The ideal approach for finding traffic is by choosing the right method for your niche. The niche you choose will determine the best way that will drive traffic to your links.
For example, Reddit can be a good source of traffic for the Reddit Budget Spreadsheet niche. You can use SEO because it simple to rank for on search engines. You can make a couple of videos about budget spreadsheets to increase the traffic you get to your affiliate links.
The competition in your niche will also determine the amount of effort you need to apply to get good traffic to your links. You can visit Google and search for your niche to see whether there are any adverts. Google usually has ads at the top and bottom of each page. Low competition keywords tend to have fewer ads on the first page and no ads on the second page. Also, look at the brands that have placed the ads on Google. Ads from big brands mean that you will be facing a lot of competition because big brands have a significant advertisement budget.
You can use paid traffic if you are looking for fast traffic. You can use social sites like Pinterest to generate leads for your affiliate links. You have several options when it comes to developing traffic. The following options will help you generate good traffic for your affiliate links to generate enough income per month.
* PAID TRAFFIC
Paid traffic advertising online is different from traditional advertising. You can test a market using $50 with online paid ads, while you needed almost $50,000 with conventional advertising. You can spend a little and know whether your paid ads are working to generate traffic to your affiliate links. Paid ads target specific people depending on the keywords that they are looking for on search engines.
For example, you can have paid ads for people who are looking for a refinancing checklist only. It is a simple way to conserve your limited budgets since you can set a limit of as little as 10 cents per click to keep the budget under control. You can target keywords in a specific target location and weed out all the other sites you don't need. People tend to view paid advertising as worthless invests. However, you can afford to spend some money on paid ads and gather some valuable information. Compare the results you get to the amount you spend to ensure that you are running a lucrative business.
The site or landing page should give people what they are looking for and make it stand out. You can do a trigger word check to ensure that you use the right keywords. Paid traffic includes banner ads and pays per click advertisements.
* ORGANIC TRAFFIC
You can use trigger words to generate organic traffic to your links. Other activities include posting on relevant sites or making a video on YouTube. Trigger words were appropriate 20 years ago, and they are still relevant right now. You need to do SEO to rank on search engines and generate organic traffic. You can rank for the right keywords when they have low traffic and create a lot of organic traffic.
You can use Google to determine whether a keyword is competitive. The number of results found on Google will tell you how many other websites you have to compete for the keywords. For example, it is better to use a keyword with 300K results on Google than 7M results. It is easy for your site to rank against 300K websites than to rank on the first page against 7m sites.
It is simple to find the right keywords with low competition and a reasonable amount of traffic per month. Avoid using generic keywords because they are hard to rank, and there is a lot of competition. There is valid traffic from the little keywords that people tend to overlook. You can find specific keywords that have 1-2K organic traffic per month.
The simplest way is to find relevant keywords that can rank. It makes it easier for you to earn through affiliate marketing when a person using competitive keywords is struggling. Look for specific keywords like the exact credit score for someone looking for a credit repair service. You need to get creative with the search like 'credit repairs for 600 credit score', or you can do a review on different credit unions. Be careful with the trademark stuff when it comes to reviews.
For example, many people type in their exact credit score, looking for ways to improve it. You can look at the credit score searches with fewer competitions and use that to promote credit repair services. Another way you can generate organic traffic to your affiliate links is through Facebook groups. Keep the content relevant to the target audience and ensure the group members are interested in your niche. You can also get traffic by making relevant YouTube videos, Twitter, and other forums. Find the traffic sources and send them to your affiliate links.
PART 4: SUPER SIMPLE WAYS TO GET FAST RESULTS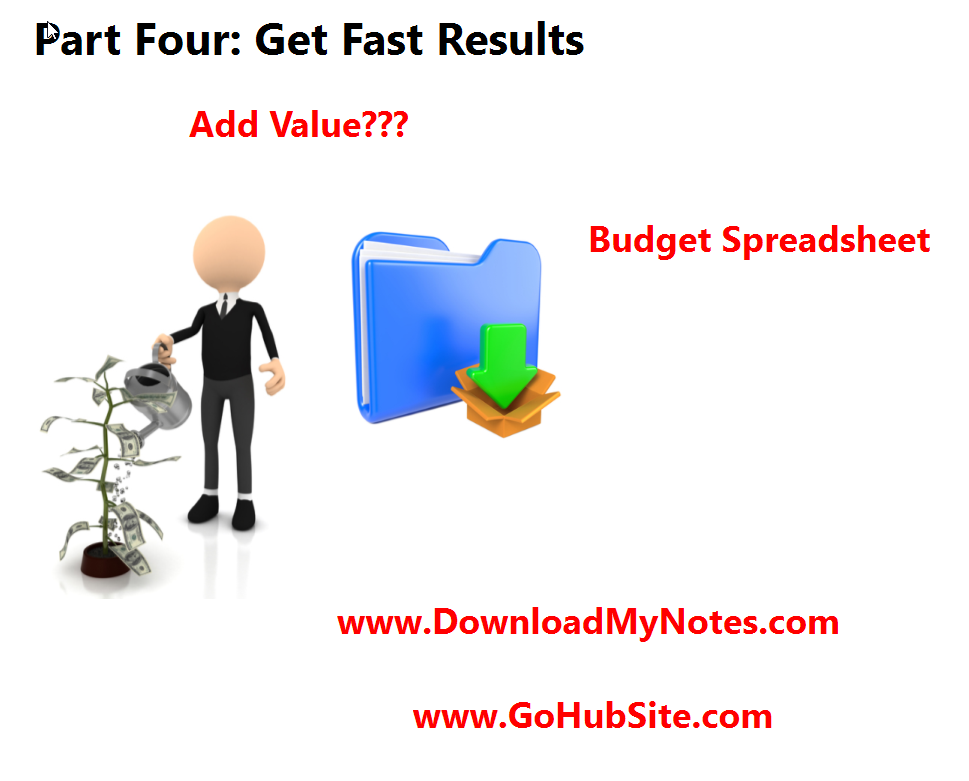 How do you use the content from the video and make it work? It is standard to hear affiliate marketers say that you need to add value to your promotions. The thing is, most affiliates do not understand what dd value' means. The majority of affiliates do not know what the heck to do to add value. Do you make a video, do you dance a jig, or what do you do to add value? Here are some of the ways to add value to your customers.
* OFFER A DOWNLOAD
The fastest way to add value is by offering a free download. People love free downloads. You can offer a download for your traffic methods or trigger words and provide a website for people to download. People always tend to follow through and do the download.
You need to take a look at your keywords for your niches or offers and ask yourself how you can add value to that keyword. For example, you can make a guide for the loans an individual with a 722 credit score can access. Do your research and find similar searches that relate to your keywords and create useful content. The value should relate to your offers, and you should find a way to lead traffic back to the links on your website or PDF.
It is recommendable to have an affiliate website, and you can learn how to create one at GoHubsite.com. It will cost your $6 per month, and you can get an annual offer and pay less for the website. It takes roughly 15 minutes to make it, and you get a free domain name. It is fast and easy, even for beginners.
* PAID TRAFFIC
Another way to get super-fast results is to use paid traffic. If you can get reasonable paid traffic for 10-30 cents per click and make $40 or $100 per conversion, it is reasonable to increase results. For example, you can request people to fill out names and emails to get a free budget spreadsheet. You can put the emails on an emailing list and send them affiliate links to other cool stuff they may be interested in checking out.
Ensure that the value you are providing is related to your niche. Keep in mind that the traffic you have comes from a specific niche interested in that niche. Making a YouTube video that doesn't relate to the niche can cost you valuable traffic and slows down your results. The right content to the right target audience will provide value, which needs to be your priority.
Therefore, value is subjective. Do your research and compile relevant content to your target audience that will add value. Monitor the cost of your paid traffic to ensure that you are making money and not losing money. A high cost per click can cost you a lot more and reduce the amount of money you make.
Doing it the right way will help you find the right traffic for your niche fast. There are people doing something online all the time. It is your job to focus and find ways to put offers before people without spamming them. Check your numbers to see how much you made and revamp your strategies to make more. Don't over-complicate the process or get into information load and focus on what you want to do.
BONUS SECTION: DIFFERENT TYPES OF LANDING PAGES YOU MIGHT WANT TO CREATE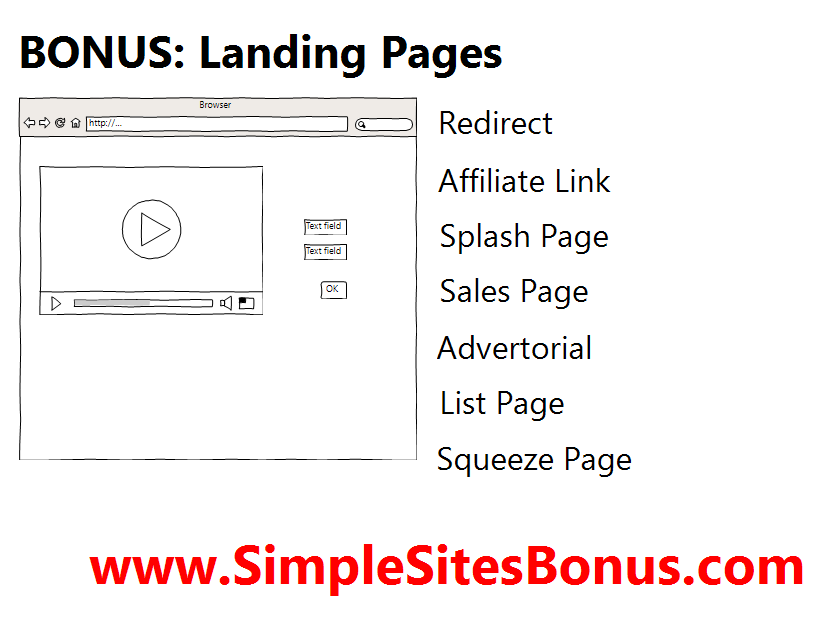 There are different landing pages that you can create if you do not want to use mailing lists and other affiliate marketing tools. Here are some of the landing pages you can do.

AFFILIATE REDIRECT:
You can set up a website and create a few affiliate redirects to send your traffic. It is a better option than sending traffic directly to your affiliate link. You can use the landing pages for you, which will cost you little to create it.
AFFILIATE LINKS: You can create a simple site with the affiliate value and add your affiliate links that suit the market. You can welcome the potential customers, offer them value, and then tell them to click your affiliate link.
A SPLASH PAGE: You need to create a page that focuses on what people are looking for and then introduces them to the offer. If you target people with a 722 credit score, you can create a splash page for people with a 722 credit score. The page will include several offers that are beneficial for the niche. For example, you can use a headline line like 'Here are all the things you can save on with a credit score of 722.'
SALES PAGE: A sales page is a page selling the offer. The page involves the value you offer and promote a relevant link or links. It is simple and effective.
ADVERTORIAL: The landing pages teach people something new. You can create a headline that reads, 'Here are the ten things you need to know if you have a 722 credit score' to attract traffic. The headline should be simple, educate, inform, and sell more to the visitor.
LIST PAGE: A list page provides a list of items that is related to a certain link. The titles on the begin with '13 ways to do.' or '15 mistakes you are doing..' and much more. The lists should be simple and target a specific niche.
SQUEEZE PAGE: A squeeze page has a teaser copy of a video, and you can tell people to submit emails to get the full version or whatever value you are giving the visitor. It is a fantastic landing page for generating an email list. You can use the mailing list to generate the traffic for your landing pages.
There are many other landing pages that you can use for affiliate marketing. You can access courses on how to build them and the best way to position them. SimpleSitesBonus.com provides courses on how to set the landing pages up for the best conversions.
FREQUENTLY ASKED QUESTIONS
Here are some of the questions frequently asked by prospective, beginner, and experienced affiliate marketers;
PAID ADS ARE FASTER THAN FREE TRAFFIC?
Yes. Paid ads generate conversions faster than free traffic.
WHAT VOLUME SHOULD YOU USE?
The kind of volume you need depends on the niche that you are promoting offers. Low traffic for credit score offers okay because they pay a lot. However, niches like recipes don't pay much, so you need more volume if you are going to make a decent income. It comes down to what you are looking for in terms of traffic.
DO YOU PREFER TO PROMOTE A LOW VOLUME NICHE WITH A HIGH PAYOUT?
You need to compare the volume versus the amount you make per conversion to know which kind of volume is worth it per keyword. You will have to decide how much each offer is worth to you. SimpleSite 2020 course offers a calculator that does the math for you. The ROI calculator compares your expenditure on ads to the returns that you get. The tool isn't 100% accurate, but it will give you an idea of how much you can earn under the circumstances.
CAN YOU ADD KEYWORDS TO A WEBSITE AFTER CREATION?
Yes, you can. Ensure the keywords are relevant to the target audience to optimize the website.
WHAT IS ARBITRAGE TRAFFIC?
It means buying traffic at a low price and selling it at a higher price. You can get paid traffic for a niche at a low cost and direct it to offers with high payouts. You can do it on sites like Facebook, Google, MSN, and many more. It is an awesome way to make money. Some arbitrages make up to $100,000 per day, which is impressive. The highest return arbitrages are from companies and not individuals. There are a lot of people who tap into arbitrage traffic. You can visit the ad libraries of big advertising arbitrage houses and learn from the advertisements. Don't copy what companies are doing, but just learn and do better.
SHOULD YOU CREATE CONTENT BEFORE YOU MONETIZE YOUR SITE?
Yes. You need content to get traffic. You can learn about various kinds of content an how to create content from the SimpleSites lesson plan. You can watch videos and access tools that enable you to create appropriate content for your site.
WHAT IS A PRE-SALE PAGE?
It is a page that makes it possible for you to sell an offer. You can tell visitors about the products that you tried and the ones that you recommend. You can also give reasons as to why the offer is the best in the market. It can be due to cash savings or that it works efficiently.
IS LOSING ORGANIC FLOW A BAD THING?
It can be a bad thing, but you can do a revamp when you lose organic traffic. Stuff happens in the business environment, and businesses doing great can see a drop in their sales. You need to adapt your strategies for the business to survive. There are tough times, where you have o focus and do what you've got to do. Take time to grieve the loss and rebuild your organic traffic.
HOW DO YOU DRIVE BLOG TRAFFIC TO AFFILIATE BLOG FOR SYNTHESIS?
Synthesis offers have different tools. According to Marcus, he would search for text-to-speech tools on Google and find the best text-to-speech tools. Put the names into the keyword tool to find non-competitive keywords that you can use to review the programs and add the affiliate offers. You can state that your favorite tool is the synthesis and generate income. It is a simple way to rank on Google because the competition is low. You can get lots and lots of traffic when you do it right. If you do it wrong, you will end up with highly competitive keywords that will cost a lot. A text-to-speech search in a keyword explorer will prove to be super competitive.
WHERE DO I FIND OUT HOW TO MAKE A WEBSITE ON YOUR LIST?
You need to go to GoHubSite.com and watch a video that has instructions on building a site. You see how an affiliate pre-sale page works, visit the website.
HOW LONG WILL IT TAKE TO WRITE FOR THE EASY KEYWORDS?
It depends on your niche and how old your site is. Some websites can rank faster with a YouTube video or medium article in comparison to a new website. It can take a month or more when you are new to the game. Do the work and focus on producing quality work. Set up several leads to make, and you will rank for a few things simultaneously.
You can watch the video entitled I Spend $1000 on Articles on Marcus's website that shows that he bought articles for his website. It took about three weeks for him to get traffic to his offers. The wait is worth it for people to wait and set up your website to generate reasonable traffic. You have to work hard and be ready to do what it takes to generate traffic organic traffic and start making a lot of money through affiliate offers.
DO I NEED A TICKET TO ACCESS SIMPLESITES?
Yes. Go to PcMoneyMaking.com if you have questions about a course or your site to get a ticket. Course members have a call every Tuesdays where questions get answers, and people dive into everything. You can talk about your traffic, websites, Facebook groups, and so much more.
CAN WE TAKE FACEBOOK CC AND MAKE IT AND ARTICLE?
No. That is not ethical. There is a video on How to Make Articles Watching Videos. You can take notes and come up with terrific content without copying the original content. You will risk getting busted for duplicate content when you copy.
ARE SITES SET-UP-AND-FORGET, OR DO YOU NEED TO UPDATE THE SITES?
It depends on the type you set up. A simple paper click one-page site can run it for a year without touching it for years. Some keywords will be set and forget, while others will be competitive. Need to have a mixture of sites you need to update and others that you can set and forget for the best results.
HOW DO YOU FOCUS IF YOU HAVE MULTIPLE NICHES?
Start with one niche until you get steady momentum and then move to the next niche.
HOW DO YOU GET THE BUTTON VOODOO PLUG-IN?
Check the member area in the SimpleSites 2020 for the buttons for the plug-ins. You will find the Voodoo plug-in.
WHERE CAN I GET GOOD AFFILIATE TOOLS?
SimpleSitesBonus.com has a variety of courses and tools for affiliates. Video achieves various aspects of affiliate marketing like Clickbank, Facebook groups, authority sites, and other demand software for affiliates. You watch videos that walk you through the stuff you want to learn how to do.
WHY ARE LANDING PAGES NECESSARY?
You need landing pages to sell stuff. You need to sell stuff, and if you cannot create a landing page, you shouldn't be an affiliate. Copying and pasting a link won't give you a lot of results. Only a few people have ever made a lot of money by copying and pasting affiliate links. You have to put in the work to get the results. You need to take the business seriously and do the job every day. A landing page can make a significant difference in terms of conversions and income.
WHY USE A SECOND LANDING PAGE WHEN THE ORIGINAL ONE IS GREAT?
You don't have to use a second landing page if a Clickbank or other website has an amazing landing page. Use one page and make everything else part of a sales funnel. You can create several landing pages to test the performance.
IS THERE AN AFFILIATE NETWORKS DICTIONARY?
You can get a CPA glossary at DownloadMyNote.com. You can download the glossaries and print them for your personal use. There are a lot of free resources on the website that is useful and helpful. The content gives you the right mindset for affiliate marketing from the word go. You will need to do some heavy lifting if you want to see results.
CAN YOU PROMOTE A WEIGHTLOSS PRODUCT USING FACEBOOK ADS?
You can, but you need to use neutral language for the ad to get approval. Facebook is sticky when it comes to weight loss ads. Be chill and avoid selling too hard to get clients.
CAN YOU DO AFFILIATE MARKETING WITHOUT A WEBSITE?
You can, but it is not advisable. Take time and create effective landing pages for your affiliate links.
ARE ALL WEBINARS ONLINE ON YOUTUBE?
No, they are not. Some are on SimpleSite.com doe members.
CONCLUSION
You need to do the work in the following order; find your niche first, find your offers, then find your traffic methods. When you find your niche first, you know what you need to say when doing promotions. When you find the right offers, you know the amount you can make. The amount of money you get paid will determine the method of traffic you will use. You can opt to look for free traffic because people enjoy free traffic every second of the day. You can set up a website or use other methods like send out a tweet to get traffic.
Many people are working from home and realizing that they work for roughly two hours a day. Affiliate marketing requires you to work roughly work for 4hrs a day. The focus should be on what you do in the free time that you have. You have to focus on what you want and put in the work to see results. Follow the strategies to get results and use the stupid simple flow chart for your affiliate marketing.
You can make a living using affiliate marketing when you use the right strategies. It is not that hard when you put in the work. Figure out why your landing pages and try to create a landing page that works. The first site won't have many results, but those who persevere are the ones who make it. Follow the road map, and you will see results in the long run.