home
Simple WordPress Tutorial: WordPress Dashboard — affiliatemarketingmc at YouTube.com
This tutorial explains the WordPress Dashboard that you should have after you've installed WordPress on your hub site. (click here if you need a hub site) 
In the navigation bar in your browser, enter your site's URL. Then enter "/wp-admin" 
This should look like www.yourdomain.com/wp-admin 
This will take you to the WordPress login. 
Enter your username and password, and click Log In.  
Now we're on the main WordPress Dashboard.  
Here is a rundown of each of the tabs on the Dashboard:  
Home: Where we are now – your main login screen.  
Updates: Shows you all the updates that are available for your site.  
Jetpack: A plugin that comes pre-installed with most installations.  
Posts: Add and manage your posts here.  
Media: Where all your files are stored–PDFs, video files, audio files, images, etc. 
Click 

Library

 if you want to see what's in your library and add it to a post or page.

 

Click 

Add New

 if you want to add new media. 

 
Pages: A lot like posts, but they are in a different directory and have different settings.  
Comments: See pending comments, delete comments, approve comments, etc.  
Marketplace: Go here to get plugins and themes.  
Appearance: Here you can edit your theme, customize your blog, create your widgets, create your menus, add additional them files, check your theme options, and also edit your themes. 
Plugins: Go here to install plugins to make your blog perform in different ways. You can upload them from your computer if you have them downloaded, or get them from the WordPress directory. You can also edit plugins, but be careful if you are still a beginner.  
Users: Allows you to control, edit, delete, or add various users and allow them to post, comment, etc.  
Tools: Goes through various tools you can put on your WordPress. 
Settings:  
General

: allows you to control your site title, tagline, URLS, email address, timing, etc.

 

Writing

: configures way your writing shows up

 

Reading

: shows which way your blog will be aligned, what you want your first page to show – posts or static, how many blog pages to show, syndication options, article feeds, and search engine visibility

 

Discussion

: lets you control the way that people interact

 

Media

: manage your media (like the Media button above). 

 

Permalinks

: show the structure of your URL – whether you want it to say the post name, number, etc.

 
WP Super Cashe: Makes your blog run faster.  
The tabs you'll be using the most are posts and pages. This is where you want to go when you add new content to your blog.  
For more information, visit www.AffiliateMarketingDude.com.
Adwords, Adsense, and the Content Network — affiliatemarketingmc at YouTube.com
Adwords: A program that was developed by Google where you can bid on a search term and get traffic.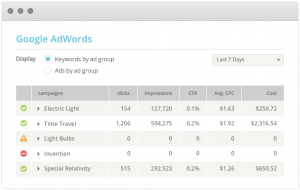 When people type a search term into Google, there are paid advertisements that come up. If you are using Adwords with this search term, then you are paying per click for traffic from this keyword to go to your site. You only pay if someone clicks on it.  
People get nervous with paid traffic, and they're always afraid they'll lose money. There's always a chance that this will happen, but remember that you control everything. If you want to only pay 1 cent per click, or 5 cents, or 10 cents, or a dollar, you can. 
You can also put a cap on it. For instance, you might only want to bid 5 dollars a day or 10 dollars a day. When you reach that limit, the ad shuts off and the ad starts over again the next day. You can also pause it and change it as you go along. It's very flexible. You just have to pay attention.  
Adsense: A program where you put ads on your sites, and you are paid per click for these ads.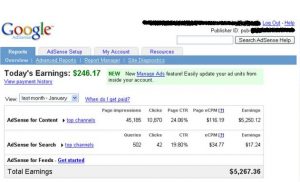 If you have the Adsense program running on your site, it generates ads automatically based on the content of your site. Google pays you a portion of what the advertisers are paying them per click.  
For example, if the advertisers are paying a dollar per click, I might get paid 50 or 60 cents per clip, depending on the rate. 
You get a code from Adsense and plug it into your site.    
You can log in and see how many clicks you get and how much money you make.  
Content Network (also called the Display Network): You bid on Google, and you also bid on Google's partner sites. This is all done by either keyword or domain name.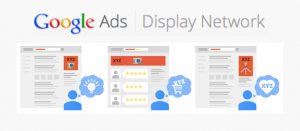 Content Network traffic is always cheaper than actual search traffic.  
Most of the traffic that Google gets is from other websites.  
When you go to Google and search for something, and you click on a paid ad, a lot of them have Adsense on them.  
Remember:
Adwords: You pay Google for traffic. 
Adsense: Google pays you for clicks that you generate.  
Content Network: You pay Google for traffic via other websites.  
For more information, visit www.AffiliateMarketingDude.com.