Congrats, You Are Registered!
Alright… you are set for the webinar… make sure you check your email for the confirmation… it will look like this: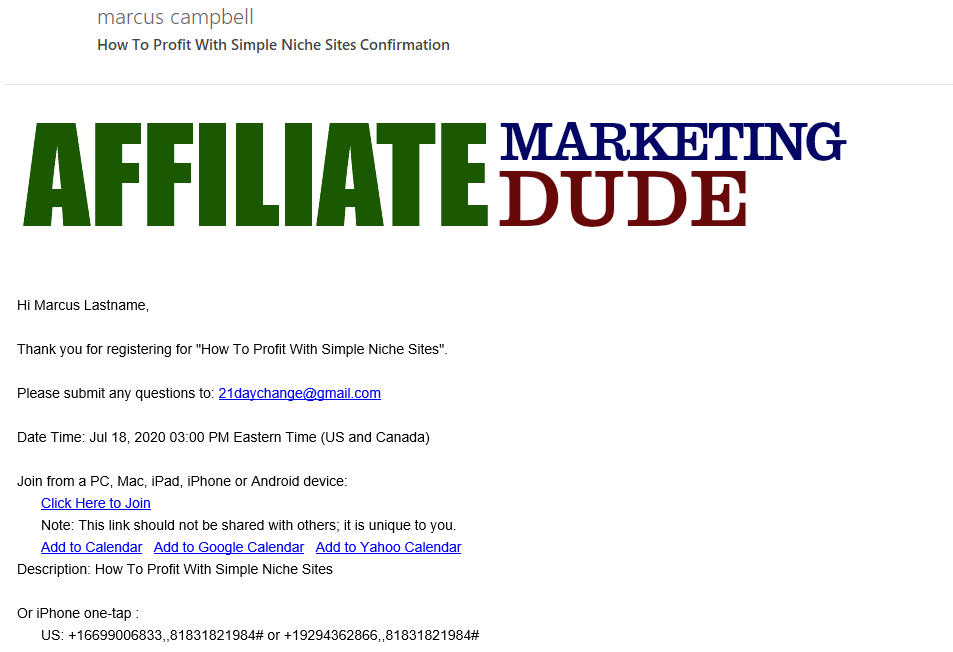 Then be ready on the time and date stated in the email and join the live training.
In the meantime… Check Out Marcus' Killer Programs here

Which Program Is Right For You?
This is where marcus (me) goes thru and hand selects a niche for you based on a non competitive keyword and some super profitable offers… we then get you a domain name geared towards the niche (these are super valuable) and set up the site with you… we hook you up with some plugins… tools, and even some content… and of course… we give you a copy of the simple sites 2017/2018 program so you can follow along and profit with your new niche.
My Most Successful Students Choose The High Ticket Niches.
Marcus mentor me is a place where you can get updated access to all his custom wordpress plugins ($700 value) notes from his videos, tools, videos, and training on how to get started with affiliate marketing.  every student of marcus' who is serious about making this business work should be in the mentor class… its affordable and has the tools you need to make this work… this works great along side our other in depth training courses or even as a stand alone for those on a budget who want to get started fast.
THIS IS WHERE YOU SHOULD START… this course has all you need to start making a living with affiliate marketing… it includes a custom training software that walks you thru everything step by step, tools that do the hard work for you. It also comes with personal support, niche market ideas, sample profit sites, and guaranteed acceptance to some of marcus favorite affiliate netowrks. Signup now and come say hi 🙂
NOTICE: WHEN YOU ORDER SIMPLE SITES 2018 TODAY YOU WILL AUTOMATICALLY GET THE 10 YEAR ANNIVERSARY EDITION UPDATE WHEN IT IS OUT… IF YOU WAIT… THE PRICE WILL BE $997… BY JOINING TODAY YOU WILL SAVE $700 🙂